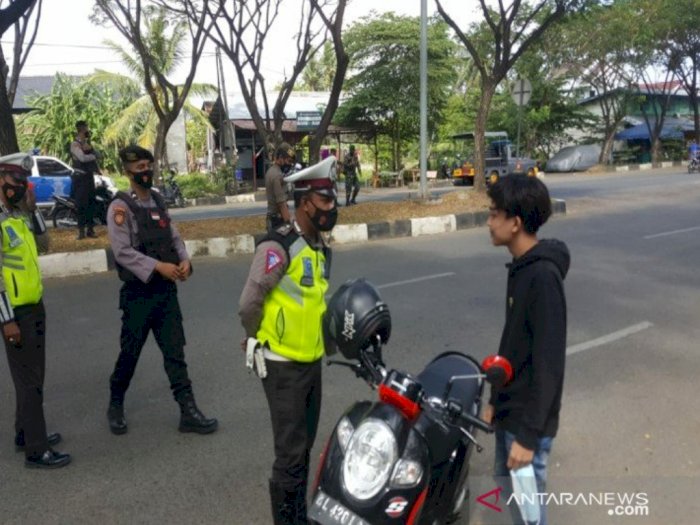 INDOZONE.ID – Violators of the COVID-19 health protocol (prokes) who were caught by the yustisi operation team of the Banda Aceh Police, Aceh Province were punished with social sanctions.
The social sanctions are in the form of singing the song Indonesia Raya, reciting Pancasila, memorizing the Koran, and cleaning the streets, all of which can be chosen by the offender himself.
"Every day we carry out this justisical operation, the sanctions are memorizing Pancasila, singing the Indonesia Raya song, sweeping the streets and also memorizing the Holy Quran," said the Head of Sub-Unit Dal Ops for Banda Aceh Police, AKP Sarjono, in Banda Aceh, Wednesday (24/2) quoted from ANTARA.
He said that the raids on prokes with related elements and the imposition of sanctions on violators were carried out in accordance with the Banda Aceh Mayor Regulation (Perwal) Number 51 of 2020 concerning the Application of Discipline and Law Enforcement of Health Prokes as an effort to prevent and control COVID-19.
Also read: This employer tortured her maid to death, was left hungry and had ironed her
"The violators themselves chose the sanctions after being offered several social sanctions in accordance with the applicable regulations," he said.
The justisi operation was carried out in crowded places such as public facilities, highways, involving the TNI, Polri and elements of sub-district leadership. Every day dozens to dozens of violators are caught.
For the operation on Wednesday (24/2), he said, the team found as many as 15 violators in front of Harapan Bangsa Stadium, Banda Aceh City.
"Every day we get violators, today 15 people, yesterday 14 and two days ago 23 people, and we continue to carry out this operation," he said.
During February 2021, he said, the yustisi operation team had netted approximately 258 prokes offenders, especially those who did not use masks while on the move in crowded places.
"Yes, maybe during the month around 258 offenders were caught in raids in different areas," he said.
The public, especially in Banda Aceh, are expected to always comply with health protocols by always using masks, washing hands in running water, maintaining distance and reducing mobility and avoiding crowds, said Sarjono.
Other Interesting Articles:
.