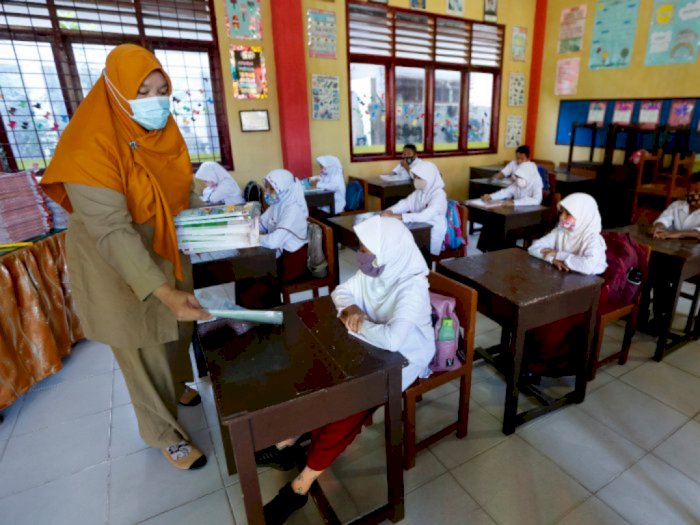 INDOZONE.ID – President Joko Widodo (Jokowi) is targeting to open face-to-face learning in schools in July. Commission X DPR RI supports this target set by President Jokowi.
Chairman of Commission X DPR RI Syaiful Huda said that President Jokowi's target to open schools and hold face-to-face learning in July must be supported, because of the threat loss learnig for students can be marginalized.
"We think President Jokowi's target to open schools and hold face-to-face lessons in July should be supported. Thus, the threat of loss learning for our children can be minimized, "said Huda when contacted Indozone, Thursday (25/2/2021).
He considered that distance learning (PJJ) as an alternative learning pattern during the Covid-19 pandemic had many complaints from students, teachers, and parents.
Because there are many obstacles experienced when PJJ is carried out. Starting from the limited quota, the lack of gadgets, to unequal internet access, the distance learning process does not run optimally. Thus many students do not get the competence according to their level.
"It must be admitted that face-to-face learning is currently the best method in Indonesia. Therefore, we support the opening of schools at the beginning of the new academic year, "he said.
Furthermore, the PKB politician expressed his appreciation to the government for starting the vaccination process for five million educators in the country. He sees this as the first step to ensure the safety of the face-to-face teaching and learning process in schools.
"By vaccinating the teachers, they have immunity to minimize the transmission of Covid-19 to their students. "So now it is just a matter of arranging health protocols for students so that the teaching and learning process can take place safely," he explained.
However, Huda emphasized what must be applied in face-to-face learning. Such as the number of students in the class, there is a thermo gun, sink, and hand sanitizer.
In addition, cleanliness and discipline must also be maintained in maintaining a distance during rest periods.
"Later the school must regulate school hours in the system shift so there is no crowd. Even if it is necessary for the initial stage, schools do not implement full lesson hours, but gradually in accordance with the pandemic conditions in the country. The important thing is that the face-to-face school can be done first, although the implementation is gradual, "said Huda.
Other Interesting Articles:
.