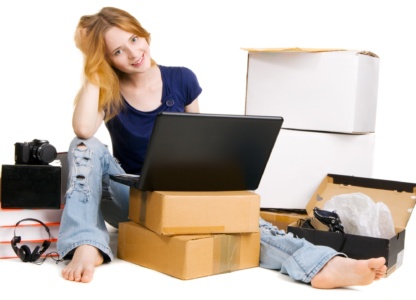 CBR conducted a study of Ukrainian online shoppers and their behavior during the coronavirus pandemic. According to the company, 70% of the adult population of Ukraine uses the Internet, although a year ago this figure was at 60% (ie during the pandemic, the level of Internet use increased significantly). Almost 33% of the country's adult population regularly shop online. This audience is growing gradually, but it is important to note that we are talking about regular online purchases, because almost all Internet users have already had the experience of at least some online purchases.
On Ukrainian sites, consumers often ordered ready meals, building materials, medical supplies. On foreign sites, Ukrainian users more often buy books, household goods and children and large appliances. On social networks, Ukrainians order food, equipment, building materials, pet products, as the number of pages and groups on social networks, where these categories can be purchased, is growing.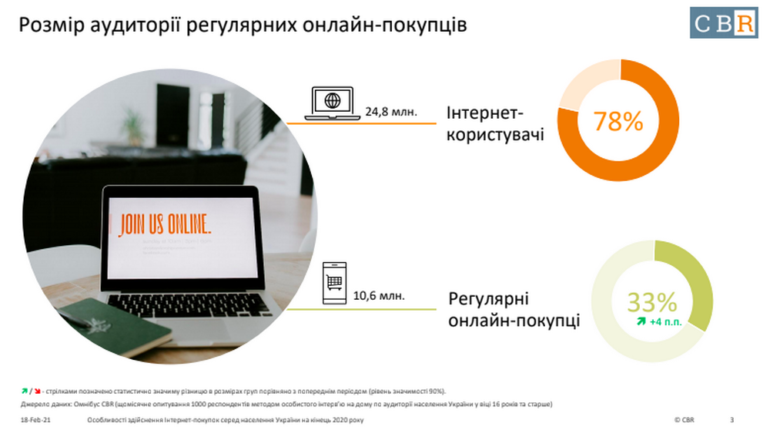 The main reasons why do not buy online: the habit has not yet developed; people do not believe that the delivered goods will correspond to what they see in the picture; in some settlements there are still problems with the delivery of a certain category of goods or with the terms of delivery of these goods.
That is why the elderly and residents of small settlements with poor delivery do not buy goods on the Internet. Most online shoppers face online fraud, according to about 35% of online shoppers surveyed. The main variant of fraud is when they paid money, but did not receive the goods at all or received them damaged. Quite often such fraud occurs due to the inattention of the buyers themselves. Only a third say that they manage to close their issue for their own benefit. First of all, buyers try to solve this issue directly with the seller and only a tiny part turns to law enforcement.
The role of marketplaces is gradually growing online. The leaders in most categories are most often Rozetka, OLX and Prom.ua. If respondents are asked about specific categories, they also mention profile shops, for example:
Equipment – Rozetka, Comfy, Hello
Cosmetics – Eva, Rozetka, Watsons, Prostor.
Clothes – Rozetka, Lamoda, Kasta, Zara.
Children's goods – Rozetka, "Antoshka", Kasta.
About 45% of online shoppers surveyed had experience shopping on social media. Of particular note is Instagram, a social network where the reach of the shopping audience continues to grow. For example, Facebook has already reached a certain saturation point. Instagram mostly buys clothes, cosmetics, perfumes, accessories and shoes.
About 48% of online shoppers make purchases on foreign sites. It is important to note that in 2020, the growth of the audience that makes purchases on foreign sites has stopped somewhat, but, at the same time, the activity of the audience that buys in this channel has increased. More often they started buying goods for sports, for children, for the home. The most popular – AliExpress, but now its popularity is declining (in a significant distance from other sites and channels). This is due to the growing popularity of other Chinese sites, buyers for the delivery of more expensive goods. In general, this channel is interesting because it offers goods at lower prices than Ukrainian counterparts in certain categories.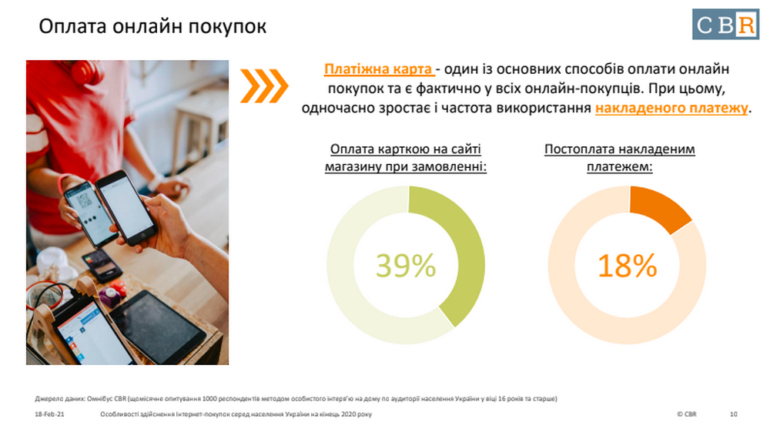 About 78-80% of the adult population of Ukraine has a payment card, so it is not surprising that 39% of Internet users immediately pay for purchases with a card and this figure tends to increase. The second most popular form of payment for online purchases is postpaid. This year, the popularity of this payment method has grown. Of the other payment methods, 15% still pay in cash to the courier and 13% make a card-to-card transfer for the goods. But the popularity of these payment channels is gradually declining.
The popularity of delivery to the courier department is constantly growing. About 23% of online shoppers received their last purchase through Ukrposhta. This service does not tend to grow significantly, but this channel is stable. Self-pickup from the point of delivery of the stores themselves was somewhat requested in the first half of the year, but resumed in late 2020, as offline opened and people returned to this channel of receipt of goods. Despite the fact that online tends to grow, consumers during the quarantine period missed offline. If you compare the data with last year, the growing desire to buy offline, rather than online. People want to go, see the goods and dissipate.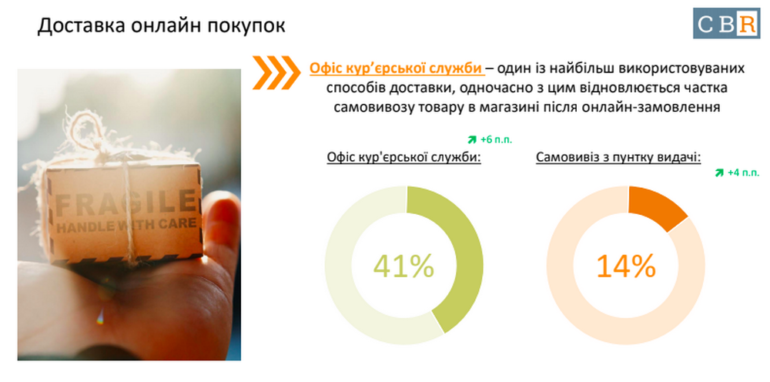 "Pure" online players in the technology market tend to lose some of their positions. Conversely, large retailers, which are presented in all formats, have a wide range, multi-channel players, mobile operators have a very positive trend, they either grow or at least do not lose their market share. Retailers who had strong positions offline began to show a certain increase in the share of online shopping during the quarantine period. This suggests that an audience that has not been able to shop offline has done so online.
Thus, the year 2020 showed a significant increase in both Internet users and Internet buyers, increasing the frequency of online shopping. In the online market, marketplaces are significantly strengthening their positions, and sales through social networks are also growing. The channel of foreign purchases has stopped the growth rate, but the activity of the audience that makes such purchases has increased. The importance of multichannel is growing, so "pure" online players will lose ground if they do not develop offline work.
Source: Retailers