A year and a half ago I tried the Lenovo Yoga C940, probably one of the best convertible notebooks passed by my hands in recent years and certainly a premium and extremely solid product both from the point of view of performance and as regards the more material meaning of the term. 12 months later, Lenovo has changed the nomenclature that defines this product family but has kept the stylistic canons intact and preserved most of the strengths. So here's where the Yoga 9i I'm using comes from for a few days and which I will talk about in the next lines.
SUMMARY
SOLID AND SOBER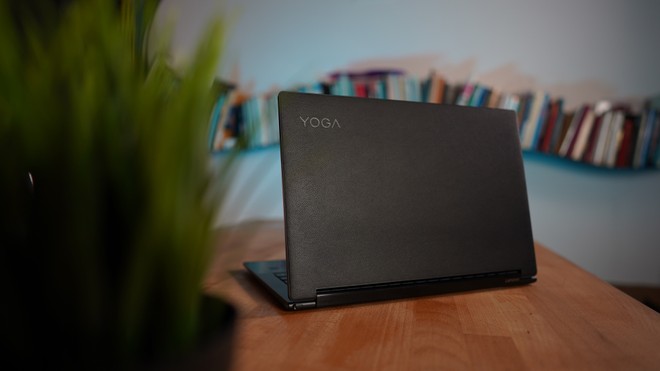 As mentioned earlier this Lenovo Yoga 9i is the direct successor of the C940, from which it inherits and maintains various physical and aesthetic characteristics. The shell is made entirely of aluminum alloy, with panels that are also quite thick which give great solidity to the solution. There are no creaking or sagging of any kind and you always have the feeling of having a very high quality product in your hands. The weight is not among the lowest in the category, let's talk about 1,35 Kg, while the thickness goes from 15.3 to 16.4 mm, measures that, even without excelling, make this Yoga 9i a portable, however easily transportable and not bulky.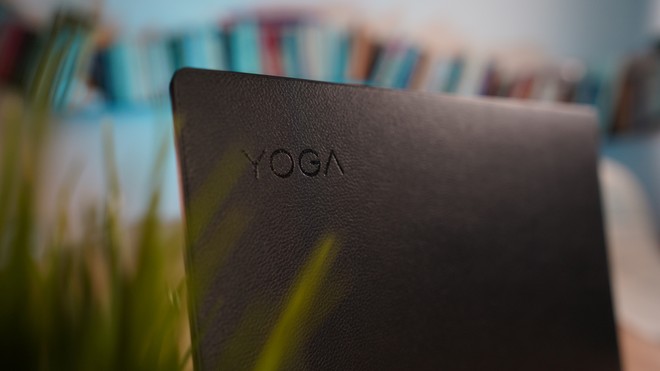 The lines are very clean and the sobriety is accentuated by the matte black color, while a whimsical touch of elegance is given by the display panel covering which is made of leatherette. Another characteristic feature is certainly the hinge that runs along the entire body and integrates the speakers as in a kind of soundbar; this expedient allows the speakers to rotate together with the display and the user to have the sound practically always frontal. The audio is Dolby Atmos certified and is characterized by good volume and decent quality.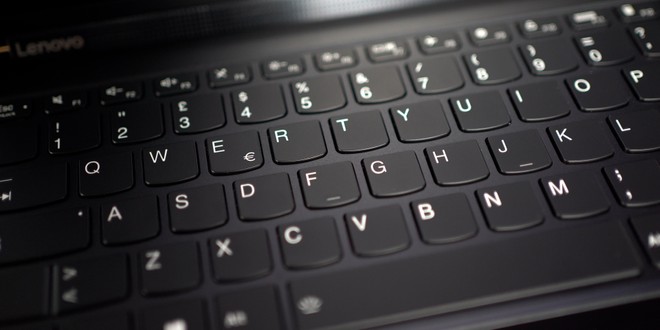 The real highlight of this solution, however, is undoubtedly the keyboard, probably one of the best you can find today on board a noteboook, if not the best ever. The keys are just the right size and the spacing is perfect, as is the force needed to activate. It will only take you a few moments to familiarize yourself with this layout, to the point where you will feel like you have never typed with any keyboard other than this one.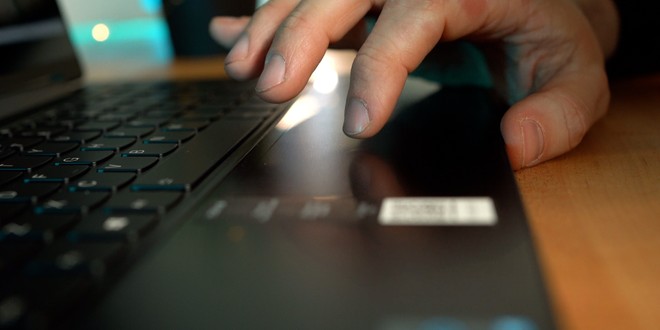 Less good, however, the judgment on the tocuhpad. Dimensions, smoothness and precision are good and you can also take advantage of the system gestures without any problem. What has absolutely not convinced me is the click, of the electro-actuated type and in my view not very clear and not always as precise as I wanted. In addition to this, the contours of the touchpad are not well defined and it takes a few hours of use to get used to it completely.
To the right of the touchpad we find then the fingerprint reader for secure access to Windows, precise and fast but also not very easy to locate. At the top of the display we then have the webcam that offers a mechanical shutter to protect our privacy but which is not flanked by infrared sensors for face recognition. Too bad, I would also have expected this alternative from a solution like this.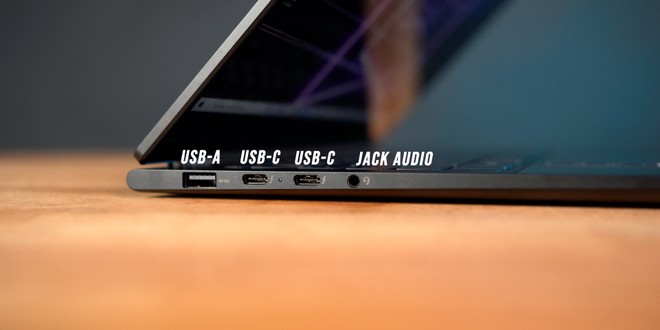 Sufficient the provision of doors which includes two USB-C with Thunderbolt support and one USB Type A, plus of course the combo audio jack for microphone and headphones. With a good USB-C adapter it is possible to expand this set of connections at will but it would not have been bad to have a memory card reader, even microSD, and a video output that did not require adapters or special cables.
Net of these small shortcomings Yoga 9i remains a very pleasant notebook to use and to carry around on working days.
A GOOD 4K IPS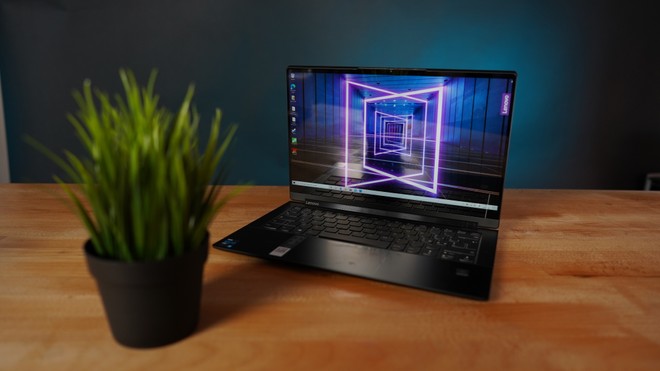 The display that we find on board this solution is a 14-inch diagonal IPS, with glossy finish e 4K resolution (3840×2160 pixels). There is touch support, as mentioned above, and you can take advantage of the supplied pen to take notes or simply for more precise control in tablet or "tent" mode. The panel used is of good quality and we see it from the first start.
The maximum brightness is very high; we are talking about over 500 cd / m2, a value that is difficult to find on board a notebook, even when we talk about premium solutions like this one. Thanks to the high brightness and the deep enough blacks we then have a contrast ratio that exceeds 1900: 1. In other words, it will not be a problem to work indoors, but if you happen to use it outdoors you will still be satisfied; pay attention only to the reflections due to the glossy finish.
Lenovo declares the DCI P3 color space as a reference for this panel and actually our measurement with colorimeter confirms this item of the data sheet. The display offers almost complete coverage of the reference gamut and also a decent white balance accuracy. The gray scale shows a slight tendency to cold shades only in correspondence with the average values, while maintaining an overall linear trend.
TO EVERYTHING TIGER LAKE
So let's find out what is hiding under the body of this Lenovo Yoga 9i which once opened shows a double heatpipe with cooling entrusted to two fans that push the air towards the back of the notebook. Also from a quick analysis of the interiors we can then note the RAM soldered on the motherboard and the PCIe SSD inserted in a classic M.2 slot which thus becomes the only upgradeable element of the configuration.
The model in our hands offers a processor 11th generation Intel Core i7, to be precise a Core i7 1185G7 equipped with integrated Intel Iris Xe Graphics. The chipset in question offers 4 cores and 8 threads with a theoretical maximum TDP of 28W which, as we will see shortly, actually goes even a little higher in terms of the peak. Alongside the CPU we find 16GB of RAM at 4267MHz and a 1TB PCIe NVMe SSD with sequential read and write speeds in excess of 3000 Mbps. Okay, so far so good, but how does this hardware behave?
Lenovo Yoga 9i technical specifications
CPU: Intel Core i7 1185G7 / 4 core 8 thread
GPU: Intel Iris Xe Graphics
RAM: LPDDR4X-4267MHz saldata
Screen: 14 inch 16: 9, 3840×2160 pixels, touch with pen support, IPS, DCI P3
Archive: WDC PC SN730, 1TB
Ports: 1 USB 3.1 Gen 2 Type-A, 2 USB 3.1 Gen 2 Type-C with Thunderbolt, Combo Audio Jack, 1 Fingerprint Reader
Rete: Wi-Fi ax / Bluetooth 5.0
Dimensioni: 21,09 cm x 31,84 cm x 1,53 – 1,64 cm / Peso: 1.35 kg / MIL-STD 810G
Battery: 60 Wh / Power supply: 65 watts / OS: Windows 10 Home
Other: Webcam: 720p / 2x 2W speakers / White LED illuminated keyboard / TPM 2.0
The stress test with CPU under full load produces the graph you see above. Cores touch one maximum frequency of about 3.3 GHz that with the passing of the minutes it slightly decreases until it settles down to around 2.6 GHz. In the initial peak the CPU reaches 98 degrees and then drops to 80 at the end of the test, with an average of 85 degrees. Consumption also varies in the same way, with an initial peak of 40W and an average of 25W at the end of the test. There is therefore a little bit of throttling which is not penalizing anyway. In fact, even in the moment of maximum load, the system remains reactive.
Then adding the GPU in our test we note how, obviously, the average frequencies of the cores drop clearly until they stabilize around 1.5 GHz. The temperature on the cores, after an initial peak of 98 degrees, drops down to about 70, with a average at the end of the test of just under 72 degrees. Total power consumption at full load is 57W peak and about 40W average.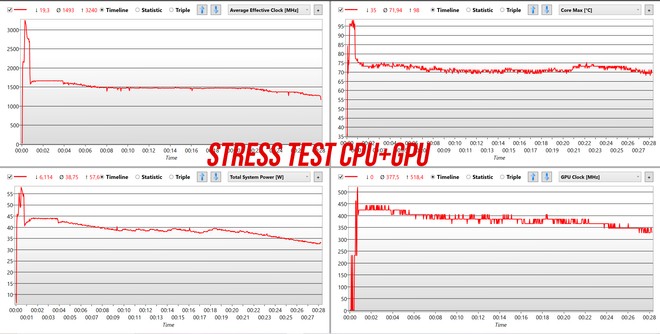 Despite these high temperatures inside the body, on the surface we never have a noticeable overheating with a peak of 36/37 degrees on the keyboard and 40-42 on the back of the body. The dual fan cooling system is therefore quite effective and even under stress it maintains an acceptable noise level. At full load the fans can be heard but are not so annoying, the rustle is constant without ever becoming unbearable.
The GPU integrata Intel Iris Xe Graphics is what I would call the right compromise. It allows you to clearly accelerate some operations that require the intervention of artificial intelligence, making some processes faster that, with the previous generation cards, we would not even have thought we could deal with. It is obviously not a solution for gamers even if, if we want, we can run some titles that are not too demanding by making obvious compromises in detail and resolution. I should not even specify it, I am sure that the performances are absolutely not comparable to that of a dedicated graphics card; but let's say that if you don't have big claims this Iris Xe is enough and advances.
obviously all tests were performed in maximum performance mode within the Lenovo Vantage app, a proprietary software that allows you to change some parameters related to cooling, charging mode and battery management.
DISCREET AUTONOMY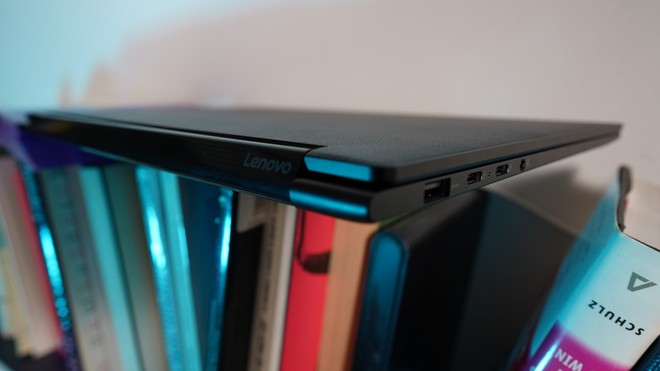 We rightly close our analysis by talking about another fundamental aspect for a notebook of this kind, namely autonomy. Within this Yoga 9i we find a 60Wh module which is sufficient to guarantee a decent autonomy, especially considering the brightness and resolution of the display. Obviously, as always, all the tests were performed in balanced mode and with the volume and brightness of the panel at 50%.
With a standard working use, made of surfing under WiFi network, word processing, mail management and a little bit of Photoschop, we were able to get about 7 hours of use. These same rise to 8 if we use the notebook in "tent" mode to watch movies on Netflix using the Windows app. If used to its full potential, however, Yoga 9i turns off after about an hour and 40 minutes of use.
Charging takes place via USB-C with the charger in the package that is capable of delivering up to 65W, enough power to charge the notebook even when it is working at full load. To complete a recharge, with the notebook in stand-by, it takes about 90 minutes. Thanks to fast charging, however, you can get up to 4 hours of use with just 30 minutes of charging.
CONSIDERATIONS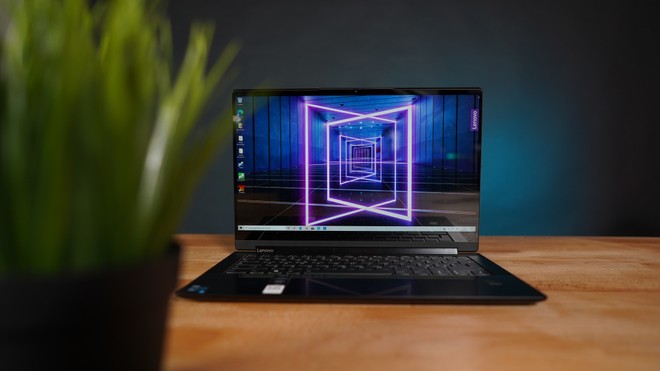 And here we are at the time to draw conclusions. Let's start with the price. How much does this Lenovo Yoga 9i cost? The configuration available to us is what we would call "maxata" in the jargon and is proposed to a list price of over 2,000 euros. The basic model, with 8 GB of RAM, 256 GB SSD and FullHD display, starts at just over 1500 euros. These are undoubtedly high figures but in line with what the competitors are proposing. If I had the necessary financial resources, I would probably buy it because of its solidity, excellent display and practically perfect keyboard.
Likewise, there is no doubt that, by giving up something in terms of aesthetics, materials and general quality, you can find solutions that can offer the same performance and the same pleasantness of use at even much lower prices. Any similar alternatives? Dell XPS 13 2in1 and HP Specter X360 above all.
PROS AND CONS
VIDEO