vivo sale for the first time at the top of the Chinese smartphone market, and it is not a small achievement given that the competition is represented by its illustrious compatriots such as OPPO and Huawei. The figure emerges from the latest report by Counter Point Research which focuses on a particularly greedy market for smartphone manufacturers.
vivo crossed the line in the second week of March with a market share of 24% and overcoming OPPO (21%) e Huawei (15%). One of the decisive elements for overtaking is linked to the success of the cheaper models, vivo Y3 and S9.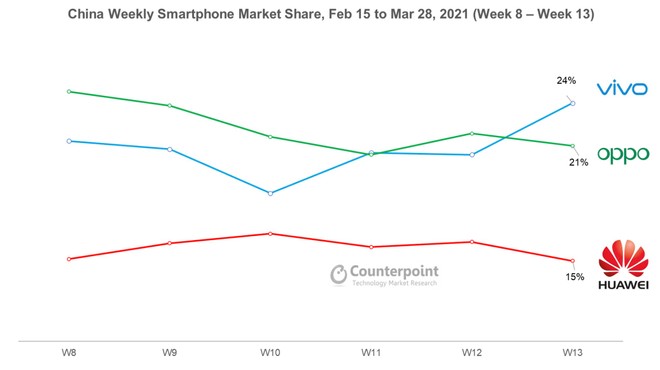 But there is also more behind the rise of vivo, in the first place the ability to propose one range of products as wide and diversified in terms of characteristics and prices. To the high-end models of the serie NEX e X, add up those of linee S ed U – that aim even more at the value for money – and the exponents of Y series, the low cost that represent the proposed entry. To these are added the sub-brand proposals iQOO that put the emphasis on gaming. They may seem many, if not too many, and probably they are from the point of view of the European observer who struggles to keep track of them – but we know that this hyper-production of smartphones is not just a feature of vivo, HERE some food for thought . However, this strategy, at least in the Chinese market, is proving to be successful.
Then there is aattention to grasp the emerging trends which has always been part of vivo's DNA: for example, the ability to be among the first brands to launch models compatible with 5G networks on the market (remember NEX 3 5G and iQOO Pro 5G presented respectively in August and September 2019) and continue to exploit the new trend (in February 2021, 76% of smartphones in the vivo catalog were equipped with 5G). This is combined with the ability to make investments in strategic sectors from which the Company draws resources to improve the hardware of its smartphones – see the agreement with Zeiss signed at the end of last year.
Without belittling alive, for completeness it must be said that its growth is also the result of Huawei's loss of market share which still faces the negative effects of US restrictions. With the competitor in difficulty, both vivo and OPPO have adopted particularly aggressive commercial strategies that have been bearing fruit for some months.
ALSO IN THE INTERNATIONAL MARKETS VIVO DOES NOT JOKE
The report captures the position of vivo in the Chinese market, but it must be remembered that in recent months the manufacturer has given very strong signals that testify to the desire to establish itself beyond the motherland.


Android
06 There


Android
20 There