The amount of users who authorize apps to the tracking for advertising purposes its iOS 14.5 is turning out higher than expected, at least according to the very first statistic we can get our hands on: just under half of the users who viewed a consent request popup said yes. This is a simple survey proposed on Twitter by the official account of Appfigures, which was attended by just 173 users, so it is difficult to define it as an accurate picture of the global landscape; but taken in the right spirit, the information is an interesting starting point for discussion.
Thousands of #ios #apps are already using App Tracking Transparency, a quarter of those are games.

Have you seen the tracking popup on any of the apps or games you use yet?

— Appfigures (@appfigures) April 29, 2021
On the official Appfigures blog there are other data to be explored. Analyzes suggest for example that they already are nearly 10,000 apps who have implemented the App Tracking Transparency, 20% of which are video games. It is also interesting to note that, since Apple allows you to slightly customize the request prompt (basically the developer can write his own explanatory copy), a site has been created, attprompts.com, which collects them all.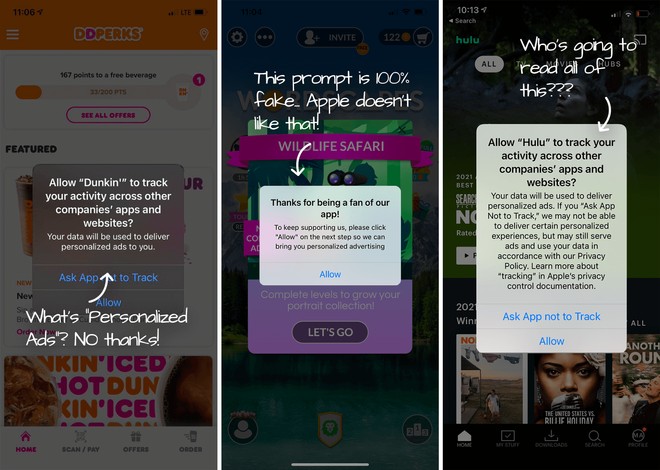 With iOS 14.5 released in late April, Apple has decided to make tracking for advertising purposes optional and with an opt-in mechanism: that is, it is activated only and only with the express consent of the user. In principle, the idea of ​​seeing only advertisements relevant to your interests is good for both the end user and the advertiser, but over the years the countless data leaks, security flaws highlighted by researchers, and implications at times disturbing about the amount of data available to the tech giants have made public opinion much colder.
Analysts' forecasts indicate that just one in three users, overall, will grant apps permission to track for advertising purposes. This represents a huge threat to the advertising industry – that yes, it is a bit unsympathetic at times, but it is what has allowed us to enjoy an internet that is essentially free for all. Among the most vocal opponents of the novelty are Facebook and its boss Mark Zuckerberg.