The AirTag is a device with great potential that Apple has also made very secure from a privacy and security point of view. It is a find-objects and nothing else. It is neither an anti-theft nor should it be used to track people's movements. With regard to this last aspect, in addition to the law that highlights it as a serious crime, Apple has integrated some very important security measures.
If you have an iPhone
When you try to use an AirTag for malicious purposes, you will get one Notification on the iPhone directly from the Where is App written "There is an AirTag that is moving with you". At this point, you can open the notification and play the AirTag to easily locate it (it will be near you, so it will be easy to hear it).
Once the device is found:
If you recognize the AirTag as that of your friend, which perhaps after having taken home has forgotten the keys in your car, then you can choose to disable safety alarms for 1 day. This way the AirTag will stop ringing and you can calmly return it to the owner. You can do the same thing in case your wife wants to use your car to go somewhere and you have mounted an AirTag linked to your Apple ID on the car keys.
If, on the other hand, the AirTag you find will not appear familiar to you, you can read the information with the NFC chip of your iPhone. Just bring the phone close to view the serial number. If the owner has lost it and put it in "lost mode", a message will appear with the telephone number to contact to return it. If, on the other hand, after a scan, you do not find any message, then it is possible that someone has positioned it to "follow you". At this point, Apple recommends contacting law enforcement and

to deactivate the AirTag.
If you have an Android
First of all it must be said that AirTags cannot connect and take advantage of Android devices to send updated information on their position, therefore by placing an AirTag in the bag of a person with Android, not all the precise movements will be obtained, but the position will only be updated. when this person approaches someone with an iPhone.
On Android the AirTag cannot display the message "Found an AirTag moving with you" on the screen but it can always ring to be found. The first sounds are simple beeps, lasting 1 second but after 3 days the sounds will intensify becoming a sort of alarm. If an AirTag is moving together with another person it means that it is close enough to be heard even with a simple 1 second beep. Therefore, after you have found it, if you recognize the AirTag as that of your friend, then remove the battery and wait for it to be returned to them. If, on the other hand, you are not familiar with it, read the information with the NFC sensor integrated on the Android smartphone and, if you find a message from the owner, contact him and return it otherwise, contact the police and deactivate it immediately.
How do I deactivate an AirTag?
It is very simple and also quite obvious: you will have to open it and remove the battery. To do this, turn the metal part upwards. Press in with two fingers and rotate to the left (counter-clockwise).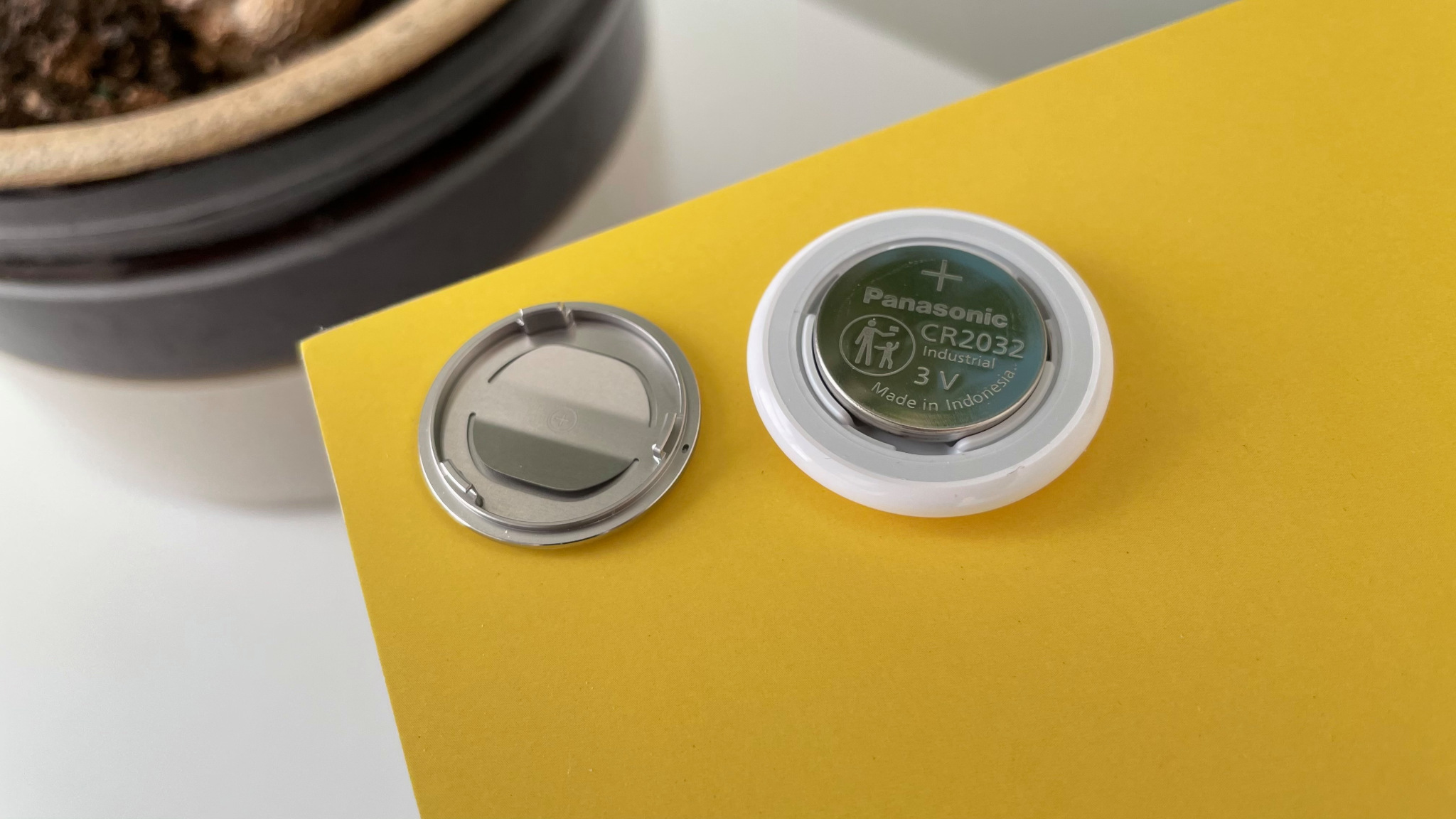 Use the AirTag to track people without smartphones or animals
If you want to use the AirTag as a tracker to be placed on your children or pets, know that the device is not born for this purpose so you will have difficulties.
If you use it on a minor, maybe while going to school, the tracker could play and not being equipped with an iPhone to turn off the sound, it could cause some annoyance. The sounds will be simple beeps but the frequency is not indicated by Apple. In case there are too many, the only way to stop them would be to remove the battery, making it useless. Imagine it in the middle of a lesson… it wouldn't be the best!
If you attach it to a dog leash, the moment you go out with your pet for a walk, and the dog is close to you, there will be no problems. In case he goes far away and you can't find him anymore, monitoring his position from the Where is App could work and could be a good solution in the immediate future, however, if the dog is lost in the mountains, in a forest. or it is located in a point far from other people (or rather from any iPhone) then you would not be able to locate it, plus at some point it will start to ring and the high-pitched and loud sounds would extremely annoy the dog, also causing unusual reactions that they could make him aggressive. It will be important to find it before 3 days.
For all these reasons, the AirTag is intended exclusively as an object finder for personal use. It should not be used neither to follow people nor animals because in any case it will not have the desired success. A classic GPS tracker with integrated SIM or an Apple Watch with family location sharing works much better to monitor minors. For pets there are special trackers with integrated features similar to those just mentioned.
Sharing authorized with other people
If the objects to which we combine an AirTag are not exclusively for personal use but, perhaps, the whole family or your partner benefits from them, then it is possible to use the "Family Sharing" Apple to add other people's Apple IDs and share the use of the AirTag without triggering alarms when the device is with others other than you.
What if, instead of returning an AirTag that I found, I want to steal it?
It is useless to steal an AirTag that belongs to another person because there will be no way to pair it with your iPhone. The AirTag will remain forever linked to the owner's Apple ID unless they are the one to unlink it via the Find My app.