Google accidentally showed one unreleased Pixel smartphone: it happened in an Instagram Story published by the official Made By Google account, which represents the entire hardware product initiative of the Mountain View giant. History has now expired, and therefore is no longer accessible; but colleagues of Android Authority they managed to save the screenshot of the highlight where you see what looks like a Pixel 4a in a white color not available on the market. Note the orange power button, as seen in previous models, for example the Pixel 3a.
The story was shared on the occasion of the international day of dance, which was held yesterday, Sunday 2 May. The video showed a woman dancing thanks to the music played by a Nest Audio driven by the smartphone in question.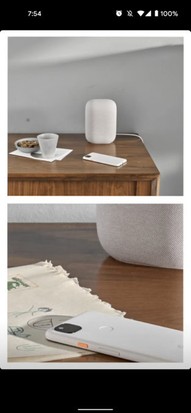 It is difficult to concretely and accurately evaluate an anticipation from such a source: the device could be a simple mockup, or a Pixel 4a coloring prototype that it was decided not to mass produce (as you can see from the opening photo, even before the presentation some traces of this color had emerged). This is the thesis that according to the source is the most probable; However, it is worth considering that the renders of the Pixel 5a, already leaked for weeks, show a device very, very similar to the current 4a 5G.
Even if the name changes just a little, Pixel 4a and Pixel 4a 5G are easy enough to distinguish – especially in terms of size and positioning of the flash in the rear camera module. It is therefore a rather remote possibility that the video portrays the next Google midrange smartphone, the presentation of which could take place in the coming weeks, perhaps at the I / O 2021, this year completely virtual.
Last year Made By Google had its share of difficulties related to the pandemic: the initial plan was to present the Pixel 4a during the I / O 2020, which, however, has been canceled. The smartphone was presented only a few weeks later, with an actual availability only months later; later came a Pixel 4a 5G and a Pixel 5, but in a small number of markets – Italy was excluded from both. For a while it was rumored that this year the difficulties would continue, also due to the global chip crisis – always attributable to the pandemic, and that the Pixel 5a would be canceled. But that won't be the case, as Google itself has confirmed.
(update of 03 May 2021, 12:54 pm)