Another month, another batch of titles for Xbox Game Pass, the service that is increasingly the heart of the future of gaming seen by Microsoft, a thread that holds together different platforms and generations, from the smartphone to the PC passing obviously through the consoles.
In May, 9 games join the Game Pass catalog, and among these there are at least three big shots: we're talking specifically about Red Dead Online, of the already anticipated FIFA 21 and of Final Fantasy X/X-2 HD Remaster.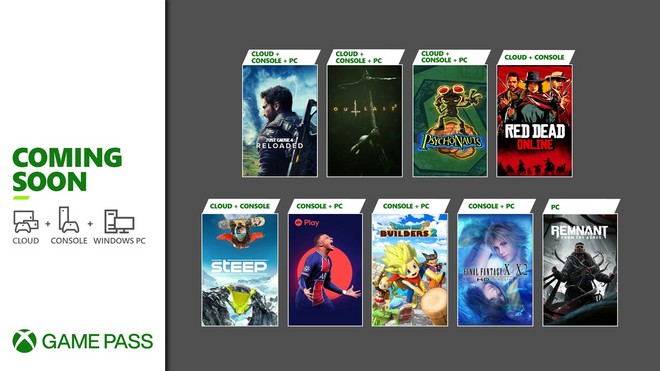 Then there is a more niche but highly appreciated title like Psychonauts (the 2 is currently in development), a spin-off of a historic franchise such as Dragon Quest Builders 2, l'open world Steep, Just Cause 4: Reloaded, Remnant: From The Ashes and survival horror Outlast 2. Below is the complete list with the respective release dates and the reference platforms:
Dragon Quest Builders 2 (console and PC), May 4th
FIFA 21 (console and PC via EA Play), May 6
Outlast 2 (console, PC and cloud), May 6
Steep (console and cloud), May 6
Red Dead Online (cloud and console), May 13
Final Fantasy X/X-2 HD Remaster (console and PC), May 13
Just Cause 4: Reloaded (console, cloud and PC), May 13
Remnant From the Ashes (PC), May 13
Psychonauts (console, cloud and PC), May 13
And for 9 titles that enter, there are 6 that are preparing to be excluded from the Game Pass catalog, precisely starting from May 15th:
Alan Wake (Console and PC)
Battlefleet Gothic: Armada 2 (PC)
Dungeon of the Endless (Cloud, Console and PC)
Final Fantasy IX (Console and PC)
Hotline Miami (PC)
Plebby Quest: The Crusades (PC)
FPS BOOST, OTHER 73 COMPATIBLE TITLES
As mentioned, Microsoft's vision not only looks at the present to the future, but also aims to use the new generation hardware to enhance the past. In this sense FPS Boost, presented in mid-February, is a tool that allows developers to adapt their games in order to make them perform at their best on Xbox Series X and S, exponentially increasing the frame rate, as suggested by the name.
And with numerous EA titles hitting the supported list in late April, it's time to welcome ben 74 other titles that will benefit from FPS Boost, thus bringing the grand total to 94. Among the latest additions there are notable names such as Assassin's Creed Unity, Deus Ex Mankind Divided, Wasteland 3, Far Cry 4 and 5, Alien Isolation, Life is Strange 1 and 2, Mad Max, Shadow of The Tomb Raider, Metro 2033 and Last Light, Yakuza 6, and Dying Light. If you are curious to consult the complete list, which we are sure will expand considerably in the coming months, nothing could be easier: you can find it at the link in SOURCE.