AirTag everywhere, except in the shops given the success it had on the market: on the net we talk about the tracker that Apple presented during the Spring Loaded event a few days ago. We discussed its functionality – limited to tracking objects, and nothing else – as well as the build quality and the components hidden under the small body.
There are those who said that the AirTags are marked only by looking at them, and there are also those who have already opened them to peek inside, analyzing the components in detail. IFixit has also moved recently, giving us a better idea of ​​how it works and how Apple managed to make such a small product – even smaller than the competition.


Apple
30 Apr


Apple
24 Apr
Could not miss the teardown at JerryRigEverything, intrigued like us by this tracker created to help us not lose the house keys or the suitcase. Or maybe to help us find them once we have lost them. And it doesn't matter if the lost item is within Bluetooth range – perhaps under the sofa cushion – or if it has remained on the train or at the airport.
In the first case, the Dov'è app will be used which will make the device emit a sound to locate it; the U1 chip with Ultra Wide Band (UWB) technology will activate the "Precise Position" function to accurately define the distance and direction. In the event that the tracker is out of the range of Bluetooth, the NFC connection will be activated via Where is it which uses Apple devices scattered all over the world as a real network to detect the Bluetooth signal of your AirTag by sending it (completely anonymously) the location.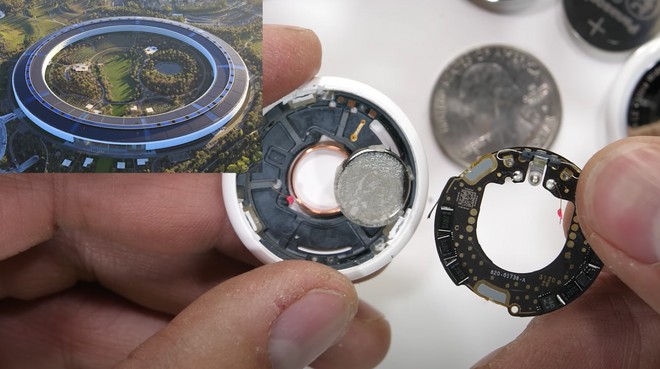 All this technology is hidden under the tracker's body, made of metal on one side and plastic on the other. Both faces, however, they are easily scratched (nothing new, it's just a confirmation). Once the device is opened, the battery is accessed (Zack reminds us that it is the first Apple to be equipped with a removable battery). Once removed, the interior can be opened with the aid of a cutter: the small speaker in the central part and the main board are hidden here. real scale reproduction of the Apple Campus! Here is the copper coil, the circuit board with the Bluetooth and UWB chip and, even more hidden, the NFC coil.