Desktop graphics card makers nearly quadrupled their profits in the first quarter of 2021 compared to the same period last year. This is due to the sharp rise in average selling prices, according to Jon Peddie Research. Simply put, video cards were selling for a lot more than a year ago.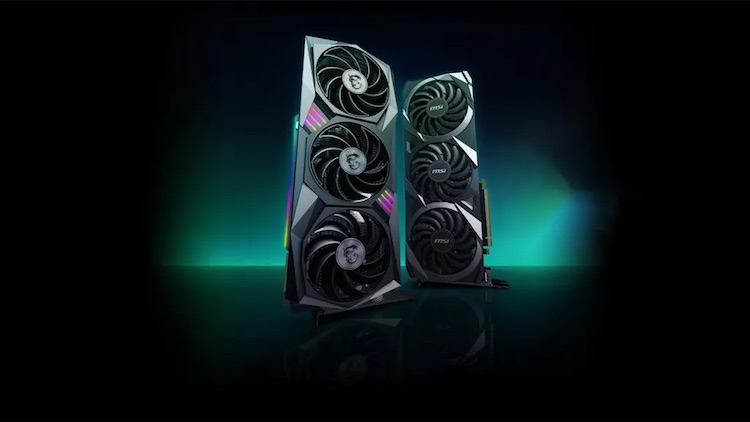 In total, 11.77 million discrete graphics accelerators were sold in the first quarter. This is 7% higher than the previous quarter and 24.4% higher than a year ago. Usually, video card sales decline in the first quarter, but this year there has been no drop. The growth in sales can be explained by the increasing demand from miners and gamers.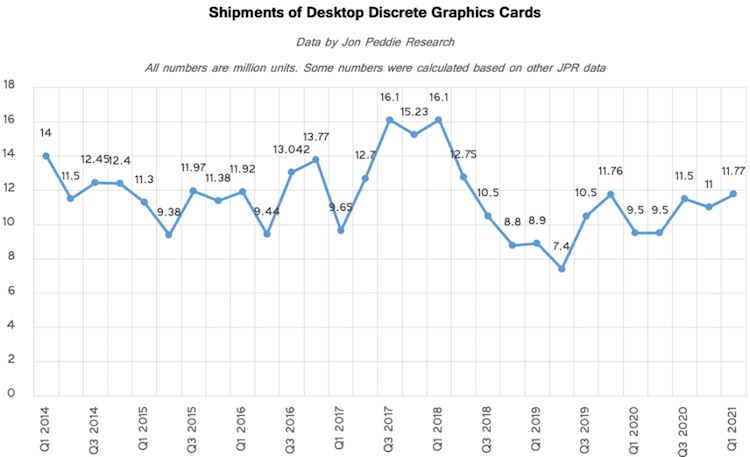 According to the latest report, the volume of the market for video cards in the first quarter reached $ 12.5 billion, which is 370% more than last year. The most significant market growth came in the second half of 2020, when prices for video cards of all price categories jumped sharply in the fourth quarter of 2020 as a result of too high demand. We are talking about video cards from AIB partners of AMD and NVIDIA companies, which produce their own versions of accelerators.
According to Jon Peddie Research, today the average price of a budget graphics card is $ 469, while a year ago it was only $ 141. A mid-range graphics accelerator costs $ 809 (a year ago – $ 262), and a high-end video adapter will cost an average of $ 1,358 (was $ 779). Analysts point out that the rise in prices is driven by a number of factors, including a shortage of components and production capacity, as well as strong demand.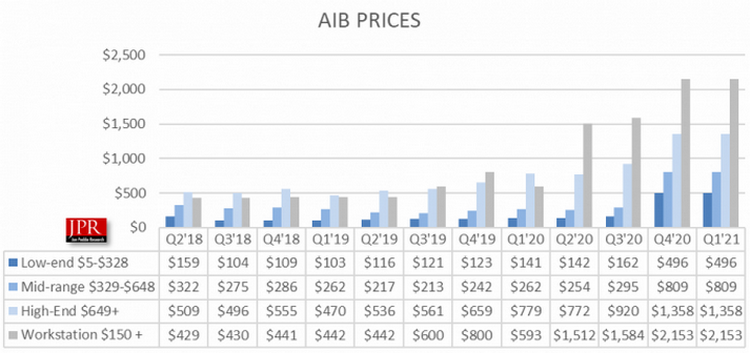 Interestingly, the average price of a GPU has gradually increased in the past as entry-level systems move to integrated graphics solutions, and the processing power of flagship solutions has grown, on which buyers were willing to spend more. For example, the average price of a high-end video card in the first half of 2018 was about $ 500.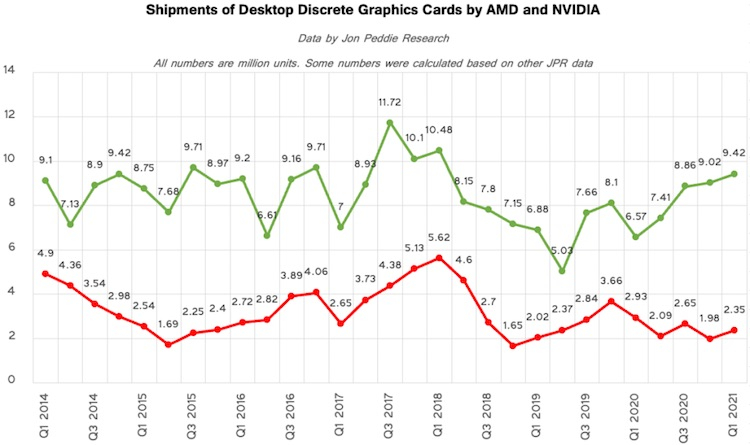 In terms of market share of GPU manufacturers, NVIDIA retained the lead and surpassed its competitor AMD by a four-to-one ratio. AMD managed to increase its market presence by 3 percentage points in the first quarter and secure a 20% share in the supply of graphics chips. NVIDIA reduced its share and now occupies 80% of the market. It's also important to note that both companies are selling off all the GPUs they can produce, and both have raised shipments for the first quarter.
If you notice an error, select it with the mouse and press CTRL + ENTER.