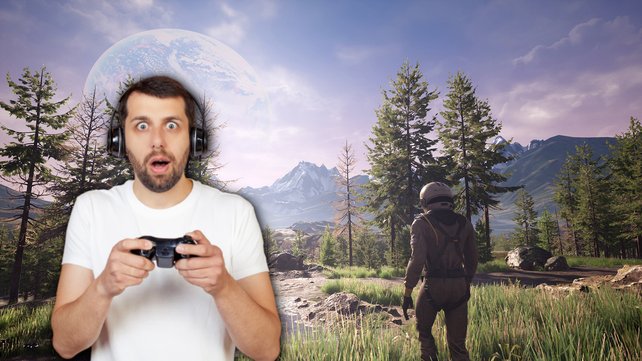 The sci-fi survival game Icarus climbs the Steam sales charts – it's not even released yet. However, pre-orderers can already take part in beta weekends and try out the promising game.
In the upcoming sci-fi adventure Icarus from the New Zealand developer RocketWerkz you have to face the challenges of the harsh environment on the eponymous planet and survive. The game will expected to be released on November 20th, but pre-orderers are already catapulting it into Steam's top seller list. The reward for this are beta weekends, during which gamers can already get to know some facets of the ruthless planet better.
Icarus: Sci-Fi Survival is causing a stir
In the survival game, mankind tried to terraform Icarus into a second earth – but the project failed and the living conditions on the planet are correspondingly harsh: The air is poisonous, the weather unpredictable and the wildlife dangerous.
Check out the official Icarus teaser here:
As a so-called prospector, you have to go on exploration missions on Icarus and look for important materials and raw materials there. You have to Defend against the planet's surroundings in true PvE fashion. As a co-op adventure, you can go on dangerous tours with a total of eight players at the same time. (Source: Steam)
Steam: Sci-Fi game becomes a pre-order hit
Until the planned release in November Icarus offers pre-orderers a few more beta weekends where features and regions of the game can be explored more closely. The next weekend will be about storms on the planet, while after that, the Arctic and desert regions and missions will also be in the spotlight. With its placement on the Steam top seller list, the game seems to have won over some survival fans in any case. (Source: Steam)
In our video we show you what we're going to play in the editorial office in August:
The first trailers and the promised gameplay undoubtedly arouse great expectations for the survival game. If the beta weekends also generate enthusiasm, Icarus could be a complete success.