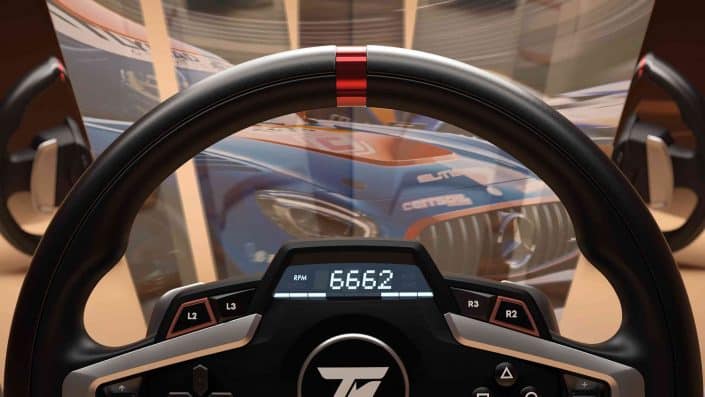 With the Thrustmaster T248, a new steering wheel for PS4, PS5 and PC has been announced. According to the manufacturer, it has a 70 percent better performance and it should offer an inexpensive force feedback through the combination of belt and gear mechanisms.
Steering wheel with display
A small display is conspicuously positioned on the Thrustmaster T248, which, according to the manufacturer, offers 20 display options, including the display of the rotation angle of the steering wheel and the type of force feedback.
There are also various telemetry displays of the user's choice. These include gear ratio, speed, number of laps, position of the driver and the best time.
According to the manufacturer, the intensity of the force feedback can be adjusted quickly. The Thrustmaster T248 therefore has three force feedback curves (including presets) that are compatible with all games:
FFB 1: Linear Force Feedback, in which the force felt by the user is 100 percent proportional to the force required by the game.
FFB 2: Increased force feedback for better drift control.
FFB 3: Strongest force feedback, with which the user feels the effects of the smallest details on the racetrack more clearly (curbs, skidding off the track, etc.).
The magnetic rocker switches of the T248 should in turn enable fast switching operations and extend the service life of the rocker switches. The T3PM pedal set also has the same HEART magnet technology.
"This technology is built into two key components that have a direct impact on gameplay. It enables more precise inputs in all games and at the same time eliminates potential dead zones, "said Thrustmaster about magnet technology.
Up to 25 action buttons provide plenty of input options.
Prices and availability
The Thrustmaster T248 (racing steering wheel and pedal set) will go on sale at a recommended retail price of 349.99 euros. Pre-orders will start in Europe on August 31, 2021. It will be available from October 21, 2021. Here are a few pictures:
More news about Thrustmaster T248.
Links to Amazon, Media Markt, Saturn and some other retailers are usually affiliate links. When we make a purchase, we receive a small commission that we can use to finance the page that can be used free of charge. You have no disadvantages.