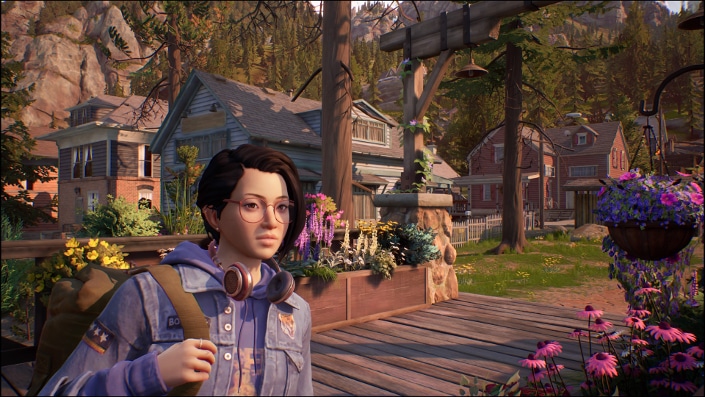 With will appear in a few days "Life is Strange: True Colors" the much-anticipated new spin-off of Square Enix's popular adventure franchise. We are already allowed to explore the small town of Haven Springs together with the new protagonist Alex and would like to give you our impressions of the first episode of the title below. And don't worry, our final preview of the game will of course be completely spoiler-free.
The new girl in town
Alex Chen looks back on challenging years and now wants to venture a fresh start in the small town mentioned above. Her brother Gabe, with whom she had no contact for a long time, found her and wants to include her in his life. Our young heroine is visibly nervous, but at the same time discreetly hopeful, when it finally comes to the long-awaited family reunion.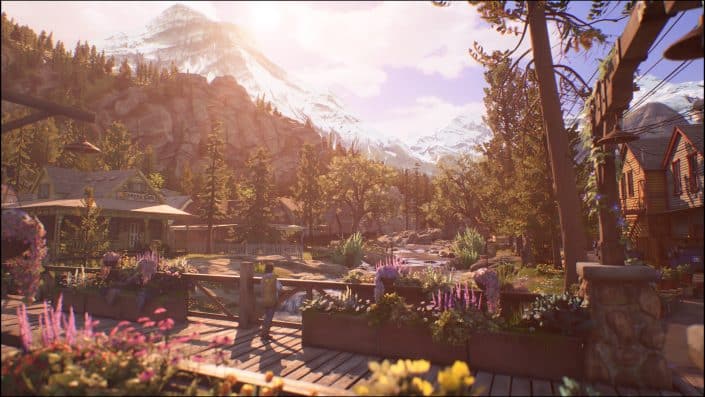 In the role of Alex, we then dare to take our first steps together with Gabe Haven Springs. It quickly becomes apparent that the place has a mining past and is extremely proud of this chapter of its history. Statues, plaques and also some residents of the city report about it. In its first few minutes, "True Colors" creates a pleasantly warm atmosphere and paints the city as a believable place.
At every corner you can discover beautiful little details that make the small town even more tangible. Most of the other residents Alex encounters also give her a warm welcome. The town has more to offer than you might think, such as a small flower shop, a bar and even one Record storewho does it especially to Alex. Not surprising, after all, she has a musical streak.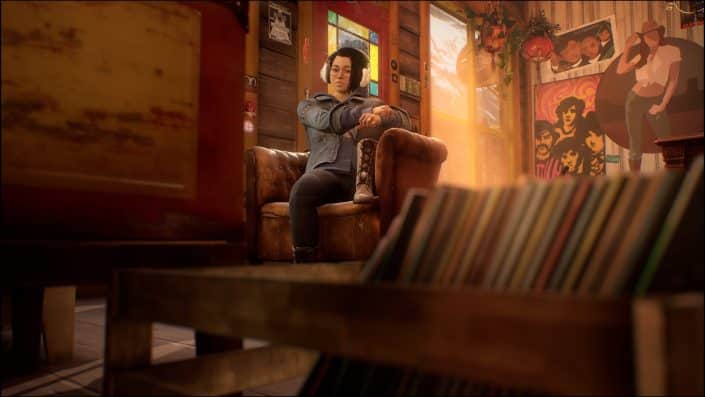 Of course, it can't stay that idyllic forever and so after a short time Alex's "super power" comes to light: She can do it Emotions of those around you see if these are particularly strong. If that is the case, they glow like an aura around these people, which our young heroine can quickly throw off course. It quickly becomes apparent that she cannot control this ability and closes herself off from it.
I see your true colors
In terms of play, this is now a completely new element, because at the push of a button we can react to these feelings and, so to speak, hear the thoughts of the characters. This is not only possible with certain figures, but also with isolated objects and also fulfills a purpose in a playful way. In this way you can not only collect additional information about some of the residents in Haven Springs, but also unlock new dialogues.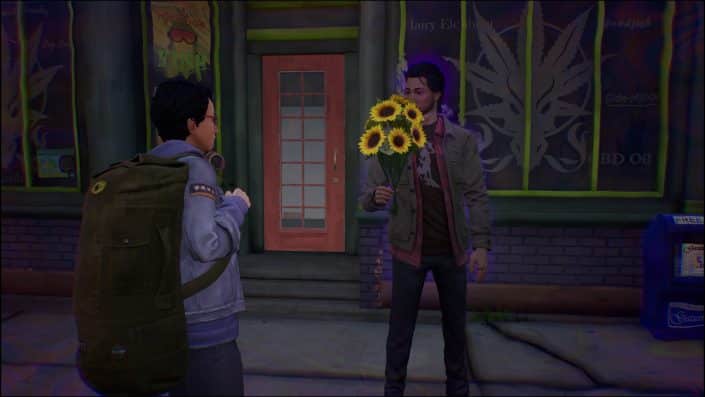 Alex's powers are an interesting new facet within the "Life is Strange" universe that offers a lot of potential for some exciting storylines. However, after our first three hours of playing "True Colors", it is not yet possible to assess whether this potential will ultimately be used consistently. For that we can already say that our new main character is well done and nicely written.
Deck Nine was once again able to prove one of their great strengths and show that they know how to create believable characters. Alex is very personable with her lively, somewhat cheeky manner. But it also becomes clear that she's carrying some emotional baggage with her, as a look at her SMS and diary reveals. If you want to find out more about Alex and her world, you can look forward to plenty of reading material.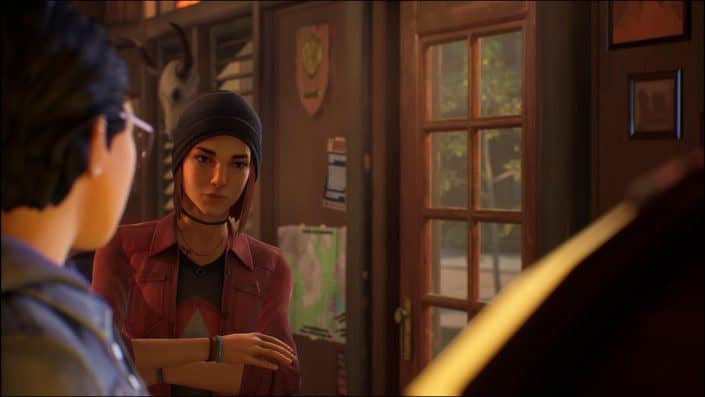 Furthermore, the excursion to Haven Springs promises to be quite varied in terms of play. In addition to all kinds of dialogues and hidden details, places of relaxation are also waiting for you. There Alex can relax, take in the surroundings or just listen to the sound of the music. If you want a little more action, use one of the arcade machines standing around and go on a high score hunt.
Small residual doubts remain
So you already notice: "True Colors" was already busy in its first episode, which tied us to the screen for a little over three hours. Haven Springs is a believable, secluded little place with lots to discover. In addition, Alex is an interesting character, in whom we can already identify various potentially exciting facets, even beyond her powers. Nevertheless, there are still small remaining doubts.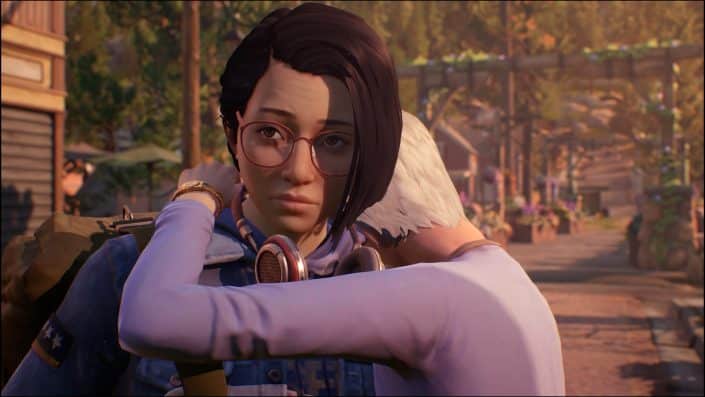 For example, the plot was pretty predictable at the beginning of the game. In addition, it is not yet possible to assess how strong the consequences of our decisions will ultimately be and how the further course of the story will be influenced. In addition, it remains to be seen whether the mechanics around Alex's powers can remain exciting over all five episodes or whether it will wear out in the end.
More news about Life is Strange: True Colors.
Links to Amazon, Media Markt, Saturn and some other retailers are usually affiliate links. When we make a purchase, we receive a small commission that we can use to finance the page that can be used free of charge. You have no disadvantages.