Before the spread of the Internet, books with walkthroughs and codes for a wide variety of games were sold all over the world: from the classic Zelda to Final Fantasy. Many who have found video games in the CIS countries remember the shelves with books for 1500 games for PS1 or Sega Mega Drive.
Similar books were published in the West, and the artist Philip Summers decided to pay tribute to them and launched on Kickstarter campaign to raise funds for walkthrough books of Nintendo classics. They are made in comic format, and the illustrations are drawn by Philip himself.

Alas, the campaign not only raised over $ 322,000, but also attracted the attention of Nintendo's lawyers. Now the project is closed, the platform will return the money to backers, and Philip will try to avoid problems. He knew that this could happen, but until recently he counted on a better combination of circumstances.
Hopefully Summers will be able to release the books in some other, less formal way. Perhaps selling them directly to buyers interested in nostalgia. There were almost five thousand of them in the campaign.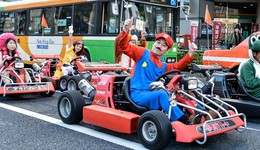 Nintendo sues MariCar for copyright infringement
Nintendo continues to fight companies using it … Read More
Nintendo is known for being very sensitive to its intellectual property and regularly sues enthusiasts. This case only confirms the current trend.