At the Munich Auto Show, Intel CEO Pat Gelsinger predicted that semiconductors will account for more than 20% of all premium car components by 2030. This represents a fivefold increase from 4% in 2019.
The rise in demand for semiconductors in the automotive industry has coincided with the growing demand for chips in general. Gelsinger predicted that the total automotive chip market will reach $ 115 billion by the end of this decade, representing more than 11% of the total chip market. The head of Intel believes that this trend is due to what he calls "digitization of everything": ubiquitous computing, communications, cloud services and artificial intelligence.
The head of Intel believes that the current situation in the semiconductor market promises both problems and huge opportunities. He is confident that now is the right time for Intel to gain a foothold in the chip market for the transportation industry. Gelsinger recalled that Intel plans to build at least two new cutting-edge chip factories in Europe. The company is going to invest about 80 billion euros in them over the next decade. He also elaborated on the previously announced IDM 2.0 strategy and shared how it will be applied to the automotive and mobile industries in the European Union.
Intel Foundry Services, a contract manufacturing company for chips, is actively engaged in discussions with potential customers in Europe, including automotive companies and their suppliers. At the moment, most of the chips for the automotive industry are manufactured using outdated technologies. Intel has partnered with European automakers and is investing heavily in helping automotive chip designers migrate to more advanced manufacturing processes. The company today announced plans to expand production capacity at its factory in Ireland.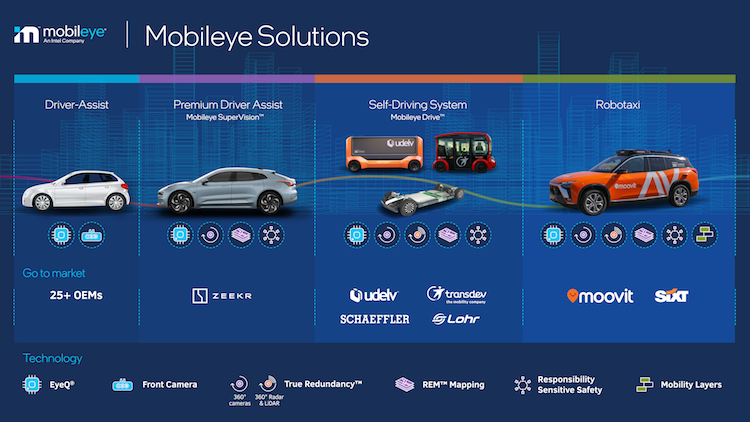 To highlight Intel's commitment to self-driving systems, Gelsinger spoke about Mobileye's work in developing driver assistance systems and autonomous driving features, and Amnon Shashua, CEO of Mobileye, unveiled the first production vehicle equipped with Mobileye Drive.
If you notice an error, select it with the mouse and press CTRL + ENTER.