A new round is starting again: With "Tales of Arise", Bandai Namco brings the next offshoot of the "Tales of" series onto the European market and tries to impress with great graphics. We plunged into the JRPG on PlayStation 5 and tell you why you as a genre fan shouldn't miss it.
Against oppression and slavery!
Anyone who knows the other parts of the "Tales of" franchise will know that there is often more to it here than it first appears. Often complex topics are hidden a bit behind the cute look and the magical characters. Therefore, they only appear really profound at second glance. "Tales of Arise", on the other hand, hits the table with a hammer: In the latest offshoot, you are confronted with violence, oppression and loss in the first few hours.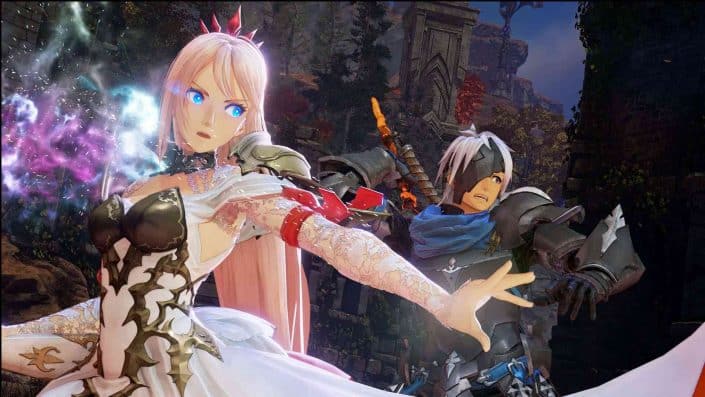 At the beginning of the game you will find out what the next 50 hours will be about: The Dahna people are oppressed and exploited by the Renaeans. The Rena people make them slaves, steal all raw materials and use every spark of energy that they can siphon off from humans – literally! Your goal is to end this tyranny and restore freedom to the people by defeating the five strongest lords in the land.
A hero and his five friends
You slip into the skin of Alphen, who cannot explain himself due to his amnesia, which is why he does not perceive any physical pain. Whether it's a bleeding wound or a dislocated shoulder: he just doesn't feel it. His first mate in the game, on the other hand, has a different problem: Anyone who touches her will be injured. The two could hardly be more different, but they are united by the desire for justice and peace. Soon you will meet more characters who will quickly join the small group.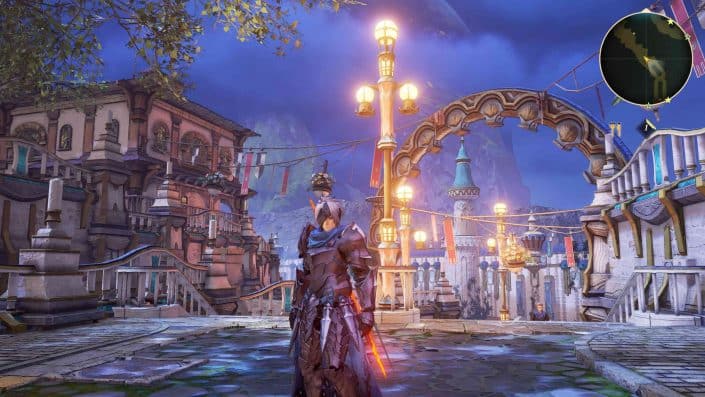 Some of them fight against the Renaean lords out of pure conviction, others desire peace, but inwardly have other desires that they want to achieve as part of the heroes' team. A lot of emphasis was placed on giving the characters a lot of depth, which you can fathom especially in the numerous cutscenes. It's worth playing the optional dialogues and reading something between the lines to find out more about the characters' true feelings.
A thunderstorm in fights
At the heart of many JRPGs are the fights. "Tales of Arise" tries to be as modern and exciting as possible with its fast pace, which works surprisingly well. During our preview session we found the combat system to be a bit confusing, as a lot is happening on the screen: evasions, combo attacks, spells and, above all, loads of explosions can sometimes look a bit overwhelming.
This impression was confirmed when testing the entire game: Sometimes it's just a confusing thunderstorm of effects that flickers across the screen. Thanks to the intuitive controls, you pretty much always know what you have to do, so that these short effect blackouts are not too much of a problem. Just sit back and enjoy!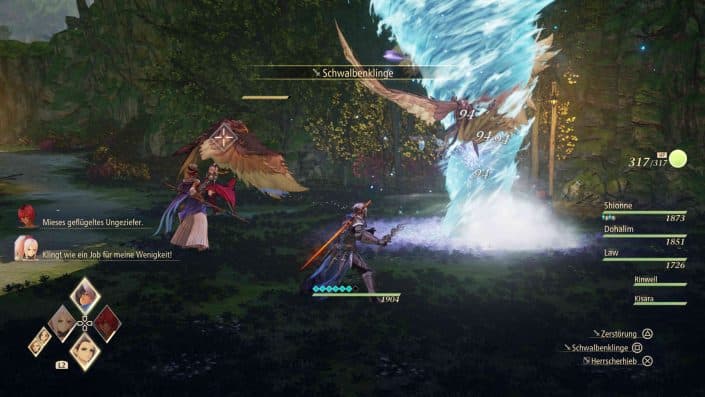 If the fights don't work so well, you have different options: Either you level up a bit, rearrange your equipment or see which skills your team members can currently still learn. Often it is enough to have one more healing spell in your repertoire to defeat the next lord after all. And if nothing helps, you just switch the fights to automatic.
A JRPG can look so beautiful
Don't get us wrong: The effects thunderstorm in the fights is a bit confusing, but it looks really cool! Lightning flashes at every corner of the screen, columns of water wash away enemies and Alphen's flaming sword is just really hot. Compared to other JRPGs, for example "Scarlet Nexus", the opponent design is okay, but not particularly good.
By the way, if you want to play a bit of character designer yourself, we recommend taking a look at the menu: There are numerous cosmetic items that you can equip your team with. Rabbit ears and fox tail are a real must, right ?!
If you've played the old parts of the franchise, you were probably surprised by the graphics of this offshoot: "Tales of Arise" looks like a fairy tale! As soon as you come out of the gloomy mountains, a colorful world opens up in a romantic watercolor look that is simply beautiful. Although you don't have an open world here and the game sends you straight through the somewhat tubular areas, there is a lot to see. It's also worth taking a look at the sky! Fluffy pink clouds disappear behind the hills in the evening and many a ray of sun breaks through the treetops in front of the city.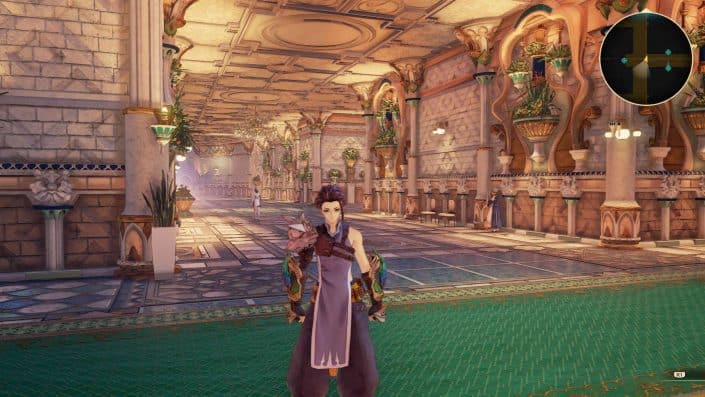 With the design of NPCs, however, sometimes more and sometimes less effort was made. So, of course, important characters are well represented, but city dwellers only stand statically in their place and are even faded out by the game if you take a step too far away from them. That is a shame and destroys the immersion a little. Unfortunately, you can't really experience much in the cities themselves – this clearly shows that "Arise" looks great, but is not an AAA game.
If you don't feel like going for a walk, you can do little side quests and mini-games. In the course of the game, for example, you will get a small farm where you can breed different animals. Don't forget to cast the line every now and then to catch delicious fish for dinner. If you gather around the campfire to rest again, you can conjure up delicious dishes that bring helpful bonuses for the next fights.