V Genshin Impact Reflections on Frailty is the first chapter of Raiden's Legendary Quest "The Broken World", in which you can get to know Baal better by walking around Inazuma with her, taking a few photos with her, and going through a small dungeon. If you have any difficulties with completing these tasks, study our walkthrough.
How to start the Legends Quest "Reflections on Transience"
First of all, you will need to fulfill a number of special conditions. These include the following requirements:
Reach Adventure Rank 40 or more. We talked in detail about how you can relatively quickly pump this parameter in a separate article.
Complete the "All-Seeing God, Mortal World" story quest from Volume 2.
Obtain 1 Key of Legends. To do this, you need to go through 8 daily assignments. You can complete no more than 4 such missions per day, and you can only keep 3 keys in your inventory.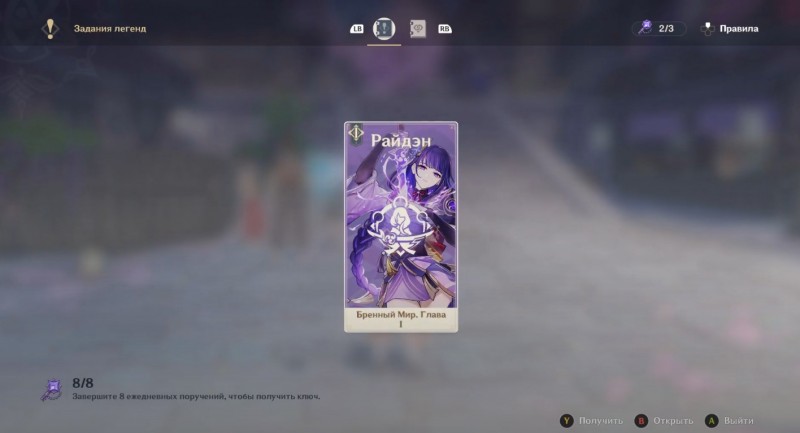 When all these conditions are met, open the quest journal, go to the "Legend Quests" section and unlock the desired quest chain.
Lonely Elysium
Go to the statue of the all-seeing deity
Teleport to the city of Inazuma and go to the large statue on the south side of the settlement, where you will see Tom and the members of the other commission. They are worried about what will happen next when we know that the Kujo clan worked with Fatui. Let's go talk to Shogun Raiden (Ei).
Head to the Great Narukami Temple and find Miko
Before we can talk to Baal, we'll need to chat with Yae Miko. Go to the temple and talk to her. She stands near a tree. Watch a short scene to get permission to see Ei. You will also find out that she is not in the best mood now, as she was not brought desserts and light romances.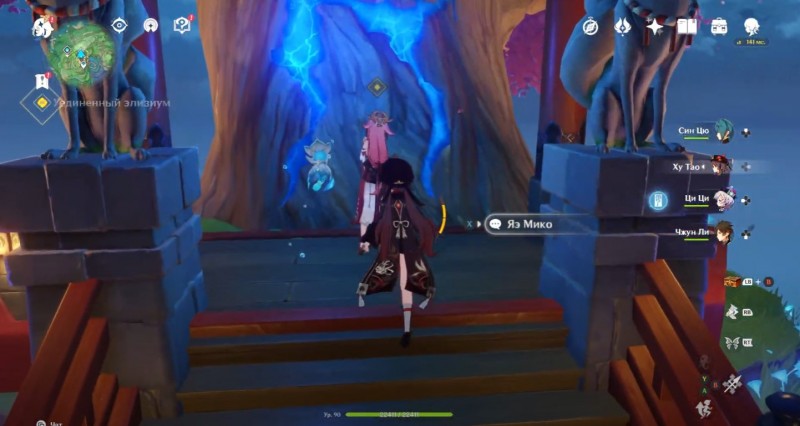 Return to Inazuma City and climb to the top of the castle where the guards will stop you. No one seems to be able to visit the shogun unless he has a pass. Lucky for us, we got it from Miko. We will be able to go inside, where we will see the shogun walking back and forth. It looks like Raiden is malfunctioning right now, so we'll need to chat with Ei.
Talk to Ei
Shortly thereafter, we will get into Ei's plan. Talk to her and ask her about the shogun. It looks like she has disabled several of the doll's functions. We will also invite her to leave the Eutumium Realm so that she can have a look at Inazuma. We're going to be her guides, even though she doesn't know what it is. After the cutscene, the mission will end, and we will receive 475 adventure points, 3 hero experience, 29,525 mora and 6 magic ore enhancement.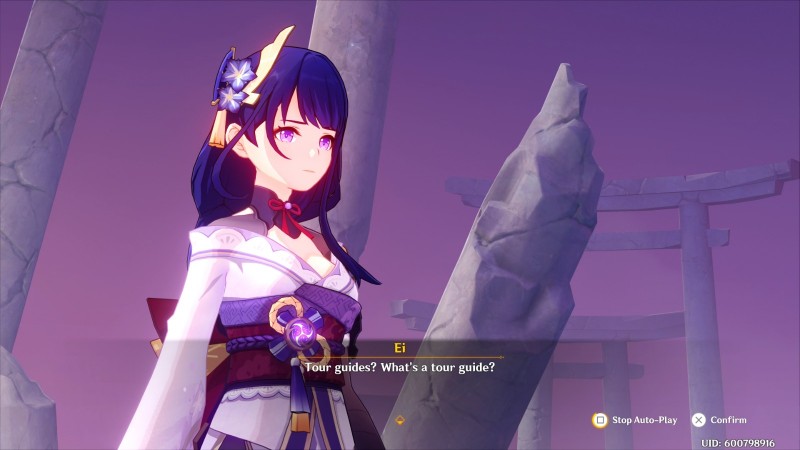 Amid the mortal world
Walk down the street with Ei
Time to show her Inazuma! Leave the castle and head straight to the square to trigger a new cutscene. Everyone will be shocked when they see the shogun. She never seems to have walked these streets, so the locals will be amazed!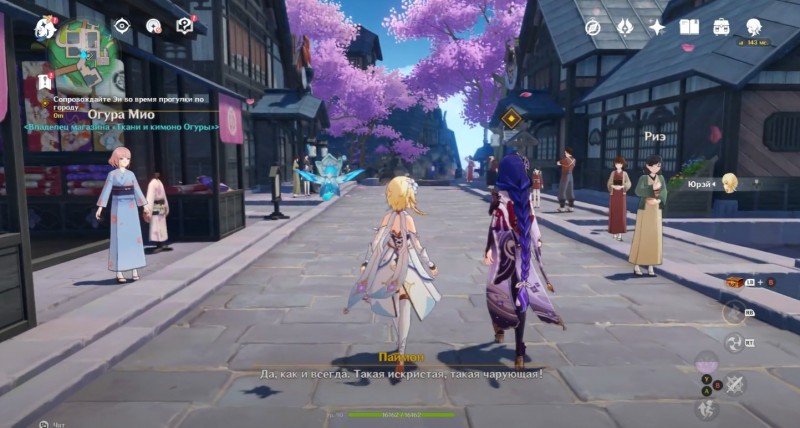 Start walking the streets with her, enjoying a pleasant conversation with Raiden. Suddenly she sees Tomoki's shop and approaches him. She will be interested in what he sells. Watching a new cut-scene again. Ei decides to help the seller sell the dango milk.
Go to Yae's Publishing House
It's time to buy some light novels. Go to your local publisher (next to the smithy) and watch the new cut-scene. For Ei, however, modern books will seem strange. We will need to pick up some books for her. To do this, check the bookshelf by examining all 3 books.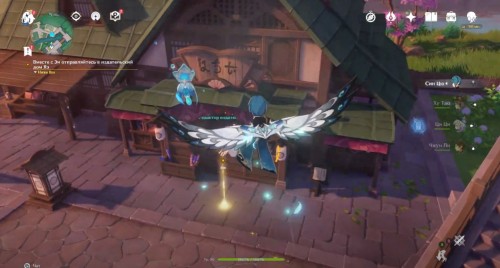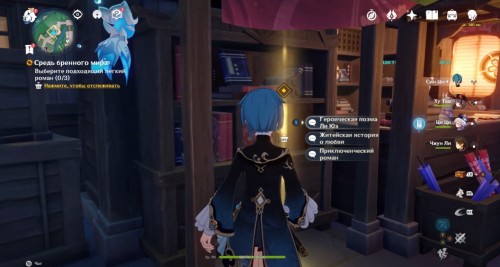 Some novels will work for Eya, while others are unlikely to appeal to her. After reading all the books, chat with Baal again (you can choose any option). This completes the task. As a reward, you will receive 525 adventure points, 4 hero experience, 32 625 mora and 7 magical enhancement ores.
Constancy of matter
Head to a scenic spot for photography
Climb the stairs and stand in the indicated place to start a new cutscene. We will need to take a photo of Ei and we will ask her to "strike a pose." You can choose any of them, so go through all of them.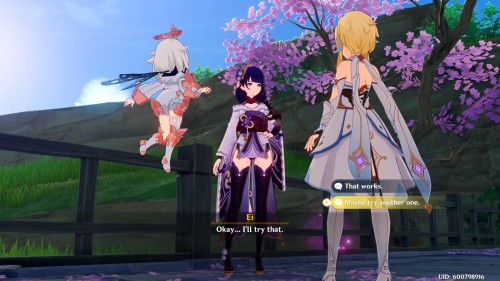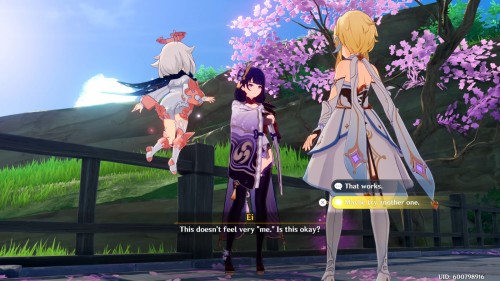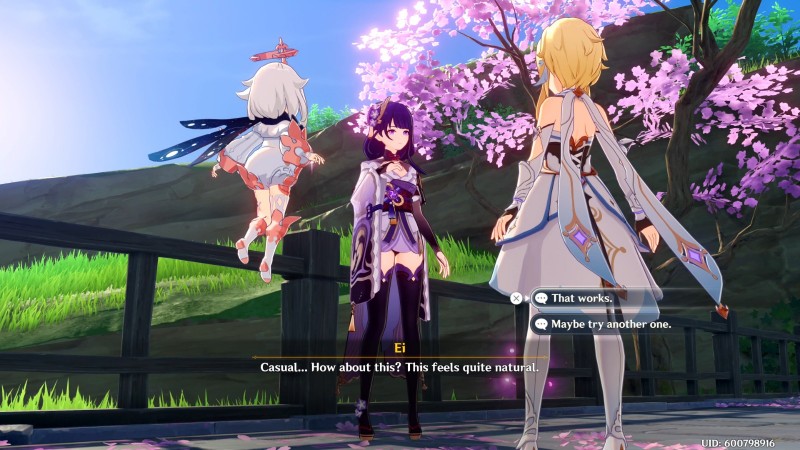 After that, step back a little, go to the shining marker and take a photo. When you're ready, show the photo to the girl. She will be very surprised at what she sees. Watch a long cutscene, at the end of which you will hear someone screaming.
Go to the sound
Go down the stairs and talk to Ippei. We learn that he is worried about his master, who has not yet returned. Ei will tell him she will go and check what could have gone wrong, as she is partially responsible for this. This completes the task. You will receive 425 adventure points, 3 hero experience, 26,025 mora and 6 magical enhancement ores.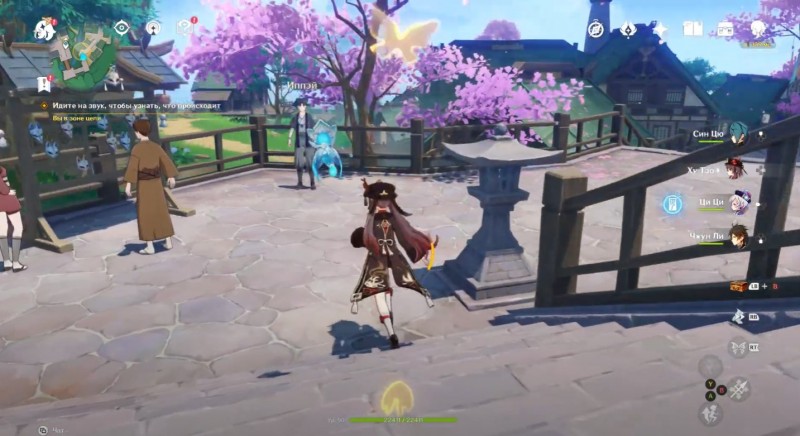 Listening to the hearts of mortals
Head to the secret hideout of the Takatsukasa clan
It's time to head to the secret outpost of the Takatsukasa clan. Oddly enough, it is very close to the Kamisato estate. Travel to a waypoint outside the mansion, climb the cliffside and you will find the entrance to the Mountain Refuge.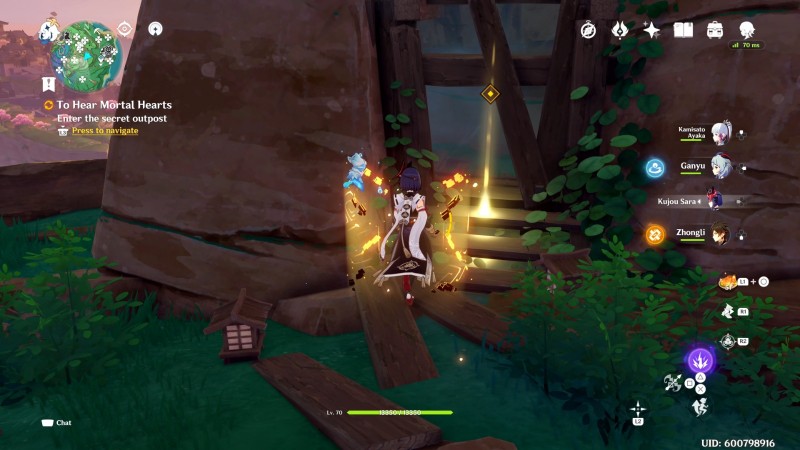 This is a small dungeon in which you will be able to take control of Ei, even if she is not on your team.
Get to the deepest
There is almost nothing to write about here, as you will basically have to walk in a straight line to the very end. The main thing is not to forget to examine the chests here – there are 4 of them and they contain the stones of the source and the seal of Electro. As for the enemies, then you have to fight with several ronin and Kairagi, but with the reinforced Baal it will be quite easy to defeat them.
At the very end, take the elevator and meet Kamaji and Takatsukasa Susumu. Watch a long cutscene. It will show an exciting battle.
Leave run away after Ei
Once the cutscene is over, open the chest and exit the dungeon. Back outside, talk to the girl to complete the task. Then chat with Yae Miko again at the Great Narukami Shrine to return her pass. After the end of the conversation, the chapter will come to an end. As a reward, you will receive 600 adventure points, 60 source stones, 4 hero experience, 38,100 mora, 8 magic ore enhancement and 5 indications of the "Light".
Read also