Dauvea, based in Cagliari, Sardinia, will transform an ancient mine on the nearby small island of Sant'Antioko into a new data center. The project is called Digital Metalla or Digital Mine – "digital mine".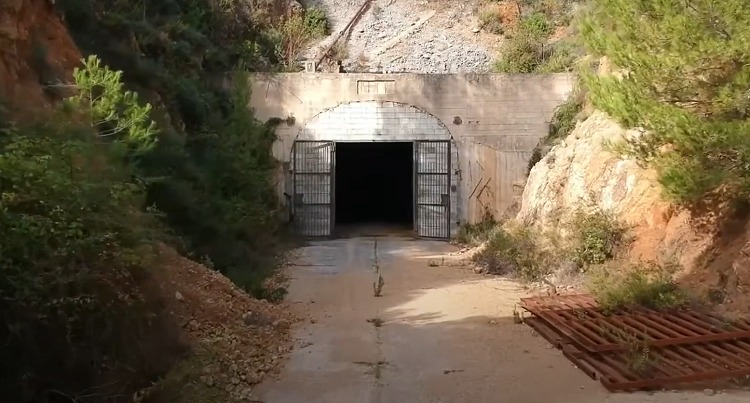 It was first announced in January, and according to local press reports, the company will begin construction work this month. Dauvea has not yet released the specifications, but has already announced that the project will be an "energy efficient green data center."
According to company founder Salvatore Pulvirenti, a former ammunition depot has been turned into a data center in Oslo, Norway. The Italian company also intends to give new life to local facilities for the long term, create jobs, provide solutions for new trends in the digital world, and introduce "real innovation".
Founded in 2017, Dauvea provides a variety of IT services, including cybersecurity projects and cloud storage for customers. Previously, Pulvirenti worked as CIO for the Italian telecommunications company Tiscali, and also held various senior positions at Telecom Italia and the Sardinian research organization CRS4.
Metalla is the name of an archaeological site located on the territory of the former Phoenician city of Sulci (Sulcis) on a small island located southeast of Sardinia itself, in the immediate vicinity of the main island. Lead, silver, zinc ores and coal, as well as other minerals have been mined on this territory for thousands of years, mines began to close here only in the 90s of the last century. Previously, an application was submitted to include the territory in the UNESCO World Heritage List.
If you notice an error, select it with the mouse and press CTRL + ENTER. | Can you write better? We are always glad to new authors.
A source:
if( navigator.language.match(/ua/) == null ) { /*var e = document.createElement( 'script' ); e.src = document.location.protocol + '//userapi.com/js/api/openapi.js?34'; e.async = true; document.getElementById( 'vk-root' ).appendChild( e );*/ }
}() );
allGoogleAdsLoaded = 0;
function lazyLoadGoogleAds() { if( window.adsbygoogle == undefined ) { t = document.getElementsByTagName("script")[0]; s = document.createElement("script"); s.type = "text/javascript"; s.src = "https://pagead2.googlesyndication.com/pagead/js/adsbygoogle.js"; s.async = true; t.parentNode.insertBefore(s, t); }
needGoogleAdsLoad = 0; var allgoogleads = document.querySelectorAll('.adsbygoogle'); [].forEach.call(allgoogleads, function(aditem) { if( aditem.dataset.adsbygoogleStatus == undefined ) needGoogleAdsLoad = 1; });
if( needGoogleAdsLoad > 0 ) { setTimeout( function(){
}, 450 ); } else allGoogleAdsLoaded = 1; }
mobIndicator = ( ( window.innerWidth || document.body.clientWidth ) < 799 ); if( ( window.innerWidth || document.body.clientWidth ) < 799 ) { var adfoxBiddersMap = { "criteo": "717767", "myTarget": "763128", "betweenDigital": "793538", "adriver": "776589", "rtbhouse": "851765", "otm": "1460822", "getintent": "958501", "buzzoola": "769160", "relap": "958503", "segmento": "1458193", "bidvol": "1458197" }; adUnits = [ { "code": "adfox_mob1", "sizes": [ [ 300, 250 ] ], "bids": [ { "bidder": "criteo", "params": { "placementId": 1288827 } }, { "bidder": "myTarget", "params": { "placementId": 249969 } }, { "bidder": "betweenDigital", "params": { "placementId": 2537549 } }, { "bidder": "adriver", "params": { "placementId": "20:3dnews_300x250mob_top" } }, { "bidder": "rtbhouse", "params": { "placementId": "30a98fd86117f14c5apo" } }, { "bidder": "otm", "params": { "placementId": 865 } }, { "bidder": "getintent", "params": { "placementId": "134_3dnews.ru_mobile_adfox_mob1_300x250" } }, { "bidder": "buzzoola", "params": { "placementId": 296712 } }, { "bidder": "relap", "params": { "placementId": "3yDftXW1oIV_2jY2" } }, { "bidder": "segmento", "params": { "placementId": 164 } }, { "bidder": "bidvol", "params": { "placementId": 11656 } } ] }, { "code": "adfox_mob2", "sizes": [ [ 300, 250 ] ], "bids": [ { "bidder": "criteo", "params": { "placementId": 1288828 } }, { "bidder": "myTarget", "params": { "placementId": 249971 } }, { "bidder": "betweenDigital", "params": { "placementId": 2537550 } }, { "bidder": "adriver", "params": { "placementId": "20:3dnews_300x250mob_mid" } }, { "bidder": "rtbhouse", "params": { "placementId": "d985bfbe8d315a32d801" } }, { "bidder": "otm", "params": { "placementId": 866 } }, { "bidder": "getintent", "params": { "placementId": "134_3dnews.ru_mobile_adfox_mob2_300x250" } }, { "bidder": "buzzoola", "params": { "placementId": 296735 } }, { "bidder": "relap", "params": { "placementId": "7BPsl1eXdFGrfpSU" } }, { "bidder": "segmento", "params": { "placementId": 165 } }, { "bidder": "bidvol", "params": { "placementId": 13106 } } ] }, { "code": "adfox_mob4", "sizes": [ [ 300, 250 ] ], "bids": [ { "bidder": "criteo", "params": { "placementId": 1305406 } }, { "bidder": "myTarget", "params": { "placementId": 251725 } }, { "bidder": "betweenDigital", "params": { "placementId": 2548692 } }, { "bidder": "rtbhouse", "params": { "placementId": "0ae186a2fef225d0b159" } }, { "bidder": "otm", "params": { "placementId": 867 } }, { "bidder": "getintent", "params": { "placementId": "134_3dnews.ru_mobile_adfox_mob4_300x250" } }, { "bidder": "buzzoola", "params": { "placementId": 296736 } }, { "bidder": "relap", "params": { "placementId": "3DExqbd2oliip6en" } }, { "bidder": "segmento", "params": { "placementId": 166 } }, { "bidder": "bidvol", "params": { "placementId": 13107 } } ] }, { "code": "adfox_mob3", "sizes": [ [ 300, 250 ] ], "bids": [ { "bidder": "criteo", "params": { "placementId": 1288829 } }, { "bidder": "myTarget", "params": { "placementId": 249973 } }, { "bidder": "betweenDigital", "params": { "placementId": 2537551 } }, { "bidder": "rtbhouse", "params": { "placementId": "dded8b51295c562bc778" } }, { "bidder": "otm", "params": { "placementId": 868 } }, { "bidder": "getintent", "params": { "placementId": "134_3dnews.ru_mobile_adfox_mob3_300x250" } }, { "bidder": "buzzoola", "params": { "placementId": 296737 } }, { "bidder": "relap", "params": { "placementId": "IsnJcmytX6VfXl5e" } }, { "bidder": "segmento", "params": { "placementId": 167 } }, { "bidder": "bidvol", "params": { "placementId": 13108 } } ] } ]; var userTimeout = 1450; window.YaHeaderBiddingSettings = { biddersMap: adfoxBiddersMap, adUnits: adUnits, timeout: userTimeout, trustedOwners: [ 254948 ] }; } else { var adfoxBiddersMap = { "criteo": "717767", "myTarget": "763128", "betweenDigital": "793538", "adriver": "776589", "rtbhouse": "851765", "otm": "1460822", "getintent": "958501", "buzzoola": "769160", "relap": "958503", "segmento": "1458193", "bidvol": "1458197", "adfox_tn-inpool": "1010535" }; adUnits = [ { "code": "adfox_side1", "sizes": [ [ 240, 400 ] ], "bids": [ { "bidder": "criteo", "params": { "placementId": 1288833 } }, { "bidder": "myTarget", "params": { "placementId": 252093 } }, { "bidder": "betweenDigital", "params": { "placementId": 2537545 } }, { "bidder": "adriver", "params": { "placementId": "20:3dnews_240x400_1" } }, { "bidder": "rtbhouse", "params": { "placementId": "dcf7cd50ce6ac7bbd999" } }, { "bidder": "otm", "params": { "placementId": 869 } }, { "bidder": "getintent", "params": { "placementId": "134_3dnews.ru_desktop_adfox_side1_240x400" } }, { "bidder": "buzzoola", "params": { "placementId": 296738 } }, { "bidder": "relap", "params": { "placementId": "JdolN_c3s5Zs8x0d" } }, { "bidder": "segmento", "params": { "placementId": 168 } }, { "bidder": "bidvol", "params": { "placementId": 11661 } }, { "bidder": "adfox_tn-inpool", "params": { "p1": "ceagl", "p2": "gead" } } ] }, { "code": "adfox_side2", "sizes": [ [ 240, 400 ] ], "bids": [ { "bidder": "criteo", "params": { "placementId": 1288834 } }, { "bidder": "myTarget", "params": { "placementId": 252095 } }, { "bidder": "betweenDigital", "params": { "placementId": 2537546 } }, { "bidder": "adriver", "params": { "placementId": "20:3dnews_240x400_2" } }, { "bidder": "rtbhouse", "params": { "placementId": "d8fda44c49bc4d201ctt" } }, { "bidder": "otm", "params": { "placementId": 870 } }, { "bidder": "getintent", "params": { "placementId": "134_3dnews.ru_desktop_adfox_side2_240x400" } }, { "bidder": "buzzoola", "params": { "placementId": 296739 } }, { "bidder": "relap", "params": { "placementId": "f5CQJzn4A_kD2tra" } }, { "bidder": "segmento", "params": { "placementId": 169 } }, { "bidder": "bidvol", "params": { "placementId": 13109 } }, { "bidder": "adfox_tn-inpool", "params": { "p1": "ceagm", "p2": "gead" } } ] }, { "code": "adfox_side3", "sizes": [ [ 160, 600 ] ], "bids": [ { "bidder": "criteo", "params": { "placementId": 1288835 } }, { "bidder": "betweenDigital", "params": { "placementId": 2537718 } }, { "bidder": "rtbhouse", "params": { "placementId": "da9406ed65ef505e5c9" } }, { "bidder": "otm", "params": { "placementId": 871 } }, { "bidder": "getintent", "params": { "placementId": "134_3dnews.ru_desktop_adfox_side3_160x600" } }, { "bidder": "buzzoola", "params": { "placementId": 296740 } }, { "bidder": "relap", "params": { "placementId": "mmWa1BTUyO0XXq6u" } }, { "bidder": "segmento", "params": { "placementId": 170 } }, { "bidder": "bidvol", "params": { "placementId": 11667 } } ] }, { "code": "adfox_top", "sizes": [ [ 728, 90 ] ], "bids": [ { "bidder": "criteo", "params": { "placementId": 1288832 } }, { "bidder": "myTarget", "params": { "placementId": 249983 } }, { "bidder": "betweenDigital", "params": { "placementId": 2537544 } }, { "bidder": "adriver", "params": { "placementId": "20:3dnews_728x90_top" } }, { "bidder": "rtbhouse", "params": { "placementId": "1b50c2bcd2697d18" } }, { "bidder": "otm", "params": { "placementId": 872 } }, { "bidder": "getintent", "params": { "placementId": "134_3dnews.ru_desktop_adfox_top_728x90" } }, { "bidder": "buzzoola", "params": { "placementId": 296741 } }, { "bidder": "relap", "params": { "placementId": "l2ZmID7_kmiSVVVV" } }, { "bidder": "segmento", "params": { "placementId": 171 } }, { "bidder": "bidvol", "params": { "placementId": 11668 } } ] }, { "code": "adfox_mid1", "sizes": [ [ 300, 250 ] ], "bids": [ { "bidder": "criteo", "params": { "placementId": 1288830 } }, { "bidder": "myTarget", "params": { "placementId": 249979 } }, { "bidder": "betweenDigital", "params": { "placementId": 2537547 } }, { "bidder": "rtbhouse", "params": { "placementId": "743c4a466ed445af0699" } }, { "bidder": "otm", "params": { "placementId": 873 } }, { "bidder": "getintent", "params": { "placementId": "134_3dnews.ru_desktop_adfox_mid1_300x250" } }, { "bidder": "buzzoola", "params": { "placementId": 296742 } }, { "bidder": "relap", "params": { "placementId": "3iHefLx889Ys3C4u" } }, { "bidder": "segmento", "params": { "placementId": 172 } }, { "bidder": "bidvol", "params": { "placementId": 11669 } } ] }, { "code": "adfox_mid2", "sizes": [ [ 300, 250 ] ], "bids": [ { "bidder": "criteo", "params": { "placementId": 1288831 } }, { "bidder": "myTarget", "params": { "placementId": 249981 } }, { "bidder": "betweenDigital", "params": { "placementId": 2537548 } }, { "bidder": "rtbhouse", "params": { "placementId": "f29a83457349c5675289" } }, { "bidder": "otm", "params": { "placementId": 874 } }, { "bidder": "getintent", "params": { "placementId": "134_3dnews.ru_desktop_adfox_mid2_300x250" } }, { "bidder": "buzzoola", "params": { "placementId": 296743 } }, { "bidder": "relap", "params": { "placementId": "jX5-MC7vsUuxv7-_" } }, { "bidder": "segmento", "params": { "placementId": 173 } }, { "bidder": "bidvol", "params": { "placementId": 13110 } } ] } ]; var userTimeout = 1450; window.YaHeaderBiddingSettings = { biddersMap: adfoxBiddersMap, adUnits: adUnits, timeout: userTimeout, trustedOwners: [ 254948 ] };}