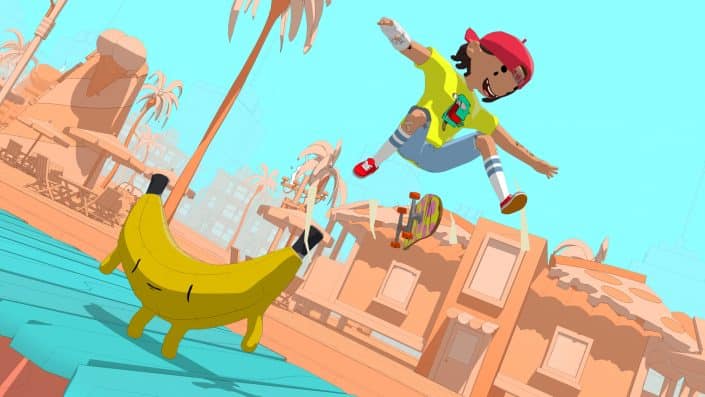 Developer Roll7 announced that the upcoming "OlliOlli World" on the PS5 will offer an option for a smooth 120 FPS. At the same time, the company speaks of a "breathtaking 4K resolution".
"On the PS5, you can enjoy all the epic and completely wacky details of the levels in breathtaking 4K resolution. And what if you're clearing a level, racing down the largest possible hill at top speed and doing one trick after the other? No stress – everything runs at a frame rate of 120 FPS, "says studio founder Simon Bennet.
New location presented
In addition, the new biome Burntrock was unveiled. It is one of five different areas waiting for you in Radlandia, the location of the game. Burntrock is a desert landscape where cactus campers, ancient fossils and the legendary Burntrock Fest can be found.
"Even if it is a desert, the landscape is not a barren wasteland, but is full of character – which was very important to us when developing the game. We want our environments to be a living, breathing world that players can explore, "it says. You can get more details and impressions from the official PlayStation Blog remove.
More news about OlliOlli World:
"OlliOlli World" will stylishly pave its way to PS5, PS4, PC, Nintendo Switch, Xbox Series X / S and Xbox One in December 2021. More about the game you can find out in our topic overview.
More news about OlliOlli World.
Links to Amazon, Media Markt, Saturn and some other retailers are usually affiliate links. When we make a purchase, we receive a small commission that we can use to finance the page that can be used free of charge. You have no disadvantages.