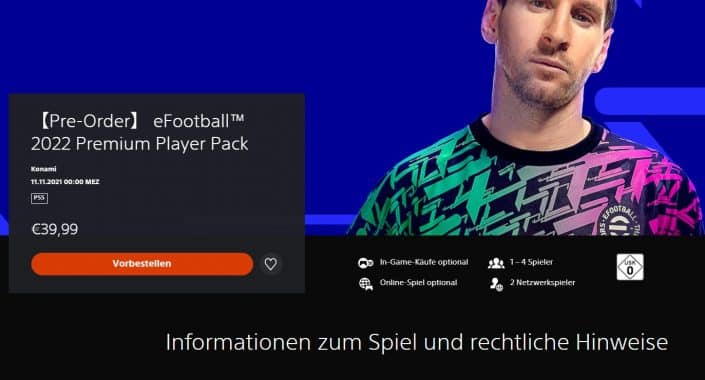 With this year's "PES", Konami would like to take a slightly different path. The company publishes a free-2-play title called "eFootball 2022", which is due for launch "In many ways" with a demo is comparable. You can still invest money. And at 39.99 euros, one of the optional additional packs is not very cheap.
For the price of just under 40 euros, you can get the "Premium Player Pack", which can be pre-ordered from the PlayStation Store. The package contains 2,800 eFootball coins (premium in-game currency) and six random deals. There are two more random deals with a pre-order on top.
Package with an expiration date
A random deal item enables you to sign one of the 16 ambassador and partner club players of the highest level. It should be noted:
The random deals will expire on April 30, 2022 and must be claimed in advance.
Players signed with a chance deal can only be used in "eFootball 2022" and are therefore not transferable.
The random deals and eFootball coins can only be picked up and used after the update, which is planned for mid-November 2021.
Since a total of 8 random deals are awarded with a pre-order, it is theoretically possible that you can get all premium players for 80 euros. According to reports, an earlier description of the package indicated that random deals grant a different player each time.
The package also contains the basic goal of "eFootball 2022". However, there are no changes compared to the already free basic version of the game.
More news about eFootball 2022:
The presentation of the premium package not only caused enthusiasm. Because when you pay you get better players at the highest level, which sounds a bit like Pay-2-Win. If you still want to purchase the Premium Player Pack: In the PlayStation Store pre-order is now possible.
"EFootball 2022" will be released on September 30, 2021 for PC, Xbox Series X / S, PS5, Xbox One and PS4. Versions for iOS and Android will follow later.
More news about eFootball 2022.
Links to Amazon, Media Markt, Saturn and some other retailers are usually affiliate links. When we make a purchase, we receive a small commission that we can use to finance the page that can be used free of charge. You have no disadvantages.