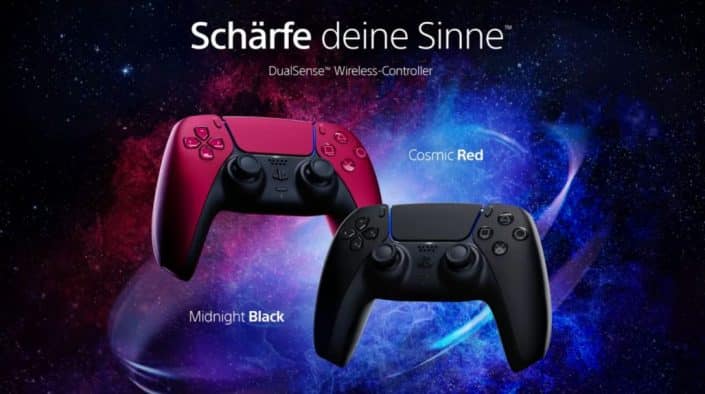 Sony released two new models of the DualSense controller this year. These are the editions in Midnight Black and Cosmic Red. Both are currently on sale at Amazon Germany.
The controllers are still listed on the product pages with the regular prices. However, a discount is indicated in the small print. In the case of the Black Midnight Edition it is currently 9.75 euros, in the case of the Cosmic Red controller 11.25 euros. You can see the amount to be paid in the later order process. Click on "Details" next to the discount notice for more information.
Below you will find the product entries:
The new color versions were released on June 18, 2021. The Midnight Black controller was modeled on the night sky when it reveals the view of space. Cosmic Red offers a design in black and red that was inspired by the bright colors of the red tones of the cosmos.
"Both Midnight Black and Cosmic Red have a subtle blue base tone that uniquely highlights the red and black tones," says Satoshi Aoyagi from the design team. "The original DualSense wireless controller also has this blue color, so that the three controllers complement each other well in terms of color."
More news about the PS5:
While the purchase of the new DualSense models is not a major hurdle, the acquisition of the PS5 is still very difficult. The console is almost completely sold out. Sony would like to boost production and hopes that the delivery situation will ease in the second half of the current year. More about the PS5 you can find out in our topic overview.
More PS5 news.
Links to Amazon, Media Markt, Saturn and some other retailers are usually affiliate links. When we make a purchase, we receive a small commission that we can use to finance the page that can be used free of charge. You have no disadvantages.