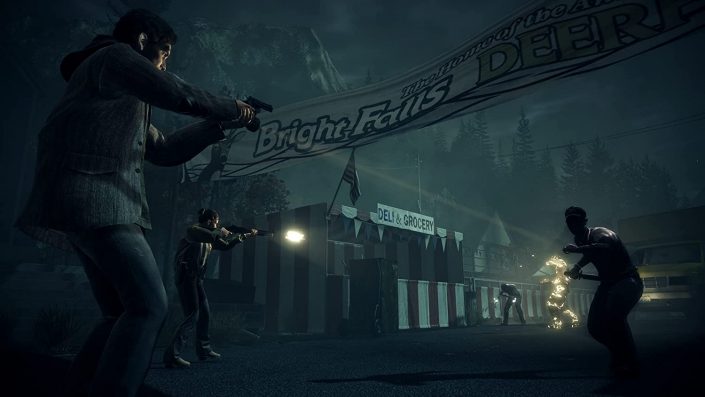 Shortly before the launch of "Alan Wake Remastered", the first test ratings were published, which are quite mixed. Some testers point out that the title cuts a fine figure even today. While other reviewers see the classic as out of date despite the revision.
Is it worth buying?
On Metacritic, "Alan Wake Remastered" comes in one Metascore from 81which is currently based on 23 reviews. Below are some examples of the conclusion:
PSU writes: "Despite the outdated graphics and questionable mechanics, Alan Wake is just as captivating and memorable as it was eleven years ago. With its satisfying fights, fast-paced story and fantastic setting, Remedy's horror thriller is definitely worth buying if you're a fan of the studio's more recent works or just have a curious interest in horror. "
Comicbook: "Alan Wake Remastered offers a new generation of gamers the opportunity to experience a gem that has never received the attention it deserves. And you'd be foolish if you didn't take this chance. Nevertheless, you should leave the light on when you do it. "
DualShockers is less enthusiastic: "Alan Wake is to a large extent a product of its time. While the story elements hold up well, much of the gameplay feels dated compared to today's games. The captivating story is only partially convincing, as the cumbersome controls and the repetitive, sober gameplay mean that the players are sometimes a little bored or frustrated. "
Push Square: "For existing fans, this no-frills remaster is the best way to experience the game from 2010 on modern consoles, but in 2021 a lot about the title is simply no longer up-to-date. Without the benefit of nostalgia, Alan Wake doesn't work as a horror because it's not scary, as a thriller because large parts of the game are fantastically boring, or as an action game because the fights are uninspired and repetitive. "
Test ratings in the overview:
Gfinity – 90
WellPlayed – 90
Dexter – 90
God is a Geek – 90
CGMagazine – 90
Press Start Australia – 85
PlayStation Universe – 85
Hobby Consoles – 85
GamingTrend – 85
MGG Spain – 85
Wccftech – 85
IGN Italy – 84
Worth Playing – 85
GameMAG – 80
Multiplayer.it – 80
VGC – 80
Comicbook.com – 80
NME – 80
Game Informer – 80
IGN France – 70
IGN – 70
DualShockers – 70
Push Square – 60
More on Alan Wake Remastered:
"Alan Wake Remastered" will be released on October 5th, 2021 for PS4, PS5, Xbox Series X / S, Xbox One and PC. More about the game you can find out in our topic overview.
More news about Alan Wake Remastered.
Links to Amazon, Media Markt, Saturn and some other retailers are usually affiliate links. When we make a purchase, we receive a small commission that we can use to finance the page that can be used free of charge. You have no disadvantages.