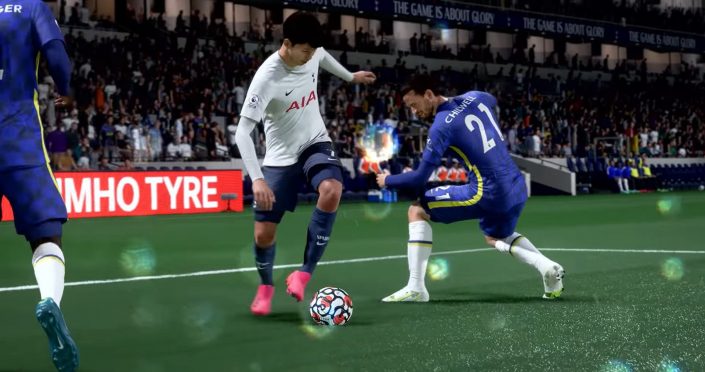 Konami recently renamed the "PES" franchise and launched the Free-2-Play debut project made a preliminary crash landing. But the name "FIFA" could also disappear from the gaming landscape. EA Sports itself provides reason for acceptance in a press release that was recently sent out, in which an examination of the naming is mentioned.
"Looking ahead, we're also looking into the idea of ​​renaming our global EA Sports soccer games. That means we are reviewing our naming rights agreement with FIFA, which is separate from all our other official partnerships and licenses in the football world, "the company said in writing.
While it is still unclear what the upcoming parts of the series will be called, the company would like to continuously invest in partnerships and licenses. On this front, the EA soccer series is already well positioned, with licenses for the UEFA Champions League, UEFA Europa League, CONMEBOL Libertadores, Premier League, Bundesliga and LaLiga Santander.
9.1 million players
"The breadth of our partnerships and our ecosystem of licensed content will enable us to make our EA Sports soccer games more authentic than ever now and in the years to come," it said. "That's why we're so focused on the collective strength of over 300 individual licensing partners who give us access to more than 17,000 athletes in over 700 teams, in 100 stadiums and over 30 leagues around the world."
Today's press release was published on the occasion of the successful launch of "FIFA 22". Since the start, 9.1 million players have come together, according to EA Sports, while 7.6 million Ultimate Team squads have been created and 460 million matches have been played.
"We will be offering fantastic experiences again this season, but first of all a big thank you to our incredible community of football fans," continued EA Sports.
More news about FIFA 22:
"FIFA 22" was released on October 1, 2021 for PC, PlayStation 4, PlayStation 5, Xbox One, Xbox Series X / S, Stadia and Nintendo's Switch. Innovations such as Hypermotion technology are exclusive to the new generation of consoles. More about "FIFA 22" you can find out in our topic overview.
More news about FIFA 22.
Links to Amazon, Media Markt, Saturn and some other retailers are usually affiliate links. When we make a purchase, we receive a small commission that we can use to finance the page that can be used free of charge. You have no disadvantages.