The Cyberquad electric ATV, which flashed in the fall of the year before last at the presentation of the Cybertruck pickup truck, later appeared in the news extremely rarely, but the recently registered trademark of the same name suggests that Tesla will nevertheless present the ATV in the indefinite future. Musk announced today that the Cyberquad will be the safest vehicle in its class.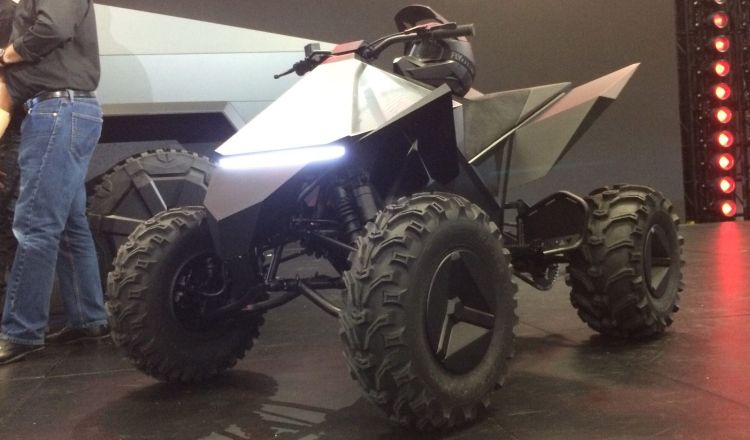 Tesla CEO Elon Musk made the corresponding comments at the company's shareholders meeting, as noted Electrek… He was asked if the ATV would be produced at the same facility as the Austin pickup truck. At one time, Tesla demonstrated Cyberquad as an option for owners of the Cybertruck pickup, so the question of their production relationship was quite justified.
Musk replied that the Cybertruck pickup would definitely be produced at the Texas facility, and he was more vague about the Cyberquad, only suggesting that the vehicle would enter the Austin assembly line. The head of Tesla immediately added that from a development point of view, the creation of an ATV represents a certain challenge, since such a technique is quite dangerous in itself, and the company is striving to make the Cyberquad the safest model in its class.
A low center of gravity will help achieve this, since the classic layout for electric vehicles will give Tesla the ability to place the traction battery closer to the ground. ATVs, as Elon Musk explained, pose a danger in terms of the tendency to overturn. Tesla would ideally like to create a model that does not flip. How this goal will be achieved, the head of the company did not explain. The production of Cybertruck pickups in mass quantities will start only by the end of next year, so it is unlikely that Cyberquad will be offered to buyers earlier than this date.
If you notice an error, select it with the mouse and press CTRL + ENTER.