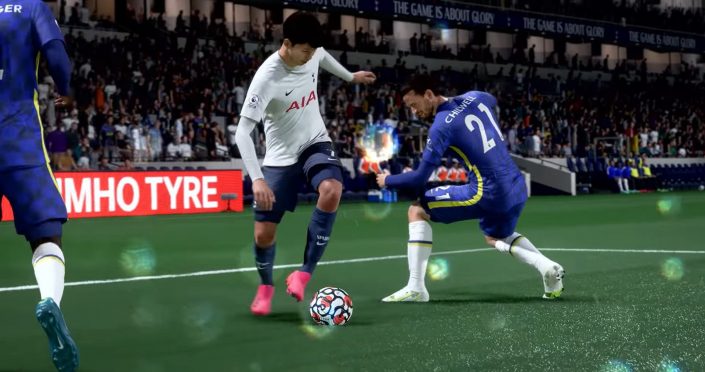 The world's most successful video game sports series may be about to change its name. In a recently published press release EA Sports surprisingly emphasized that a renaming is being examined.
"Looking ahead, we're also looking into the idea of ​​renaming our global EA Sports soccer games. That means we are reviewing our naming rights agreement with FIFA, which is separate from all our other official partnerships and licenses in the football world, "the company said in writing.
EA should pay significantly more
A new report from New York Times provides more details on EA's deteriorating relationship with FIFA. According to the publication, negotiations to renew the license have been going on for almost two years, with FIFA demanding more than double the previous license fees, which are already at 150 million dollars a year
Overall, according to the report, FIFA is demanding more than a billion dollars for a new four-year contract. However, EA is not only on the confrontation because of the money, but also because of the scope of the proposed agreement. In the eyes of FIFA, the brand is only intended to be licensed to EA for the development of a specific video game, while EA would also like to use the FIFA branding for a wider range of things, including esports.
Market watchers are surprised by EA's offensive, including Peter Moore, who held senior positions at Electronic Arts for a decade before leaving the company in 2017. "I can't remember you ever making a statement that we were negotiating an extension of the license," Moore said in a telephone interview. "That clearly sends a small signal."
Name no longer necessary?
Electronic Arts is well positioned for a power game. After that, there are serious competitors in the field of soccer video games "PES" -Debakel not anymore, so the name FIFA is no longer as important as it used to be. It can be assumed that people will continue to play EA's popular soccer game even after they change their name, because there is little other option.
At the same time, the licensing agreement between FIFA and EA is the licensor's greatest source of income, which makes it unlikely that FIFA will end the partnership.
More on the subject:
But money is also at stake for Electronic Arts. Revenue of "FIFA", which is published in an updated edition every year, has exceeded the mark of 20 billion US dollars for the California-based publisher in the past two decades. And also "FIFA 22", which was recently launched for consoles and PCs, should fill the coffers sufficiently again.
More news about FIFA, FIFA 23.
Links to Amazon, Media Markt, Saturn and some other retailers are usually affiliate links. When we make a purchase, we receive a small commission that we can use to finance the page that can be used free of charge. You have no disadvantages.