Apple today hosted the Take Off virtual event to showcase its new products. First of all, we are talking about the flagship laptops MacBook Pro 16 "and MacBook Pro 14", with new proprietary Apple processors, as well as an updated design, as well as a wider range of available interfaces. In addition, the MacBook Pro 14 is, in principle, a completely new device – before, Apple did not release laptops in such a form factor.
The current MacBook Pro design update is the largest for Apple's professional laptops since 2016. One of the main features of the presented laptops is the use of a proprietary single-chip system. Immediately, we note that the new MacBook Pro 14 is offered as standard only with the Apple M1 Pro chip, but the Apple M1 Max can also be selected as an option.
The central processing unit in the Apple M1 Pro and M1 Max combines 10 cores, eight of which are efficient and two are energy efficient. Powerful kernels are used for heavy tasks such as video processing, while energy efficient kernels are used for simple tasks such as browsing the Internet. This approach allows laptops to be more autonomous, but at the same time productive.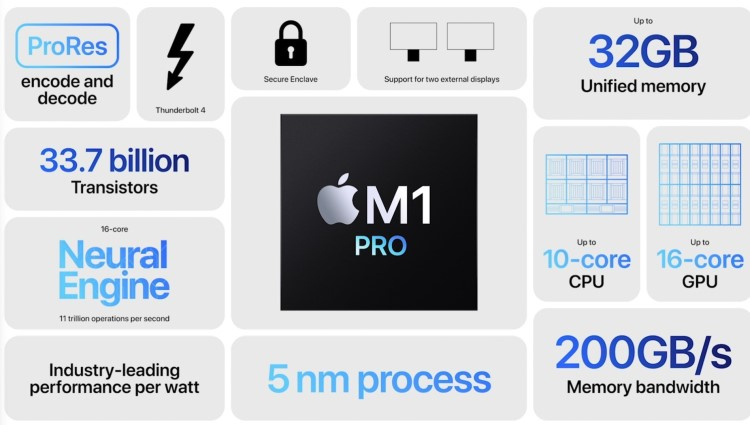 The integrated GPU is significantly more powerful than what we saw in Apple's M1 chip last year. In the Apple M1 Pro chip, the graphics have 16 cores (2048 streaming processes), while in the Apple M1 Max, the graphics have 32 cores (4096 stream processors). Note the presence in both chips of a 16-core neuroprocessor that processes operations related to machine learning and the work of AI algorithms. On the same substrate with the Apple M1 Pro chip, there is LPDDR5 RAM with a volume of up to 32 GB and a bandwidth of up to 200 GB / s. The older Apple M1 Max offers up to 64 GB of RAM at speeds up to 400 GB / s.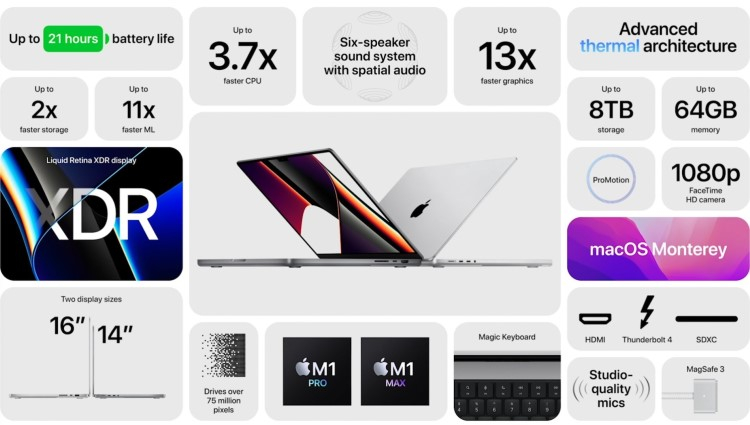 Interestingly, the most affordable version of the MacBook Pro 14 will receive a stripped-down version of the Apple M1 Pro platform. Instead of ten CPU cores, it will be able to offer only eight (6 powerful and 2 energy-efficient), and the graphics processor will also be somewhat curtailed – it will offer only 14 instead of 16 cores. How much this will affect performance is not yet clear.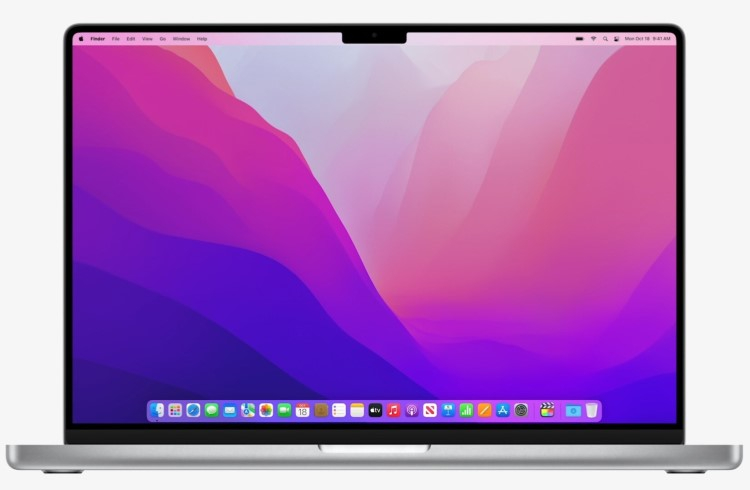 In terms of performance, the full-fledged Apple M1 Pro is 70% better than last year's M1 chip. The manufacturer also noted that the new processor is 70% more powerful than the 8-core mobile processors used in computers from other vendors. The integrated graphics have an extremely high level of performance and are able to compete with discrete graphics cards.
The introduction of new displays in the MacBook Pro deserves a special mention. MacBook Pro 14 uses a 14.2-inch Mini LED panel with a resolution of 3024 × 1964 dots, refresh rates up to 120Hz and peak brightness up to 1600cd / m², while previous generation laptops were equipped with Retina IPS panels. Mini LED displays are characterized by higher brightness, better color rendering and energy efficiency. Another feature of the new MacBook Pro is the lack of the Touch Bar, which has been present in Apple laptops since 2016. The battery is responsible for autonomy, which provides up to 17 hours of continuous operation.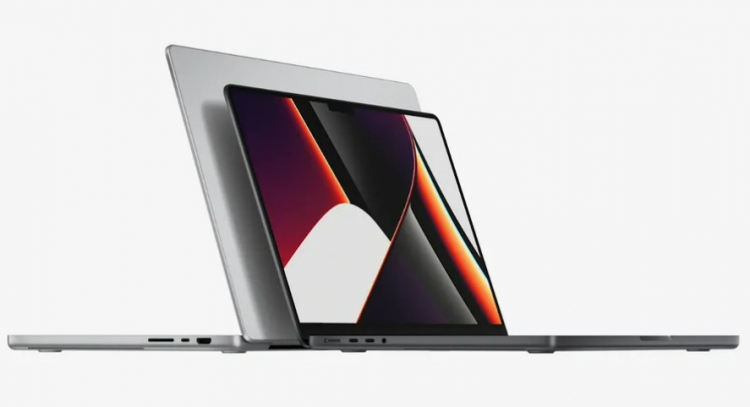 We note Apple's decision to return some connectors to its laptops. If in previous generations of Apple portable computers there were only USB Type-C ports, which made it difficult to connect devices with other interfaces, now they have added an HDMI connector and an SD memory card slot. A modified MagSafe magnetic connector is now used for charging. Fast charging supported.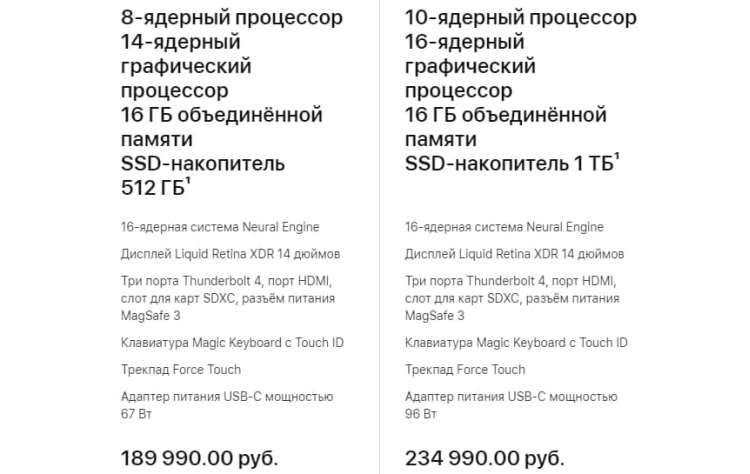 As for the cost of the new MacBook Pro 14, the base model will cost $ 1999, while the most advanced version will have to pay $ 5899. In Russia, the cost of the MacBook Pro 14 starts at 190 thousand rubles.
If you notice an error, select it with the mouse and press CTRL + ENTER.