Erik Tedeen, Director of the Swedish Financial Conduct Authority, and Bjorn Reisinger, Director of the Swedish Environmental Protection Agency, wrote an open letter urging the Swedish authorities to ban cryptocurrency mining and prevent mining companies from labeling their activities as "environmentally sustainable" …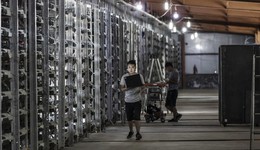 Cryptocurrency mining may be banned in China
According to unconfirmed information from the publication Quartz p … More
The point is that the increase in energy consumption due to mining could prevent Sweden from meeting the requirements of the Paris Climate Agreement. Swedish regulators noted that from April to August 2021, energy consumption for mining bitcoins in the country is equivalent to 200 thousand households.
It is currently possible to drive 1.8 million kilometers in a midsize electric vehicle using the same energy it takes to mine a single bitcoin!
The key problem, according to Swedish regulators, is the use of a proof of work system in mining. According to it, computers must solve mathematical puzzles in order to confirm transactions taking place on a given network. The process is designed to get more complex as the number of confirmed transactions in the chain increases. This means that more processing power is required each time. That is, energy.