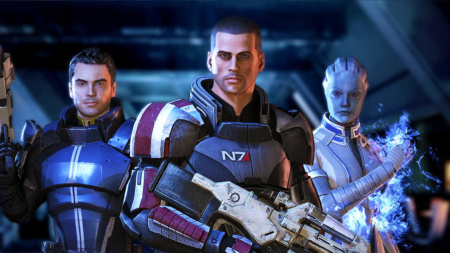 Recently it was reported that Amazon Studios is working on a series based on the Mass Effect universe. The reaction of fans of the series of games to this news turned out to be ambiguous – some are happily excited, some are skeptical. Interestingly, former BioWare lead writer David Gaider has also joined the skeptic camp.
David Gaider has mainly worked on the Dragon Age series of games. But his recent comments on Twitter apply to all BioWare franchises and address the topic of unsuccessful film adaptations of games.
I'm relieved to see that the Mass Effect/Amazon deal is for a potential TV series and not a movie. Even so, the possibility (and likewise for Dragon Age) makes me cringe just a little, unlike many fans who appear… excited?
Let me explain. (Thread)
— David Gaider (@davidgaider) November 25, 2021
First, he is pleased that a potential Mass Effect film deal is related to the show, not the movie. But there are also a number of factors that cause concern.
For starters, ME and DA have a custom protagonist. Meaning said TV show will need to pick whether said protagonist will be male or female. Boom, right off the bat you've just alienated a whole bunch of the built-in fan base who had their hopes up.
— David Gaider (@davidgaider) November 25, 2021
As David Gaider points out, both Mass Effect and Dragon Age have a customizable protagonist. But when creating a series, the authors have to choose whether the main character will be a man or a woman. Whatever choice is made, it will immediately disappoint a large group of fans who hoped that the choice of authors would match their own.
Secondly, those protagonists are designed to be a bit of a blank slate, one that the player fills out with their decisions. That's not going to work for a passive medium. So, suddenly, the protagonist will have their own personality… and their own *story*. That will be weird.
— David Gaider (@davidgaider) November 25, 2021
In addition, the heroes in the game were created from scratch, and the players filled them with their own decisions. But in the case of the series, the fans will turn out to be only passive viewers who cannot influence the hero's decisions. So the main character will have his own personality and his own "story".
You think I'm wrong? Consider just how MUCH of the story is off-loaded onto the companions. They are the cyphers through which the player gets most of their emotional engagement from. On their own, the DA and ME protagonists are… well, pretty boring. That's not going to fly.
— David Gaider (@davidgaider) November 25, 2021
Also, much of the storytelling in the game is shifted to companions, which can improve the player's emotional engagement. By themselves, the main characters in Mass Effect and Dragon Age are "pretty boring."
And think of those companions. Think of how MUCH the fanbase is attached to them. Now consider the fact that there is no way in hell any single story could encompass them all equally. Think of the howls of rage when companion X is relegated to a cameo… or not there at all.
— David Gaider (@davidgaider) November 25, 2021
That being said, many fans have become attached to some of the companions. But in the series, some of them may be completely different, they may not be given enough attention, or some of them may not be included in the series at all.
And that's IF the TV show makers consider the companions to be all that important. They might toss most of them aside in favor of the PLOT. In my mind, that would be a mistake. Both ME's and DA's plots were, at best, serviceable.
And I don't mean that in a derogatory way.
— David Gaider (@davidgaider) November 25, 2021
And we shouldn't forget about the romantic lines and the likelihood of abandoning the involvement of most companions in favor of the plot of the series.
Those plots had to take into account the player's agency. They were kind of the shell upon which that player's emotional engagement was delivered — usually through the companions and the choices themselves. Choice heightened engagement. Interactivity was the star, not the plot.
— David Gaider (@davidgaider) November 25, 2021
In games, companion storylines fostered the player's emotional engagement through their behavior and choices at certain points. Interactivity was of the greatest value, not the plot itself.
Take all that out, lose most of the companions, and you potentially end up with… a pretty run-of-the-mill fantasy or science-fiction show, one where a lot of the built-in audience has possibly been turned into outraged, howling malcontents before it's even released.
— David Gaider (@davidgaider) November 25, 2021
According to David Gaider, removing most of the companions, choices and actions associated with them could potentially result in a "pretty run-of-the-mill fantasy or sci-fi series" that would alienate most of the committed audience even before it was released.
All that is, of course, if the DA or ME series is mishandled. I can think of any number of ways it could be done better… but that involves doing more than a strict adaptation, and that comes with its own complications.
Anyhow, good luck to the showrunners. They'll need it!
— David Gaider (@davidgaider) November 25, 2021
So if Mass Effect and Dragon Age material is mishandled, it can lead to a lot of disappointment among the fans. Although there are ways to improve it.
"But that will require more than rigorous adaptation, and that presents its own challenges."
Anyway, David Gaider wished the showrunners the best. "They'll need her."
A source: wccftech
---