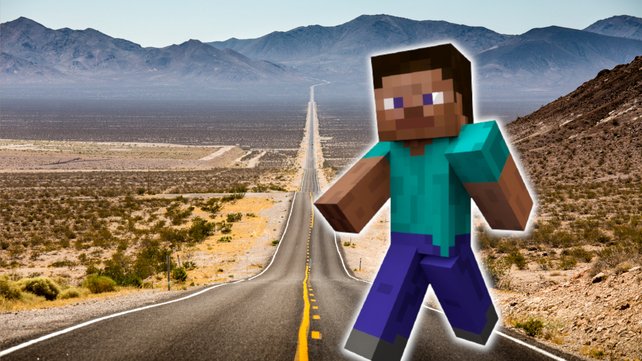 The imposing structure of this Minecraft fan can certainly compete well with the famous Great Wall of China or Route 66 in terms of length. He has been devoting himself to his mega project for five years and is now showing the result in a beautiful video.
The 10 kilometer Minecraft road
Minecraft does not skimp on huge structures, the creative community outdoes itself again and again. Whereas most structures rise above their scope, that is Mega-Project from this fan rather impressive by its length.
The Reddit user mattycarl shares his in a four-minute video over ten kilometers long road in the survival game. It doesn't beat the real Great Wall of China by a long shot, but it can make a big impression in Minecraft standards (for those who are interested: The Great Wall of China is 6,260 kilometers long).
In order to conjure this amazing length into the sandbox game, mattycarl spent ** a full five years ** building it. in the Fast forward and accompanied by cool beats, it shows the entire route including its many details:
The route leads past the different biomes, sometimes on bridges over water, sometimes underground, through larger cities and past nice sights.
These were of course also created by mattycarl. Once you even discover an interesting submarine, at 02:24 you can even see it the first buildingthat mattycarl ever built on the server. It's the squeaky green wool building that's even older than the mega-street. The builder began the construction in Year 2012 at the tender age of eleven, he is now 21.
Reddit celebrates the mega project
On Reddit, the community is particularly enthusiastic about the chic video and donates to the builder a whopping 40,000 upvotes.
A user notes that the changes in the environment with the course over time advancing versions of Minecraft reflect – which is pretty cool.
Also the different substrates and peripheral buildings such as lanterns have received multiple praise. A user jokes that mattycarl should place a nether portal at the end of the route so that they can go to the "Highway to Hell" will.
In the thread, mattycarl even reveals that he composed the underlying pop song himself. On request, he published the track in a YouTube video.
Not every building is as impressive as this one, which is proven by the following series of pictures:
Don't want to miss any more news, guides and tests for new games? Do you always want to know what's happening in the gaming community? Then follow us on Facebook, Youtube, Instagram, Flipboard or Google News.