The Taiwanese edition of Uniko's Hardware has shared the first details of the NVIDIA RTX 3090 Ti graphics card, which is due out next year. It became known that the top-end card will receive GDDR6X memory from Micron.
The memory bandwidth is 21 Gbps. The standard RTX 3090, by comparison, has 19.5 Gbps.
In addition, the number of memory chips in the RTX 3090 Ti will be reduced to 12 GB – now there will be 2 GB each versus 1 GB for the current RTX 3090. At the same time, the memory capacity of the RTX 3090 Ti will remain the same, that is, 24 GB.
TDP will grow from 350W to 450W. The number of CUDA cores will be 10,752, and the bus is 384-bit.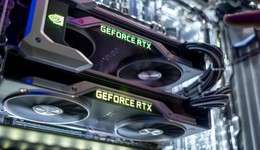 Rumor: RTX 3050 will be released in the second quarter of 2022 and will receive 8 GB of memory
Resource VideoCardz with a link to its own sources of rass … More
According to the latest rumors, the RTX 3090 Ti will go on sale in January 2022. At the same time, NVIDIA should present the updated RTX 3080 with 12 GB and RTX 3070 Ti with 16 GB.