Google revealed technical details about the Project Starline system, which was demonstrated at the Google I / O conference earlier this year. The Project Starline system is essentially a video chat booth in which people communicate with each other as if they were nearby.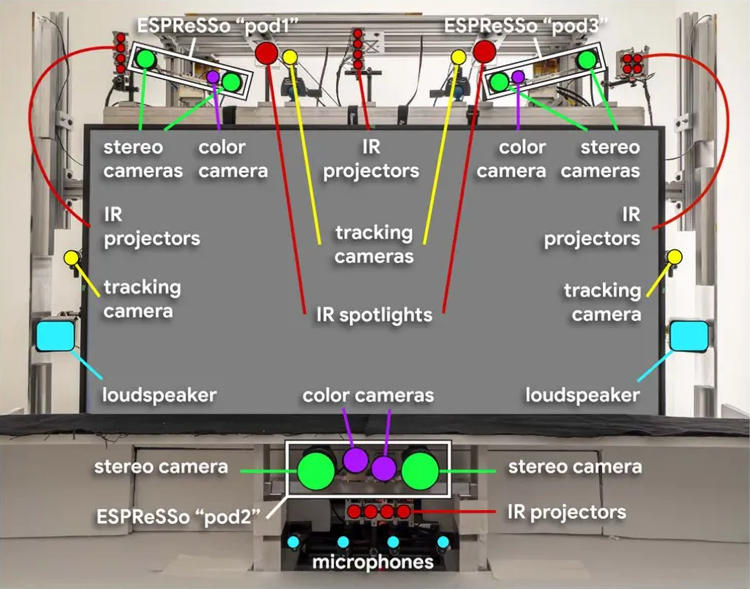 To implement this system, it is necessary to obtain a high-resolution picture without any interference, so that it looks as natural as possible for the interlocutor. In addition, it is necessary to implement sound of a sufficiently high quality so that it seems to a person that the words are being spoken by his interlocutor, and not by a multimedia platform. The system is based on a large 65-inch 8K panel with a refresh rate of 60 Hz. Around the display are three "capture units" that capture color and scene depth information. The system also includes four additional motion-tracking cameras, four microphones, two speakers, and infrared projectors. Audio is encoded at a sampling rate of 44.1 kHz and a bit rate of 256 kbps.
All this equipment generates quite large amounts of data that must be transferred – according to Google, this requires a channel with a width of 30 to 100 Mbps, depending on "Detailing the texture on the user's clothing and the amplitude of his gestures"… For data processing, four powerful NVIDIA video cards are used (two Quadro RTX 6000 and two Titan RTX) – the total latency averages 105.8 ms.
According to Google employees who oversaw the trials of the three Project Starline systems, they surpass all existing video communications solutions. Over 9 months, 117 people took part in the tests, who held 308 remote meetings, while the average time for each of them was 35 minutes. Google has not yet said anything about plans to release such a system to the market, its estimated cost has not been specified either. But it is known that the company is going to increase their number in its offices throughout the United States.
If you notice an error, select it with the mouse and press CTRL + ENTER.