Seagate has introduced new models of hard drives Exos X20 and IronWolf Pro, which have a capacity of 20 TB. The novelties will compete with WD Gold 20TB and Ultrastar HC560 from Western Digital, which until now was the only company selling 20TB drives.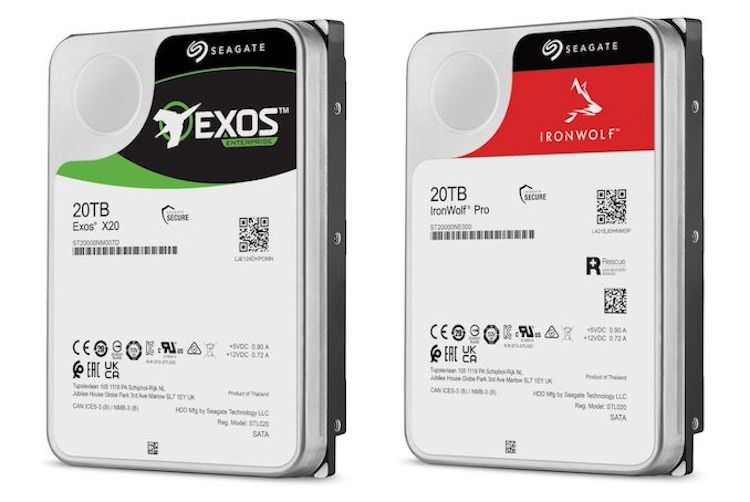 The Exos X20 self-encrypting (SED) hard drive is available in either SATA 6Gb / s or SAS 12Gb / s, while the Iron Wolf Pro only supports SATA 6Gb / s. The data transfer speed for both new products is announced at 285 MB / s. The Exos X20 is rated for 550 TB / yr workload, up from 300 TB / yr for the more affordable IronWolf Pro.
IronWolf Pro boasts a rated power consumption of 1W in standby mode, making it a great option for use in 24/7 active NAS storage. It is worth noting that Seagate solutions generate 28 dB of noise in idle mode, compared to 20 dB for WD drives. But in operating modes, Seagate devices will be noticeably quieter than 20TB Western Digital drives.
Seagate's new hard drives are slightly more affordable than their Western Digital competitors. This is likely due to the latest OptiNAND technology, which uses flash memory to store metadata to improve drive performance. Regarding the Seagate drives, the company says it has abandoned the use of heated recording technology with the magnetic surface of the drive, without explaining why. New items use the familiar CMR technology.
The Seagate Exos X20 is priced at $ 670. The 20TB IronWolf Pro retails for $ 650. The drives go on sale today.
If you notice an error, select it with the mouse and press CTRL + ENTER.