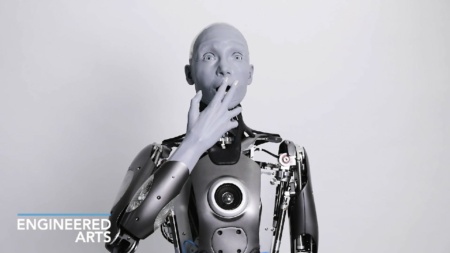 Engineered Arts has demonstrated the Ameca robot, which is capable of reproducing human facial expressions and gestures. As conceived by the developers, such a robot should demonstrate progress in the field of robotics, and is also designed to "flirt" with people at various events in order to please them. But the reaction of people to the robot was mixed.
Engineered Arts engineers strived to make the movements and facial expressions of the Ameca robot as human as possible. It is equipped with a system of sensors and actuators that allow the reproduction of preprogrammed movements, including complex sequences of movements. Thanks to this, the robot is able to move its arms, wiggle its fingers, reproduce gestures and facial expressions, including moving its eyes and wrinkling its forehead. To program the movements of the robot, the Python language was used.
In the comments under the YouTube video, users noted the "insane" level of detail, natural movements and facial expressions. The excellent level of human likeness is also praised.
I don't know man pic.twitter.com/YldkZEneKG
— 🆂🅼🅾🅺🅴 (@terrill) December 2, 2021
At the same time, a number of Twitter users consider such a level of naturalness in the movements and facial expressions of the robot "frightening".
As the current writer on Terminator and the director of a movie with an android uprising, I would just like to say:
— mattson tomlin (@mattsontomlin) December 2, 2021
For example, screenwriter Mattson Tomlin dislikes this approach:
"As the current Terminator screenwriter and director of the Android Uprising film, I just wanted to say NO."
yoooo we have to chill on robots, there's been 2 million movies made on why this is a bad idea
— Chase Stuver (@bigstubbs25) December 2, 2021
And the athlete Chacey Staver recalls many films in which the creation of humanoid robots had bad consequences for humanity.
Why is everyone freaking out about this. The facial expressions are quit good. But these are preprogrammed. The machine isn't making these on it's own accord. You're watchin a pre-defined set to actions. It's like watching a movie or listening to a song that's been recorded.
— Silent Approval (@Silent_Approval) December 2, 2021
At the same time, some users pay attention that the Ameca robot does not have artificial intelligence and is not able to independently control its actions, and all its realistic gestures and facial expressions are carefully programmed.
Guys calm down, stop freaking out, it's just a bunch of actuators and motors with rubber stretched over them to simulate facial movement. It's all preprogrammed. It's just for research.
Internally: nope nope nope nope nope https://t.co/cNQfZosaJN
– Marques Brownlee (@MKBHD) December 2, 2021
---