The multiplayer shooter "Battlefield 2042" is once again exposed to criticism from the community. This time, a Santa Claus skin was the stumbling block that made DICE row back.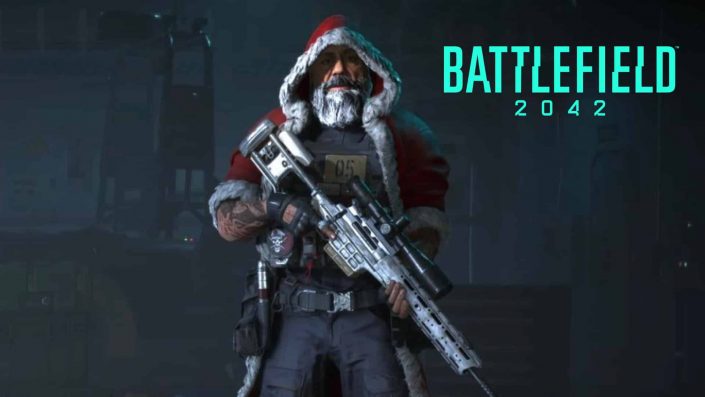 Yesterday DICE released a new, extensive update for the multiplayer shooter "Battlefield 2042", with which numerous changes and improvements were made to the game. Among other things, weekly tasks should come into play that made it possible to unlock Santa Claus skins. And already in the past, the developers got to know what their community thought of such costumes.
Costumes can also be tied to portal events
When the predecessor "Battlefield 5" was first announced, the developers also announced that they wanted to use cosmetic items that do not necessarily fit into a military shooter. The fans went to the barricades and in the end DICE almost completely dispensed with the relevant content. In the latest case, DICE is withdrawing and announcing on Twitter that the Santa Claus skin that has already appeared will not appear.
"Developing for live services requires us to work months in advance and allows us to have options when we reach key moments in our first year. Today we have different priorities and even if we have the skins, we currently have no plans to use all of them this Christmas, "it says in an official Statement. "We also create unique cosmetic items for one-time use in special Battlefield Portal modes to boost the imagination in special events. Occasionally, during our live service, you might encounter these mode-restricted costumes that have no bearing on the rest of the game. "
Also interesting: Battlefield – networked universe planned – Vince Zampella is now responsible for the brand
Nonetheless, starting December 6th, 2021, players will be able to complete the weekly tasks in "Battlefield 2042", with which new skins and items can be unlocked. A new skin should be unlockable every week until the start of the first season. The beginning seem just once Weapon skins close.
Accordingly, it will be interesting to see how DICE will tackle the subject of cosmetic customization items in the future and whether you can find a compromise with your own community. At least Santa Claus was anything but positive for the long-established players after the first pictures.
Those: GameSpot
More news about Battlefield 2042.
Links to Amazon, Media Markt, Saturn and some other retailers are usually affiliate links. When we make a purchase, we receive a small commission that we can use to finance the page that can be used free of charge. You have no disadvantages.