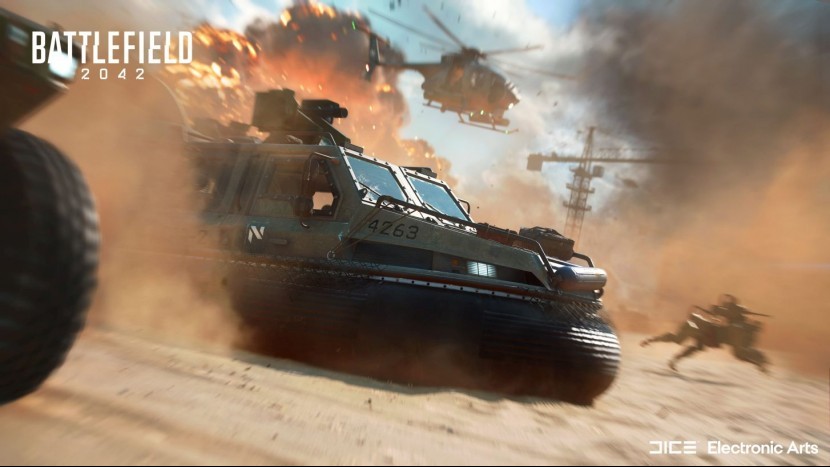 Electronic Arts is making major changes to its development structure as it focuses on the growth and expansion of the Battlefield series after what has been challenging for Battlefield 2042.
The military shooter of the future, released in November, was quickly criticized for lacking features that were in previous games, and for many bugs, some of which, including the infamous "cannot load save data" error, prevented users from fully playing. Perhaps the biggest change announced today is that EA is officially announcing the creation of the Battlefield universe, which will apparently span multiple games and offerings to be developed by different studios in North America and Europe.
Additionally, DICE CEO Oskar Gabrielson is leaving the company to pursue a new business outside of EA. The Shakeup also includes Respawn's Vince Zampella, who will take on a larger role as the new main boss of the Battlefield franchise, while Halo designer Marcus Lehto is creating a new development team in Seattle aimed at bringing more storytelling to the Battlefield universe. Ripple Effect, the developer of the Portal mode in Battlefield 2042, is developing a new Battlefield experience in the Battlefield 2042 universe.
In the near future, EA announced that DICE, Ripple Effect and the new Lehto studio in Seattle will work together to expand and improve Battlefield 2042. The rest of the Battlefield games and development expertise are intended to serve as extensions to some extent, to the new Battlefield universe that EA is trying to create. There are no details yet on the new games and experiences that EA intends to create, or when they will be released.
As for Lehto, the man who designed the Master Chief and was instrumental in creating Halo as it is today, he heads up a new, unnamed studio in the Seattle area. He will partner with DICE and Ripple Effect to enhance the storytelling and character development of the Battlefield series. However, there is no information yet on what this means in terms of specific products or strategies.
Battlefield 2042 did not have a single player mode, instead opting to focus on the three main pillars of multiplayer: All-Out Warfare, Portal, and Hazard Zone. Lehto previously founded an independent studio called V1 Interactive that created a sci-fi shooter called Disintegration. The game did not find an audience, and V1 closed its doors. Lehto was hired by EA earlier this year, but only today will we find out what he's working on.
Byron Beede, a longtime Call of Duty veteran who was hired by EA earlier this year to develop the Battlefield series as shepherd to its long-term strategy and business decisions, said Lehto and his team in Seattle will expand the story of Battlefield 2042 with a "diverse ". This will lay the foundation for "storytelling capabilities now and in the future," Beede hinted. Whatever the Lehto team creates will appear in "later seasons" of Battlefield 2042 and "later."
"While he and his team in the Seattle area are just beginning to shape the Battlefield of tomorrow, their work will shape the seasons that follow in 2042 and beyond," Beede said. "This new studio will act as the driving force behind the storytelling, working closely with DICE and Ripple Effect Studios to help gamers have a great Battlefield experience."
Another major step: Ripple Effect, the developer of Portal for Battlefield 2042, will continue to support Portal while it begins work on a "new experience" in the Battlefield 2042 universe. Ripple Effect boss Christian Grass said he could not comment on what Ripple Effect is developing for outside of Portal.
Zampella's new position complements his existing managerial responsibilities at Respawn, which includes overseeing the ongoing live game efforts of Apex Legends and the studio's other unannounced projects, one of which is rumored to be a sequel to Star Wars Jedi: Fallen Order. EA's COO Laura Miele praised Zampella, stating that he is the man leading the Battlefield franchise into the future, building on his past successes with Call of Duty, Medal of Honor and Apex Legends.
"He creates culture-defining entertainment that resonates beyond games. We're bringing one of the most influential and talented people in the entertainment industry into a franchise that's ready to move into the modern era of gaming. This is an extraordinary watershed in gaming history. His ability to run studios and bring developers together to create a world-class experience is unmatched, "said Miele. "I believe the structure, process and vision he brings will make Battlefield better than ever before. Nobody knows shooters and online services better than Vince. "
Miele believes that with Beede, the right team has been created to help the Battlefield franchise grow and flourish. Miele went on to say that EA now has people with "extensive experience" running its studios in North America and Europe and contributing to the newly created Battlefield universe.
Zampella said EA plans to "grow significantly" in terms of the number of developers working on the Battlefield franchise at the company and urged developers to look at EA's open positions and consider applying.
Zampella did not comment on details regarding the new types of Battlefield games that EA may develop in the future, or when they might be released. However, he hinted that the Battlefield universe "is rich in possibilities, both in terms of storytelling and as a universe where our teams can create innovative gaming experiences. Indeed, anything is possible. "
EA CEO Andrew Wilson said the company may eventually develop a free-to-play game of Battlefield, and while Zampella hasn't confirmed this, he said the company is "looking into all the possibilities" as it hopes to expand Battlefield to help it reach its potential. "
Beede said EA has a "long-term plan" to support Battlefield going forward, but before the company details how the series will evolve, the first challenge is to support Battlefield 2042 and expand it with real-time service offerings. …
"Building on this foundation, our teams will create new experiences that will expand the Battlefield universe. So I wouldn't say there is a cadence or a deadline, we have to do what's right for our players and our game, "Beede said.
Not everyone is making the cut, however, as Gabrielson, the current CEO of DICE, is leaving the company at the end of the year. In a statement, Gabrielson said leaving DICE and EA altogether was one of the toughest decisions he had to make in his life. "It's hard to put into words my passion for our studio, our teams and the Battlefield franchise. The past decade with the team at DICE has been nothing short of amazing. From the debut of Battlefield 3 to Star Wars Battlefront and Battlefield 1 and, of course, the return of all-out war with Battlefield 2042, Gabrielson said. "We have so many great memories. DICE has some of the best talent in the industry and the team is in good hands. "
Rebecka Coutaz, former director of studio Ubisoft Annecy, will replace Gabrielson as CEO of DICE in the future. Gabrielson will remain with DICE and EA for the rest of the year to help Coutaz transition to the GM role. Gabrielson said he is leaving to start a "new adventure," but it remains to be seen where he might head next.
While Battlefield 2042 may not have been the strongest launch as it relates to player acceptance, Miele reports that Battlefield 2042 has been heading in the right direction since launch. She said that players are positive about the changes made by DICE, although there is a lot of negativity on the network. The latest update, the largest in Battlefield 2042 to date with over 150 fixes, was released today, December 2nd.
"We are lucky to have such passionate fans and I am confident that we will continue to do our best to meet their expectations. We believe in Battlefield 2042 as it will be the cornerstone of the future as we begin work to expand the universe, "said Miele. "Overall, we are fully engaged in Battlefield. This is one of the most important and valuable franchises in the industry. Together we strive to unleash its enormous potential. "
It remains to be seen what these changes mean for another big DICE series, Star Wars: Battlefront. In total, 33 million copies of the games were sold in 2015 and 2017, making them commercially successful, but recently it was reported that EA turned down an offer for Battlefront 3, citing licensing costs.
EA's new Battlefield all-in announcement suggests that DICE is not developing any other Battlefront games, although this has not been strictly confirmed.
Regarding Coutaz's new role as CEO of DICE, the rest of her management team includes the following:
Lars Gustavsson, Creative Director
Daniel Berlin, game designer
Andreas Morell, producer
Conor Lenihan, Technical Director
Roger Collum, Studio Development
Ryan McArthur, продюсер
Elisabet Gretarsdottir, Head of Strategy and Business Development
Calle Wahlfors, Head of Studio Works
What this all means for EA, DICE and Battlefield remains to be seen. While the publisher is positioning the news as an exciting future for Battlefield, at this stage there is no way of knowing what the outcome will be – will we get annual Battlefield releases? A free battle royale game? Will DICE be able to work on non-Battlefield games? The announcement raises more questions than answers at the moment.