The vast majority of modern ASUS wireless routers – from the budget RT-AX55 to the flagship RT-AX88U – support AiMesh technology, which allows you to combine up to five devices into a single network to increase the Wi-Fi range. AiMesh allows you to achieve reliable coverage in large indoor areas where, thanks to seamless roaming, customers can move between sites without interrupting the connection. The advantages of AiMesh include extreme ease of administration: in most cases, all settings are performed automatically, and in case of failure of one of the nodes, the AiMesh network will independently rebuild and retain its operability. Until recently, our knowledge about this function was mostly theoretical, but the recent announcement of the Asus ZenWiFi XD6 AiMesh system gave rise to a new look at the implementation of wireless mesh networks, and at the same time to share a detailed review with our readers.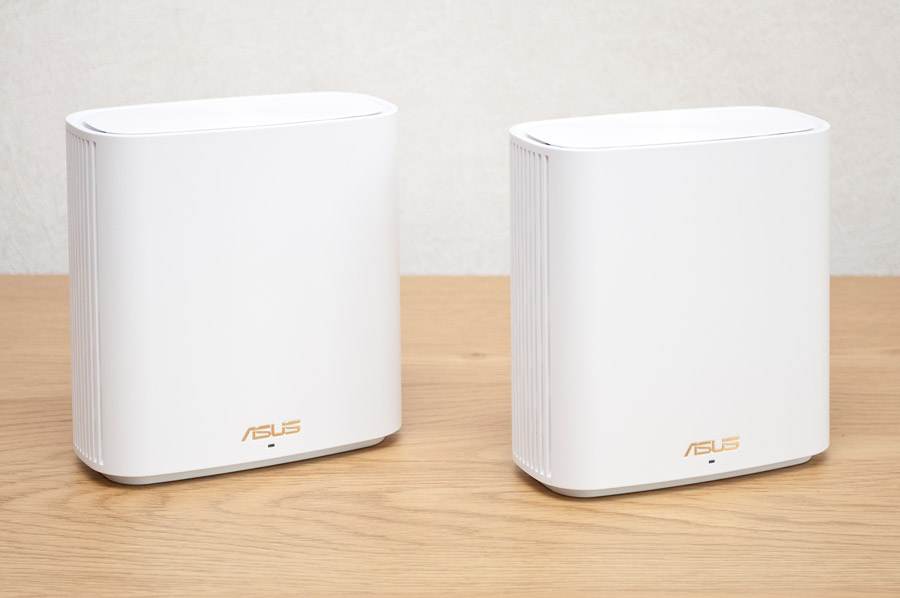 ASUS ZenWiFi XD6
AiMesh-system Asus ZenWiFi XD6 consists of two identical devices of the AX5400 class, which together can provide reliable coverage over an area of ​​up to 500 square meters. m, but by themselves these wireless routers can do a lot. Later, we will look at the design and hardware of the new product, get acquainted with the complete software and firmware, examine performance issues, including as part of the AiMesh network, and right now let's take a look at the specifications of the heroes of today's review.
Model ASUS ZenWiFi XD6 Official Product Page
ZenWiFi XD6
Operating modes Wireless router, Access point, Media bridge, Repeater WAN connection Dynamic IP address, static IP address, PPPoE, PPTP, L2TP Network standards IEEE 802.11a / b / g / n / ac / ax, IPv4, IPv6 Data transfer rate 802.11a: 6; nine; 12; eighteen; 24; 36; 48; 54 Mbps
802.11b: 1; 2; 5.5; 11 Mbps
802.11g: 6; nine; 12; eighteen; 24; 36; 48; 54 Mbps
802.11n: 300Mbps, 802.11ac: 4333Mbps
802.11ax (2.4 GHz): 574 Mbps
802.11ax (5 GHz): 4804 Mbps Antennas Internal x 6 Operating frequency range 1 x 2.4 GHz, 1 x 5 GHz Bandwidth 20/40 MHz (2.4 GHz band), 20/40/80/160 MHz (5 GHz band) MIMO technology 2 x 2 (band 2, 4 GHz), 4 x 4 (5 GHz band) Encryption WPA / WPA2 / WPA3-Personal, WPA / WPA2-Enterprise Firewall and Access Control Firewall: SPI, DDoS protection, Access control: Network service filter, URL filter, Port filter VPN server PPTP, OpenVPN, IPSec VPN client L2TP, PPTP, OpenVPN System functions UPnP, IGMP v1 / v2 / v3, DNS Proxy, DHCP, NTP client, DDNS, Port Trigger, Port Forwarding, DMZ, system event log 1500 MHz processor, 3 cores, ARM-A7 architecture Memory RAM: DDR3 512 MB, Flash: 256 MB Ports 1 x RJ45 10/100/1000 BaseT for WAN, 3 x RJ45 10/100/1000 BaseT for LAN Buttons Reset, WPS Additional functions Primary AiMesh router / AiMesh node, ASUS Router APP, Support Alexa skill, AiProtection Pro, Parental Control, Adaptive QoS, Bandwidth / Traffic Monitor, Traffic Analyzer, Website history, MU-MIMO, Universal beamforming, Dual WAN, WAN Aggregation, NAT Passthrough (PPTP, L2TP, IPSec, RTSP, H.323, SIP Passthrough, PPPoE relay), VPN Fusion LED indicators 1 universal power supply, W 24 (external) Dimensions (LxWxH), mm 126.4 x 59.05 x 129.7 Weight, g 435 Cost in Ukrainian retail 9819 UAH
* – for a set of two devices
Delivery set
The AiMesh system is supplied in a medium-sized cardboard box, the front surface of which is decorated in gray-steel tones. This design is not found on other ASUS routers and is the hallmark of the ZenWiFi series.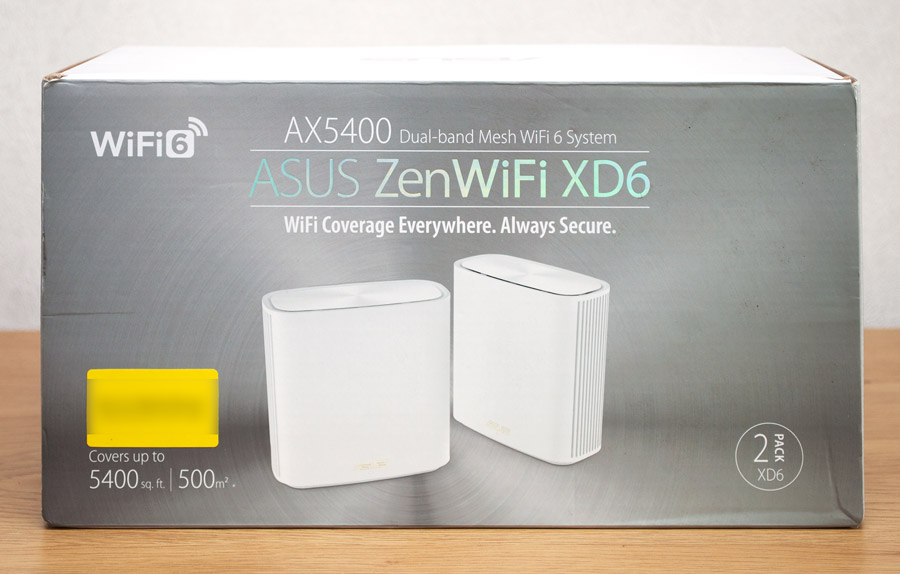 While on the front side, in addition to the images of the devices and the model name, only the area of ​​the wireless network coverage area is shown, which, as mentioned earlier for the XD6 pair, is 500 square meters. m, the rear surface is replete with useful information. Here is a description of the benefits of Wi-Fi 6, AiProtection Pro cyber protection, Instant Guard technology to protect traffic of mobile devices in public networks, and a mobile application with which you can perform the initial setup in just three clicks.
Apart from a pair of wireless routers, the delivery set of the AiMesh system includes:
quick user guide and warranty card; two power adapters with two pairs of interchangeable plugs; network patch cord Сat5e with a length of about 1 meter.
In addition to the fact that two devices have a single "copper" patch cord, it should be noted the complete DSA-24PFS-12 FCA power supplies, which are designed to operate in AC networks with a voltage of 100-240 V. Output adapters provide a voltage of 12 V at current strength of 2 A, so that the power of 24 W is enough for the operation of wireless routers, the power consumption of which ranges from 6 W in idle to 9-10 W at maximum load.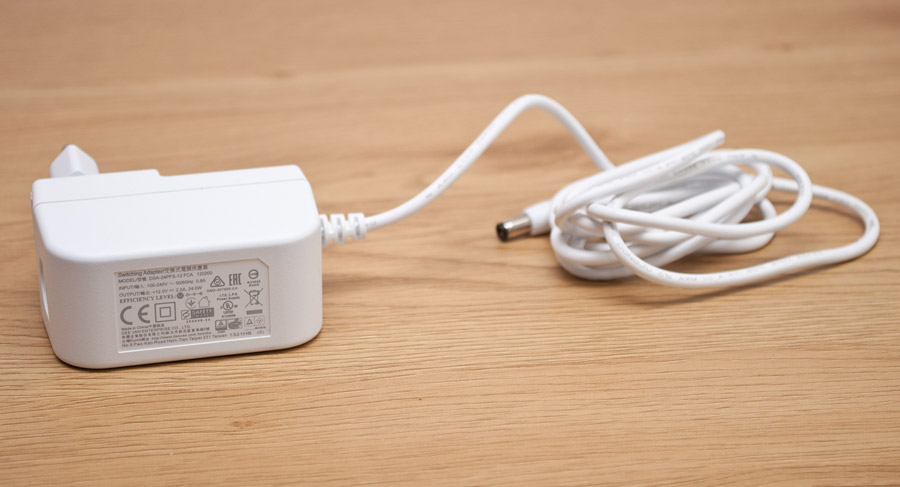 Design
Since the AiMesh system consists of two completely identical devices, we will get acquainted with ZenWiFi XD using one of them as an example. The design of the novelty resembles ZenWiFi XT8, from which graceful shapes have been inherited, while the dimensions have been proportionally reduced to 126.4×59.05×129.7 mm versus 160x75x161.5 mm in the older model. Accordingly, the weight of one XD6 is 435 g, which is 40% less than that of the XT8. The specimens that got into the test laboratory sport snow-white plastic cases, but you can also find devices in black on sale. In terms of practicality, both options are equivalent: their matte surfaces will not attract dust and prints. The minimalistic design of the front panel is diluted only by the voluminous golden logo of the manufacturer in its lower part. Under the logo is the only universal LED indicator, the glow color of which depends on the operating mode.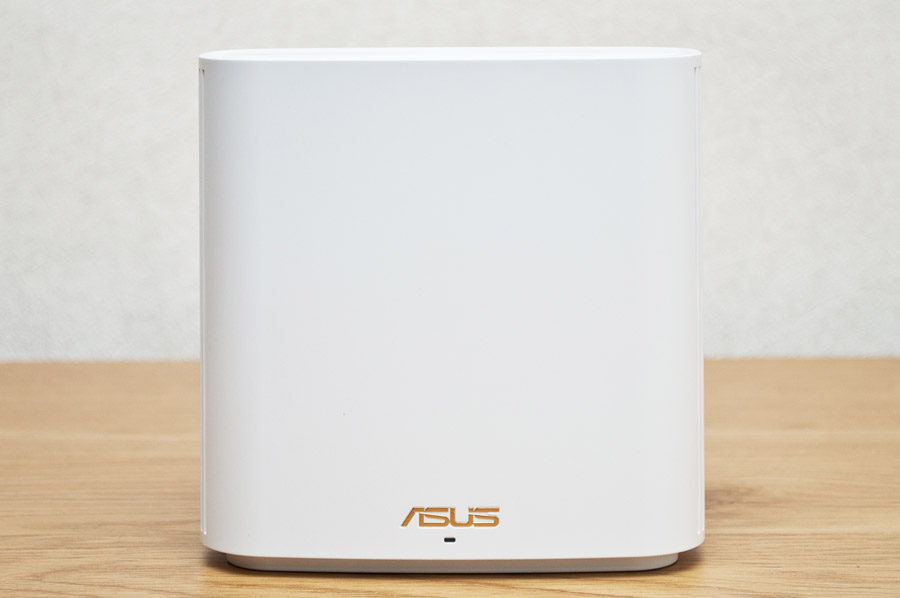 The organization of the rear panel is extremely laconic. Near the base there is a connector for connecting an external power supply and four Gigabit Ethernet ports in the RJ-45 frame, of which three are intended for connecting local network devices or AiMesh nodes, and the fourth is used for connecting to the equipment of an Internet provider. Unlike ZenWiFi XT8, the new product lacks a USB connector and a 2.5 Gigabit Ethernet port.
Ventilation grilles are visible on the side edges of the case, and the top cover is surrounded by a slot through which free heated air leaves the device.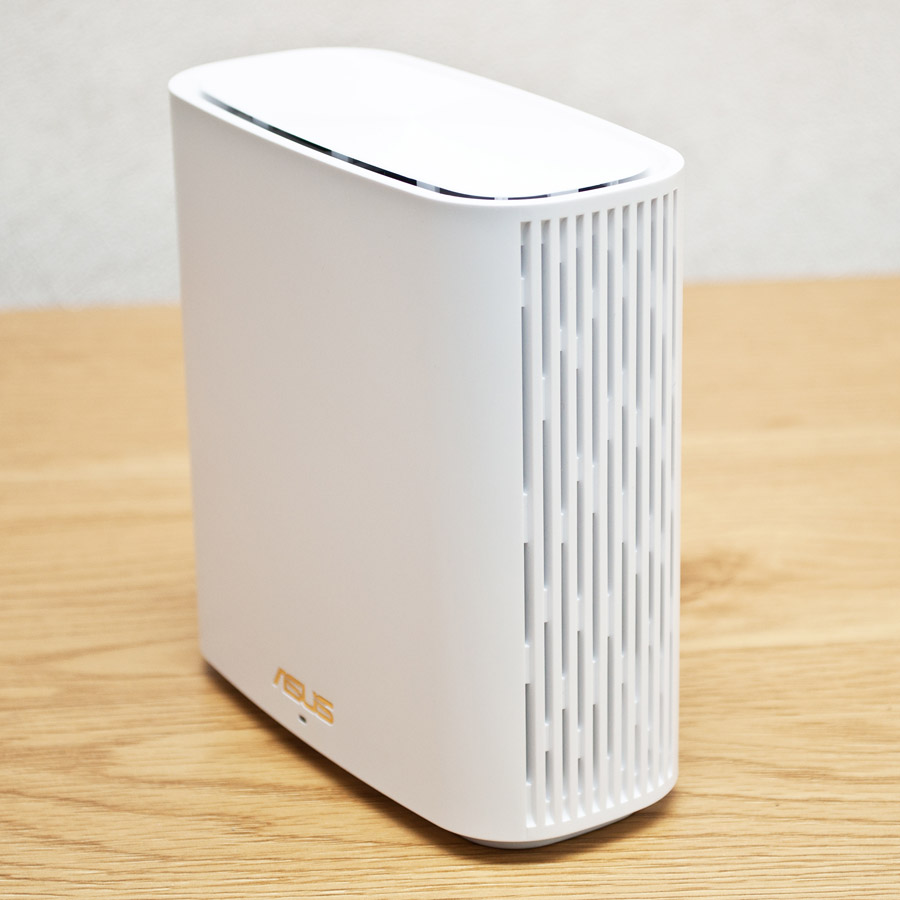 At the bottom of the ASUS ZenWiFi XD6 there is a place for two rubber feet, between which the service information is given. On the sides of the legs there are WPS (Wi-Fi Protected Setup) activation buttons for quick connection of wireless devices and resetting the firmware settings. In addition, in the lower part of the case, there are many ventilation holes for convection of air currents.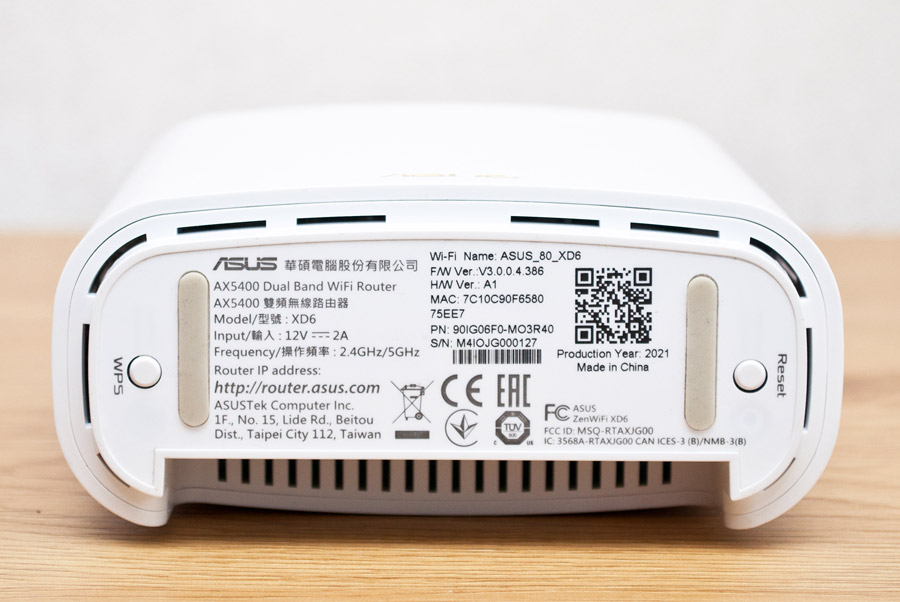 Inside the device is a chassis that holds six internal Wi-Fi antennas and a printed circuit board covered with a metal plate that acts as a heat sink.
On the reverse side of the PCB, you can see a massive heatsink, under which a 28-nm single-chip system is installed. Broadcom BCM6750, which has proven itself as the basis for successful wireless routers such as ASUS RT-AX82U and RT-AX58U. The significant area of ​​the cooler and the abundance of ventilation holes in the case allowed keeping the SoC temperature within 70-75 ° С, which can be considered a good result.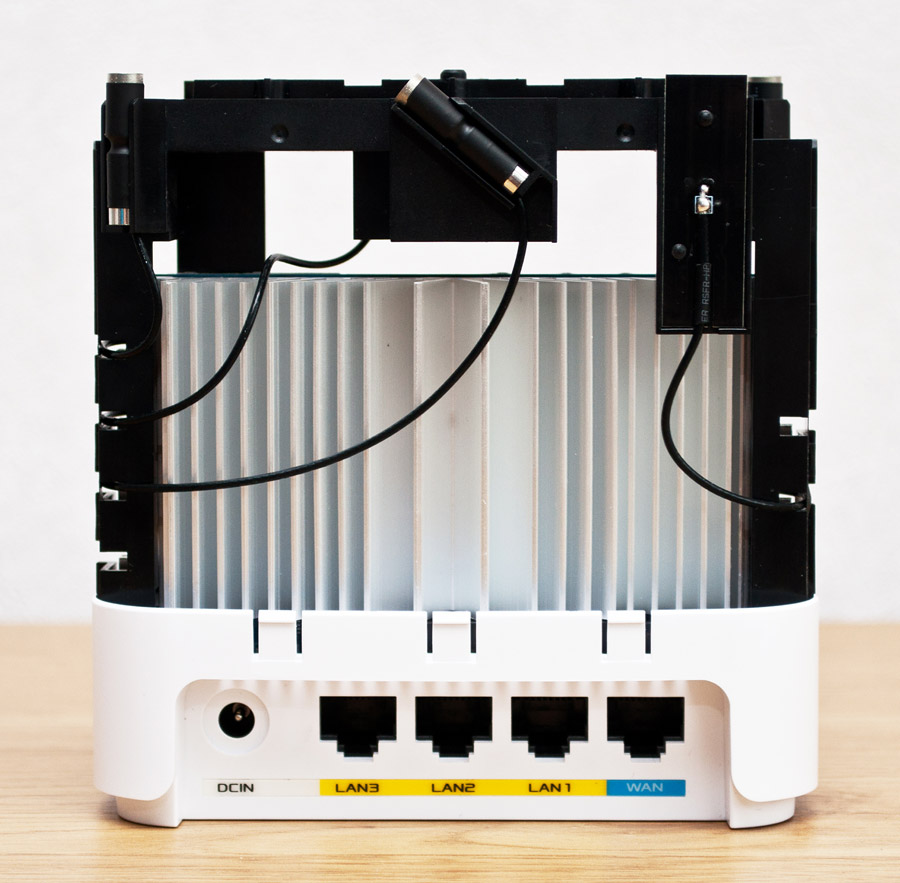 The BCM6750 consists of three cores with ARM-A7 microarchitecture operating at 1500 MHz, a five-port Gigabit Ethernet switch and a USB bus controller, which in the case of ZenWiFi XD6 was left unused. In addition, the SoC includes an IEEE802.11b / g / n / ax transceiver with 2T2R MIMO configuration and 20/40/80 MHz signal bandwidth support. This radio module is responsible for the functioning of wireless networks at 2.4 GHz and is capable of speeds of 300 Mbps and 574 Mbps for Wi-Fi 4 and Wi-Fi 6, respectively. The 5 GHz band is served by a separate chip Broadcom BCM43684which supports channel widths up to 160 MHz inclusive and MIMO 4T4R, which provides bandwidth up to 4804 Mbps when using IEEE802.11ax and up to 4333 Mbps when working with devices of the IEEE802.11ac standard. A 512 MB DDR3 chip is used as a RAM, and 256 MB of ROM is allocated for storing the firmware. Separately, it should be noted that ZenWiFi XD6 has a Qualcomm Atheros AR3012 controller, which is used to connect to mobile devices via Bluetooth 4.0 for initial configuration using the ASUS Router App.
.