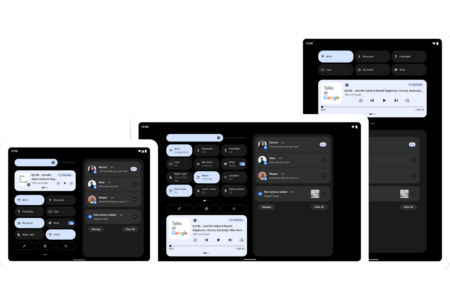 Google announced Android 12L at the end of October, and now the first beta version of the OS is out – Beta 1.
Android 12L is a special version of Android with optimizations for tablets, foldable smartphones and ChromeOS devices. The update adapts the UI for large screens, and properly adjusts the layout of the home screen, lock screen, notifications, quick settings and other elements. The announcement of Android 12L (previously it appeared under the name Android 12.1) took place on Android Dev Summit. First, the Developer Preview build for developers was released, and now it has become a little more stable and has moved to the Beta channel. Needless to say, the first beta is extremely unstable – you can install it only at your own peril and risk, and better not on the main device.
Google claims 12L will make multitasking easier
So far, Android 12L is only officially supported by Google smartphones – from Pixel 3A all the way to Pixel 5A. But it's unlikely that you can fully test the new UI – the Pixel screens aren't big enough for that. For the Lenovo Tab P12 Pro tablet with a 12.6-inch screen, the Developer Preview assembly is available, but it is still unknown when the beta version will be released. Google also offers to try out the capabilities of Android 12L in the emulator.
For Android 12L, the developers have created a two-column layout for screens with a resolution of 600 dp (Density-independent Pixels), which will allow using the entire effective display area. For example, the quick settings menu and the notification panel can be displayed side-by-side in different parts of the screen, allowing you to access both at the same time. Android 12L also introduces a new taskbar to quickly navigate between different apps. When you drag an application from the taskbar (drag & drop), it will open in split screen mode, which will be available to all applications regardless of whether resizing is supported or not. You can learn more about the key features of Android 12L in our previous post.
Google Announces Android 12L – With Optimizations For Tablets, Foldable Smartphones And ChromeOS Devices
Those wishing to register in the beta testing program for new versions of Android can do so on a special Google website.
---