While raising the debate about the need for government regulation of tech giants, the public usually raises questions about privacy and user location tracking, but it is almost never about which companies, in fact, control most of the world's Internet resources. And there are no more than a dozen of them.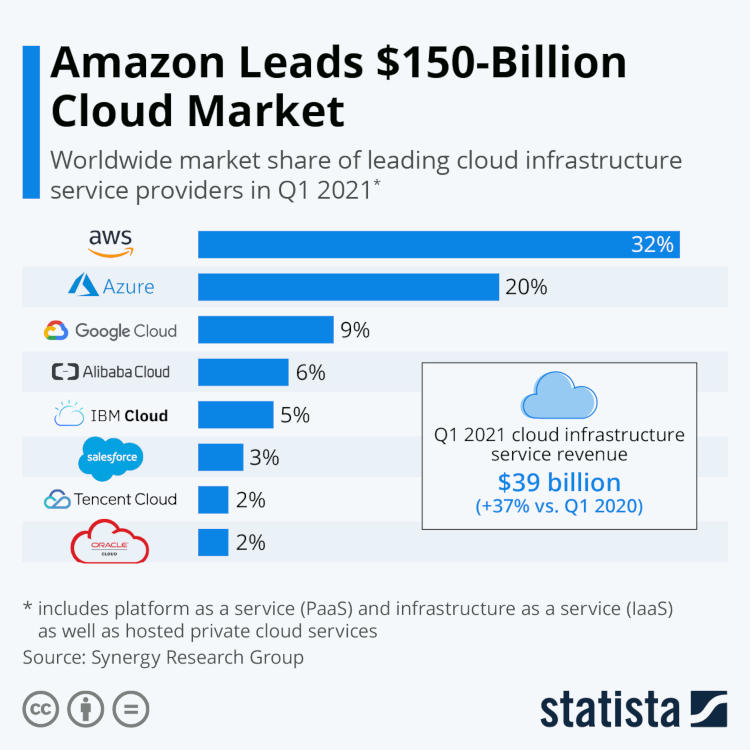 Every day, people use numerous applications and services, but they hardly think about where all the related data is stored. According to Synergy Research Group, 67% of the global cloud services market, which by the end of the current year may exceed $ 150 billion, is controlled by only 4 companies – data for the first quarter of 2021 are provided. The undisputed leader is Amazon Web Services, which managed to conquer an impressive 32% of this market, significantly ahead of the competition. The second place went to Microsoft Azure infrastructure with a 20% share. As you can see, only these two companies were enough to service 52% of the market.
The pair of leaders is followed by Google Cloud (9%) and Alibaba Cloud (6%) – these four captured two-thirds of the market. The rest of the players, including IBM Cloud (5%), Salesforce (3%), Tencent Cloud (2%), and Oracle Cloud (2%), jointly have a 12% share of the cloud services market. That is, the top eight account for almost 80% of the total volume. It is these companies that provide infrastructure support for most of the existing web services. For example, Google, if it does not have the ability to view the contents of the Google Drive storage, then, like other cloud providers, can have access to the personal data of billions of people who use numerous free services.
If you notice an error, select it with the mouse and press CTRL + ENTER.