The European Southern Observatory (ESO) has presented an image of the galaxy designated NGC 1300, located about 61 million light years away in the constellation Eridani.
The imaged object is a spiral galaxy with a bar of stars and dust, and a central ring in which intense star formation is taking place.
It should be noted that barred spiral galaxies are quite numerous: it is estimated that about two-thirds of all barred spiral galaxies are barred. By the way, our Milky Way also belongs to those.
The presented image was obtained by superimposing photographs taken at different wavelengths of electromagnetic waves and marked with conventional colors. By its appearance, as noted, the shown galaxy resembles a caramel disk in the vastness of the Universe.
The golden color corresponds to the clouds of molecular gas from which stars are formed. Blue blotches are already formed luminaries.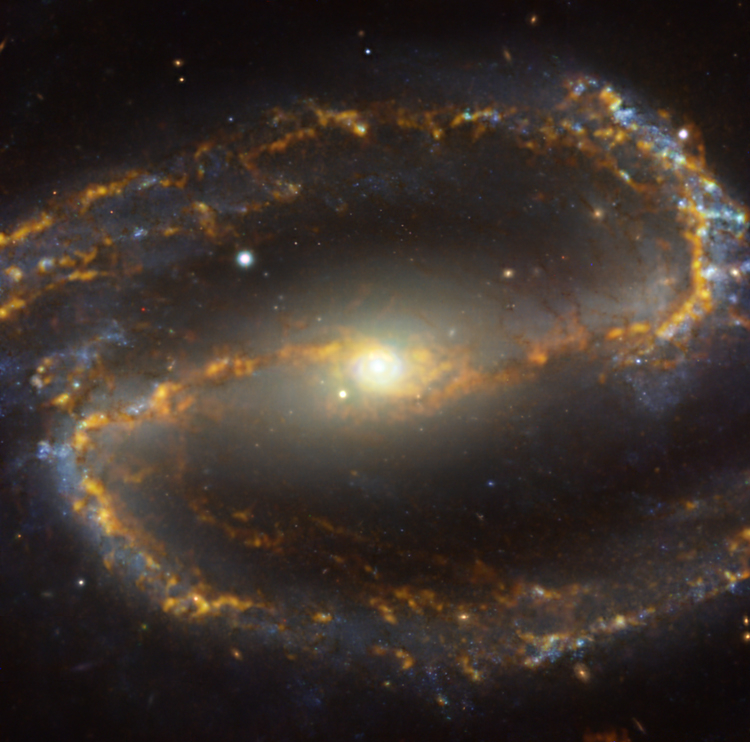 The images were taken with the Atakama Large Millimeter / Submillimeter Array (ALMA) and with ESO's Very Large Telescope (VLT; first image) with the MUSE receiver (Multi-Unit Spectroscopic Explorer).
The observations were carried out within the framework of the PHANGS (Physics at High Angular resolution in Nearby GalaxieS) project, the goal of which is high-resolution observations of neighboring galaxies using telescopes operating at all wavelengths of the electromagnetic spectrum.
If you notice an error, select it with the mouse and press CTRL + ENTER.