The renowned photographer Fritzchens Fritz has posted in his gallery on Flickr pictures of the crystal of the domestic processor Elbrus-8C of the MCST company. Although the serial production of this chip started in 2016, such images have been published on the web for the first time. The chip is manufactured using a 28-nm process technology at the TSMC factory. The number of transistors is 2.73 billion, the die area is 322 mm². The processor is packaged in FCBGA2028. Power consumption does not exceed 80 watts.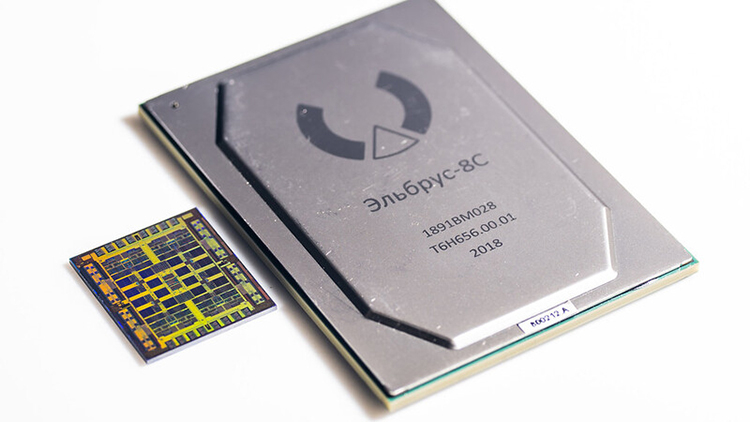 The CPU offers eight fourth-generation Elbrus architecture cores with a clock frequency of up to 1300 MHz. The CPU is capable of executing up to 25 operations per clock cycle (for each core). The chip's performance is 250 Gflops single precision and 125 Gflops double precision. The memory subsystem includes 4 MB L2 cache of the second level (512 KB in each core), 16 MB of shared L3 cache, as well as four DDR3-1600 ECC channels with support for up to 64 GB of RAM.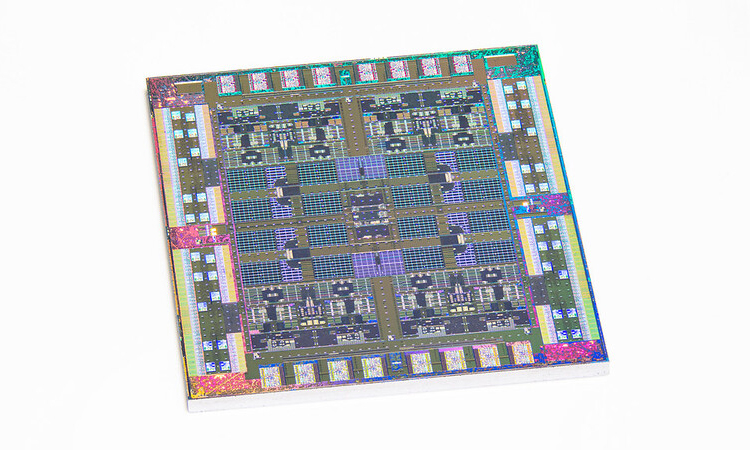 A companion for the CPU is the KPI-2 hub, which provides various buses and interfaces. Within one board, you can combine up to four Elbrus-8C processors. At the moment MCST offers a more modern modification Elbrus-8SV, and this year will start mass production of 16-core 16-nm chips Elbrus-16C based on the sixth generation architecture "Elbrus".
If you notice an error, select it with the mouse and press CTRL + ENTER. | Can you write better? We are always glad to new authors.
A source:
if( navigator.language.match(/ua/) == null ) { /*var e = document.createElement( 'script' ); e.src = document.location.protocol + '//userapi.com/js/api/openapi.js?34'; e.async = true; document.getElementById( 'vk-root' ).appendChild( e );*/ }
}() );
allGoogleAdsLoaded = 0;
function lazyLoadGoogleAds() { if( window.adsbygoogle == undefined ) { t = document.getElementsByTagName("script")[0]; s = document.createElement("script"); s.type = "text/javascript"; s.src = "https://pagead2.googlesyndication.com/pagead/js/adsbygoogle.js"; s.async = true; t.parentNode.insertBefore(s, t); }
needGoogleAdsLoad = 0; var allgoogleads = document.querySelectorAll('.adsbygoogle'); [].forEach.call(allgoogleads, function(aditem) { if( aditem.dataset.adsbygoogleStatus == undefined ) needGoogleAdsLoad = 1; });
if( needGoogleAdsLoad > 0 ) { setTimeout( function(){
}, 450 ); } else allGoogleAdsLoaded = 1; }
mobIndicator = ( ( window.innerWidth || document.body.clientWidth ) < 799 ); if( ( window.innerWidth || document.body.clientWidth ) < 799 ) { var adfoxBiddersMap = { "criteo": "717767", "myTarget": "763128", "betweenDigital": "793538", "adriver": "776589", "rtbhouse": "851765", "otm": "1460822", "getintent": "958501", "buzzoola": "769160", "relap": "958503", "segmento": "1458193", "bidvol": "1458197" }; adUnits = [ { "code": "adfox_mob1", "sizes": [ [ 300, 250 ] ], "bids": [ { "bidder": "criteo", "params": { "placementId": 1288827 } }, { "bidder": "myTarget", "params": { "placementId": 249969 } }, { "bidder": "betweenDigital", "params": { "placementId": 2537549 } }, { "bidder": "adriver", "params": { "placementId": "20:3dnews_300x250mob_top" } }, { "bidder": "rtbhouse", "params": { "placementId": "30a98fd86117f14c5apo" } }, { "bidder": "otm", "params": { "placementId": 865 } }, { "bidder": "getintent", "params": { "placementId": "134_3dnews.ru_mobile_adfox_mob1_300x250" } }, { "bidder": "buzzoola", "params": { "placementId": 296712 } }, { "bidder": "relap", "params": { "placementId": "3yDftXW1oIV_2jY2" } }, { "bidder": "segmento", "params": { "placementId": 164 } }, { "bidder": "bidvol", "params": { "placementId": 11656 } } ] }, { "code": "adfox_mob2", "sizes": [ [ 300, 250 ] ], "bids": [ { "bidder": "criteo", "params": { "placementId": 1288828 } }, { "bidder": "myTarget", "params": { "placementId": 249971 } }, { "bidder": "betweenDigital", "params": { "placementId": 2537550 } }, { "bidder": "adriver", "params": { "placementId": "20:3dnews_300x250mob_mid" } }, { "bidder": "rtbhouse", "params": { "placementId": "d985bfbe8d315a32d801" } }, { "bidder": "otm", "params": { "placementId": 866 } }, { "bidder": "getintent", "params": { "placementId": "134_3dnews.ru_mobile_adfox_mob2_300x250" } }, { "bidder": "buzzoola", "params": { "placementId": 296735 } }, { "bidder": "relap", "params": { "placementId": "7BPsl1eXdFGrfpSU" } }, { "bidder": "segmento", "params": { "placementId": 165 } }, { "bidder": "bidvol", "params": { "placementId": 13106 } } ] }, { "code": "adfox_mob4", "sizes": [ [ 300, 250 ] ], "bids": [ { "bidder": "criteo", "params": { "placementId": 1305406 } }, { "bidder": "myTarget", "params": { "placementId": 251725 } }, { "bidder": "betweenDigital", "params": { "placementId": 2548692 } }, { "bidder": "rtbhouse", "params": { "placementId": "0ae186a2fef225d0b159" } }, { "bidder": "otm", "params": { "placementId": 867 } }, { "bidder": "getintent", "params": { "placementId": "134_3dnews.ru_mobile_adfox_mob4_300x250" } }, { "bidder": "buzzoola", "params": { "placementId": 296736 } }, { "bidder": "relap", "params": { "placementId": "3DExqbd2oliip6en" } }, { "bidder": "segmento", "params": { "placementId": 166 } }, { "bidder": "bidvol", "params": { "placementId": 13107 } } ] }, { "code": "adfox_mob3", "sizes": [ [ 300, 250 ] ], "bids": [ { "bidder": "criteo", "params": { "placementId": 1288829 } }, { "bidder": "myTarget", "params": { "placementId": 249973 } }, { "bidder": "betweenDigital", "params": { "placementId": 2537551 } }, { "bidder": "rtbhouse", "params": { "placementId": "dded8b51295c562bc778" } }, { "bidder": "otm", "params": { "placementId": 868 } }, { "bidder": "getintent", "params": { "placementId": "134_3dnews.ru_mobile_adfox_mob3_300x250" } }, { "bidder": "buzzoola", "params": { "placementId": 296737 } }, { "bidder": "relap", "params": { "placementId": "IsnJcmytX6VfXl5e" } }, { "bidder": "segmento", "params": { "placementId": 167 } }, { "bidder": "bidvol", "params": { "placementId": 13108 } } ] } ]; var userTimeout = 1450; window.YaHeaderBiddingSettings = { biddersMap: adfoxBiddersMap, adUnits: adUnits, timeout: userTimeout, trustedOwners: [ 254948 ] }; } else { var adfoxBiddersMap = { "criteo": "717767", "myTarget": "763128", "betweenDigital": "793538", "adriver": "776589", "rtbhouse": "851765", "otm": "1460822", "getintent": "958501", "buzzoola": "769160", "relap": "958503", "segmento": "1458193", "bidvol": "1458197", "adfox_tn-inpool": "1010535" }; adUnits = [ { "code": "adfox_side1", "sizes": [ [ 240, 400 ] ], "bids": [ { "bidder": "criteo", "params": { "placementId": 1288833 } }, { "bidder": "myTarget", "params": { "placementId": 252093 } }, { "bidder": "betweenDigital", "params": { "placementId": 2537545 } }, { "bidder": "adriver", "params": { "placementId": "20:3dnews_240x400_1" } }, { "bidder": "rtbhouse", "params": { "placementId": "dcf7cd50ce6ac7bbd999" } }, { "bidder": "otm", "params": { "placementId": 869 } }, { "bidder": "getintent", "params": { "placementId": "134_3dnews.ru_desktop_adfox_side1_240x400" } }, { "bidder": "buzzoola", "params": { "placementId": 296738 } }, { "bidder": "relap", "params": { "placementId": "JdolN_c3s5Zs8x0d" } }, { "bidder": "segmento", "params": { "placementId": 168 } }, { "bidder": "bidvol", "params": { "placementId": 11661 } }, { "bidder": "adfox_tn-inpool", "params": { "p1": "ceagl", "p2": "gead" } } ] }, { "code": "adfox_side2", "sizes": [ [ 240, 400 ] ], "bids": [ { "bidder": "criteo", "params": { "placementId": 1288834 } }, { "bidder": "myTarget", "params": { "placementId": 252095 } }, { "bidder": "betweenDigital", "params": { "placementId": 2537546 } }, { "bidder": "adriver", "params": { "placementId": "20:3dnews_240x400_2" } }, { "bidder": "rtbhouse", "params": { "placementId": "d8fda44c49bc4d201ctt" } }, { "bidder": "otm", "params": { "placementId": 870 } }, { "bidder": "getintent", "params": { "placementId": "134_3dnews.ru_desktop_adfox_side2_240x400" } }, { "bidder": "buzzoola", "params": { "placementId": 296739 } }, { "bidder": "relap", "params": { "placementId": "f5CQJzn4A_kD2tra" } }, { "bidder": "segmento", "params": { "placementId": 169 } }, { "bidder": "bidvol", "params": { "placementId": 13109 } }, { "bidder": "adfox_tn-inpool", "params": { "p1": "ceagm", "p2": "gead" } } ] }, { "code": "adfox_side3", "sizes": [ [ 160, 600 ] ], "bids": [ { "bidder": "criteo", "params": { "placementId": 1288835 } }, { "bidder": "betweenDigital", "params": { "placementId": 2537718 } }, { "bidder": "rtbhouse", "params": { "placementId": "da9406ed65ef505e5c9" } }, { "bidder": "otm", "params": { "placementId": 871 } }, { "bidder": "getintent", "params": { "placementId": "134_3dnews.ru_desktop_adfox_side3_160x600" } }, { "bidder": "buzzoola", "params": { "placementId": 296740 } }, { "bidder": "relap", "params": { "placementId": "mmWa1BTUyO0XXq6u" } }, { "bidder": "segmento", "params": { "placementId": 170 } }, { "bidder": "bidvol", "params": { "placementId": 11667 } } ] }, { "code": "adfox_top", "sizes": [ [ 728, 90 ] ], "bids": [ { "bidder": "criteo", "params": { "placementId": 1288832 } }, { "bidder": "myTarget", "params": { "placementId": 249983 } }, { "bidder": "betweenDigital", "params": { "placementId": 2537544 } }, { "bidder": "adriver", "params": { "placementId": "20:3dnews_728x90_top" } }, { "bidder": "rtbhouse", "params": { "placementId": "1b50c2bcd2697d18" } }, { "bidder": "otm", "params": { "placementId": 872 } }, { "bidder": "getintent", "params": { "placementId": "134_3dnews.ru_desktop_adfox_top_728x90" } }, { "bidder": "buzzoola", "params": { "placementId": 296741 } }, { "bidder": "relap", "params": { "placementId": "l2ZmID7_kmiSVVVV" } }, { "bidder": "segmento", "params": { "placementId": 171 } }, { "bidder": "bidvol", "params": { "placementId": 11668 } } ] }, { "code": "adfox_mid1", "sizes": [ [ 300, 250 ] ], "bids": [ { "bidder": "criteo", "params": { "placementId": 1288830 } }, { "bidder": "myTarget", "params": { "placementId": 249979 } }, { "bidder": "betweenDigital", "params": { "placementId": 2537547 } }, { "bidder": "rtbhouse", "params": { "placementId": "743c4a466ed445af0699" } }, { "bidder": "otm", "params": { "placementId": 873 } }, { "bidder": "getintent", "params": { "placementId": "134_3dnews.ru_desktop_adfox_mid1_300x250" } }, { "bidder": "buzzoola", "params": { "placementId": 296742 } }, { "bidder": "relap", "params": { "placementId": "3iHefLx889Ys3C4u" } }, { "bidder": "segmento", "params": { "placementId": 172 } }, { "bidder": "bidvol", "params": { "placementId": 11669 } } ] }, { "code": "adfox_mid2", "sizes": [ [ 300, 250 ] ], "bids": [ { "bidder": "criteo", "params": { "placementId": 1288831 } }, { "bidder": "myTarget", "params": { "placementId": 249981 } }, { "bidder": "betweenDigital", "params": { "placementId": 2537548 } }, { "bidder": "rtbhouse", "params": { "placementId": "f29a83457349c5675289" } }, { "bidder": "otm", "params": { "placementId": 874 } }, { "bidder": "getintent", "params": { "placementId": "134_3dnews.ru_desktop_adfox_mid2_300x250" } }, { "bidder": "buzzoola", "params": { "placementId": 296743 } }, { "bidder": "relap", "params": { "placementId": "jX5-MC7vsUuxv7-_" } }, { "bidder": "segmento", "params": { "placementId": 173 } }, { "bidder": "bidvol", "params": { "placementId": 13110 } } ] } ]; var userTimeout = 1450; window.YaHeaderBiddingSettings = { biddersMap: adfoxBiddersMap, adUnits: adUnits, timeout: userTimeout, trustedOwners: [ 254948 ] };}