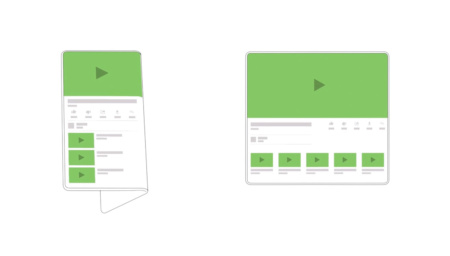 Google has released the second beta of Android 12L, it is available for the Pixel 3a (XL) and newer Pixel models, with the exception of the Pixel 6 and Pixel 6 Pro versions.
Android 12L is a special interim version of Android with optimizations for tablets, foldable smartphones and ChromeOS devices. It adapts the user interface for large screens, and properly adjusts the layout of the home screen, lock screen, notifications, quick settings, and other elements. Android 12L (previously known as Android 12.1) was announced at the Android Dev Summit.
Android 12L Beta 2 contains bug fixes and optimizations. It also includes refined APIs so that developers can focus on optimizing the compatibility of their applications with the new Android build. The corresponding files for installing Android 12L Beta 2 on compatible devices are already available on the Google website.
In the process of analyzing new assemblies, 9to5Google specialists have already discovered interesting new visual resources. In particular, the new animations showcase the unreleased Google Pixel foldable device.
On the Pixel SIM setup page, the animation usually shows how to open the SIM tray to insert the SIM. The new animation shows a foldable smartphone model, codenamed Pipit. It is likely that this animation may not be finalized or even removed before the public release of Android 12L.
There are actually two animations available. On one of them the folding device is closed, on the other it is open. Judging from these images, the foldable device is not as tall and narrow as the Galaxy Z Fold3, but slightly wider as the recently launched Oppo Find N. The volume rocker is also visible in the image. Since the power button is not visible, it can be assumed that it could be flush with the bezel and contains a built-in fingerprint scanner. Based on visual calculations by 9to5Google, the internal foldable display may have an aspect ratio of 7: 8. Earlier it was reported that this display has a diagonal of 7.6 inches.
Given the new information, it can be assumed that the Pixel foldable smartphone is still in development. Although it was previously assumed that it may appear at the end of 2021.
Android Code 12 Reveals Four Unannounced Pixel Smartphones, Including Foldable Passport
---