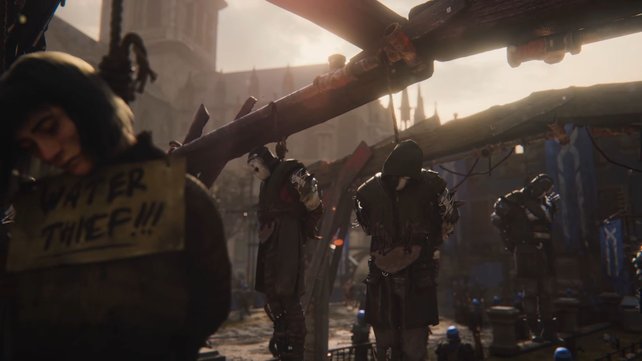 With a new spectacular trailer, Techland shows what awaits you in Dying Light 2 Stay Human. The community loves the trailer and highlights a particularly emotional passage.
Dying Light 2 could get very emotional
In exactly three weeks you can finally dive into the world of Dying Light 2. But until then, the latest trailer in particular should keep the mood up – and it does it. You not only get to see new gameplay scenes, but also a deeper look into the story of the open world game. This could much more emotional and personal fail than in the predecessor.
Because unlike the first part, Dying Light 2 is apparently very concerned with the difficult past of the new protagonist Aiden Caldwell. In the trailer you can see how he and his sister are exploited for experiments and eventually separated. Now he wants to find her again in the dangerous, undead world.
Fans love reference to the first part
What Dying Light fans especially love about the trailer is a little reference to the first part. At one point a voice says: "Who would have thought that the end of the world could be so peaceful. I wish Crane was here to see that.Kyle Crane is the protagonist of the first Dying Light. In the comments below the video it is suggested that it Spike's voice is, also a character from the predecessor.
Check out the new trailer for The Reason here:
The trailer also shows many other characters that will either help you to your goal or put obstacles in your way. You can find out on February 4, 2022, when Dying Light 2 is scheduled for release on PC and consoles.
Co-op mode and last-gen gameplay
The trailer appeared in the sixth and final YouTube episode of Dying 2 Know. It also presented other interesting details about the game.
You can play and complete the entire game in co-op. In addition, player progress and collectibles are saved not only for the host, but for all players. For players in Germany, however, there is still the problem that due to the cut version, players cannot play with owners of the uncut version for the time being.
In addition, short game scenes from the PS4 and Xbox One were compared with the version for PS5 and Xbox Series X. While the last-gen versions don't look bad, they fall the missing 60 FPS and the less gaudy light atmosphere on. (Source: YouTube – Techland)
You don't want to miss any more news, guides and tests for new games? Always want to know what's happening in the gaming community? Then follow us on Facebook, Youtube, Instagram, Flipboard or Google News.