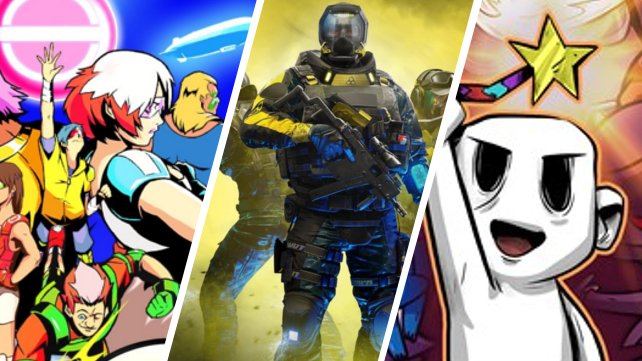 The first releases of 2022 will continue next week: Among other things, Ubisoft is launching its long-announced co-op shooter.
Nobody Saves the World | 18. Januar
PC / Xbox One / Xbox Series X
The makers of Guacamalee are dedicated to Nobody Saves the World a new genre: action role-playing games with a curiosity factor. Because here you don't play a specific character, but can slip into over 15 different forms, each with their own game mechanics. After all, a snail interacts differently with the game world than a dragon.
But that's not all: You can even combine skills to create your own combinations. What is all this for? To help the residents of Nobody Saves the World who are dealing with monsters and other problems. This can even be done alternatively in the optional co-op mode.
At the time of release, Nobody Saves the World is only available for PC, Xbox One and Xbox Series X. In addition, the unusual action role-playing game appears directly in Xbox Game Pass. It is unclear whether other platforms will be served in the future, but it is quite realistic.
Windjammers 2 | January 20th
PC / PS4 / PS5 / Xbox One / Xbox Series X / Switch
Anyone can do soccer! In Windjammers 2 On the other hand, it's about tough Frisbee duels that are by no means realistic. Just throwing the disc back and forth between you and the opponent is not possible. Instead, you have to use special moves to throw the Frisbee past the opponent into the goal.
In addition there are those special ex movesthat are particularly strong. But like classic fighting games, Windjammers 2 has some maneuvers that can be easily outmaneuvered once you get the hang of it.
Windjammers 2 is released more than 25 years after the original, which was released for the Neo Geo. This time, however, all known platforms are served directly, i.e. PC and the entire console brigade.
Rainbow Six: Extraction | 20. Januar
PC / PS4 / PS5 / Xbox One / Xbox Series X / Stadia
In 2015, the operators of Rainbow Six: Siege record with the Chimera parasite for the first time as part of the so-called Outbreak event. It was so well received that Ubisoft made its own game out of it: Born is Rainbow Six: Extraction.
Unlike Siege, this is one Three player co-op shooter in the style of Back 4 Blood or Left 4 Dead. However, the focus in Extraction is not on constant banging, but on careful action, in which the individual skills of the respective operator also play an important role. There are a total of 18 operators, twelve different maps, numerous gadgets and weapons for the release.
As usual with current Ubisoft games, Rainbow Six: Extraction will be released for multiple platforms: PC, PlayStation, Xbox and Google Stadia. The co-op shooter is also available in Xbox Game Pass from day one.
Expeditions Rome | 20. Januar
PC
In Expeditions Rome you slip into the role of a self-made Roman officer and accompany his career. The further you rise in rank, the more gaming options you get. Among other things, you lead your army to Greece and Africa, get to know new companions and, of course, fight the corresponding battles.
The fights take place in turn-based battles instead, where you have to pay attention to the respective character classes. In addition, as is usual in a good role-playing game, you can also talk to friends and foes and make decisions.
For the time being, Expeditions Rome will only be released on the PC. An implementation for consoles is not yet planned.
Rise to become a great general in Rome, shoot at mutants or throw the Frisbee at high speed: In the coming week there will be a lot of variety. As always, it's entirely up to you whether any of this will conquer your hard drive.
You don't want to miss any more news, guides and tests for new games? Always want to know what's happening in the gaming community? Then follow us on Facebook, Youtube, Instagram, Flipboard or Google News.