A few days earlier, the budget processor Celeron G6900 (2 cores / 2 threads, 3.4 GHz, 4 MB L3) was tested in the Geekbench package, where it managed to perform at the level of the top Core i9-10900K in a single-threaded benchmark.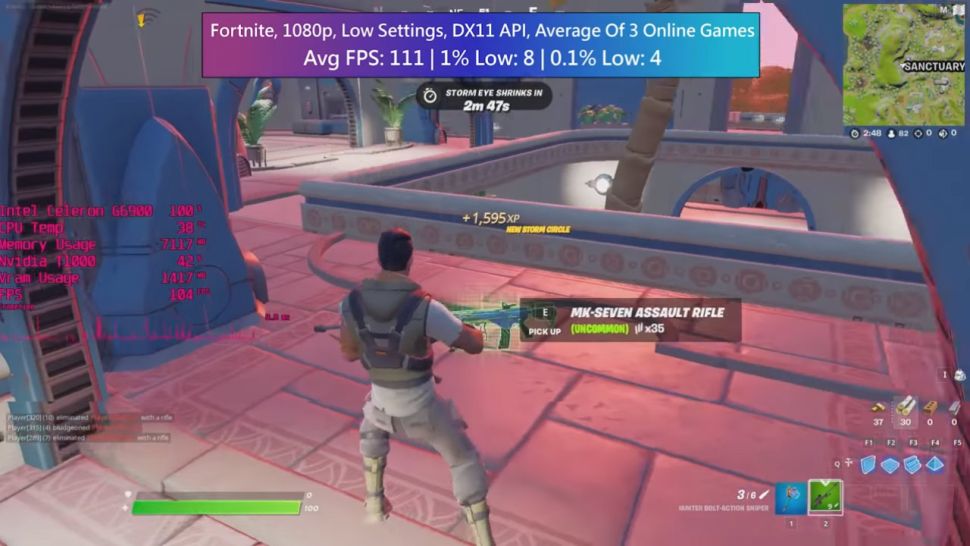 True, it should be noted that the base frequency of the Celeron G6900 is 3.4 GHz and does not provide for dynamic overclocking. Despite this, the ASRock Base Frequency Boost technology on the ASRock Z690M Phantom Gaming 4 board allowed the modest beginner to "fire up" to 4.4 GHz.
Now the Random Gaming in HD channel has decided to test the Celeron G6900 in games. His system included a simple Gigabyte H610M S2H D4 board, 16 GB of DDR4 memory, and a professional Nvidia Quadro T1000 graphics card based on the TU117 chip with 896 CUDA cores and a 4 GB GDDR6 buffer (similar to the GeForce GTX 1650).
In The Witcher 3, the blogger chose high settings at 1080p. The game averaged 43 fps, but there were long intermittent freezes with a zero value of 1 / 0.1% Low. Most likely, the transition to the lowest settings would, if not completely remove freezing, then significantly increase the smoothness of the gameplay.
The GTA: San Andreas remaster averaged 58 fps on high settings, and stuttering was much more tolerable (1% Low = 15 fps). Unexpectedly, the processor was good in Cyberpunk 2077 (average 47 fps) and Red Dead Redemption 2 (34 fps), but in Cyberpunk 2077 there were problems loading saves. Forza Horizon 5 didn't load and Far Cry 6 showed a slideshow.
The rest of the results can be seen in the video. Note that the 2-core/2-thread configuration lost its relevance in 3D games ten years ago. The most budget-conscious gamer needs to look at the 4-thread Pentium G7400 or representatives of past generations with four full-fledged cores.
.