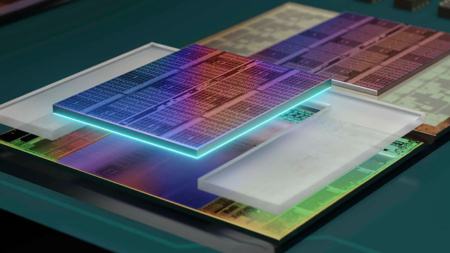 The Chips and Cheese resource tested the latency of the AMD EPYC 7V73X processor (Milan-X family) with 3D V-Cache cache. In the future, the same technology will be used in mainstream Ryzen processors. As such, the results are likely to portend changes to be expected from future processors such as the Ryzen 7 5800X3D.
Based on Chips and Cheese testing results, 3D V-Cache has minimal impact on cache and memory latency. In the case of AMD EPYC 7V73X, L3 delays increased by 3-4 cycles, and memory latency decreased. And this is a very impressive result, considering that the amount of L3 cache in the EPYC 7V73X (768 MB) has increased 3 times compared to the EPYC 7763 (256 MB). At the same time, it is noted that although the Milan-X family chip has a lower clock frequency compared to Milan, it shows a better result when increasing the frequency, which eliminates the increase in 3D V-Cache delays.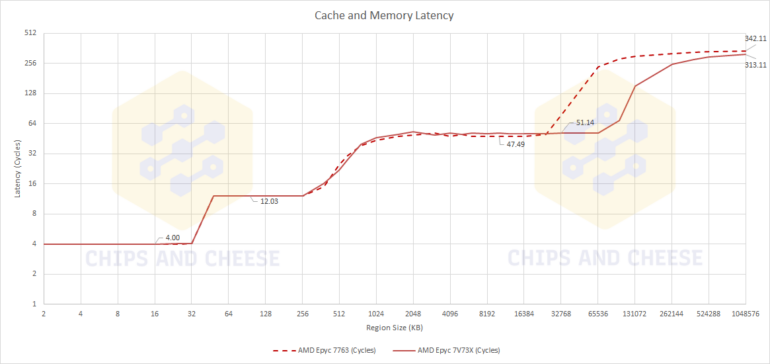 3D V-Cache technology allows AMD to fit more L3 cache into its Zen 3 processors. The chipmaker integrates the 3D V-Cache chiplet with the top of the main chip using a hybrid bonding process. As a result, AMD is equipping its Ryzen processors with a single layer of the L3 cache stack. However, this technology allows multiple dies, so future consumer Ryzen processors could potentially ship with very large L3 caches.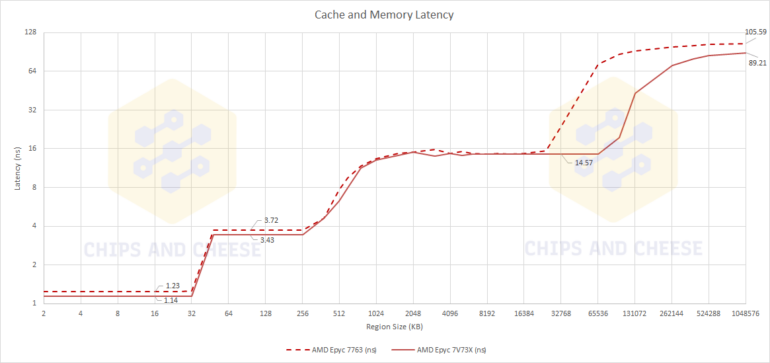 The standard Ryzen 7 5800X processor contains 32MB of L3 cache. And each 3D V-Cache chiplet contains up to 64MB of SRAM cache. Thus, the Ryzen 7 5800X3D processor in total will already receive 96 MB of L3 cache – 3 times more than the Ryzen 7 5800X. At the same time, the frequency of the Ryzen 7 5800X3D will be 400 MHz (base) and 200 MHz (increased) lower. And according to the tests of Chips and Cheese, the increased amount of cache memory will neutralize the effect of lower frequencies.
During CES 2022, AMD announced that the Ryzen 7 5800X3D processor delivers a 15% boost in gaming performance (at 1080p) over the Ryzen 9 5900X. On other graphics, the Ryzen 7 5800X3D delivered comparable performance to the latest Intel Core i9-12900K processor and even outperformed the competition in some games.
During the Computex 2021 event, AMD showed off a prototype Ryzen 9 5900X processor with 3D V-Cache memory. AMD is placing a 3D V-Cache chiplet on top of the base CCD chip. In the case of the Ryzen 7 5800X with one CCD chip, this gives 96 MB of ke-memory (32 MB + 64 MB). But the Ryzen 9 5900X processor includes two CCD units, which allows you to increase the L3 cache already up to 192 MB. Unfortunately, at CES 2022, AMD did not mention the Ryzen 9 5900X3D or Ryzen 9 5950X3D processors. So at the moment there is no data on whether it plans to bring such chips to the market.
A source: tomshardware
---