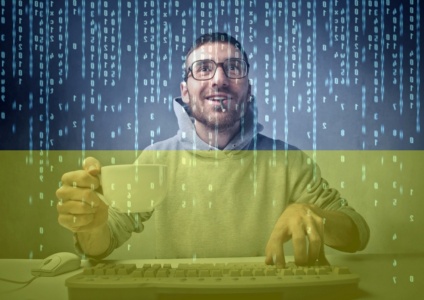 Ukrainian profile resource DOU.UA conducted another salary survey of IT developers in December, which was attended by 8,005 Ukrainian professionals. This half-year was a record year in terms of wage growth, especially for experienced professionals.
The median salaries of architects have crossed the $ 6,000 mark, the Senior Java salary has increased by $ 800, but the highest median among Scala developer programming languages ​​is still $ 5,300. All salaries are in US dollars after taxes ("net").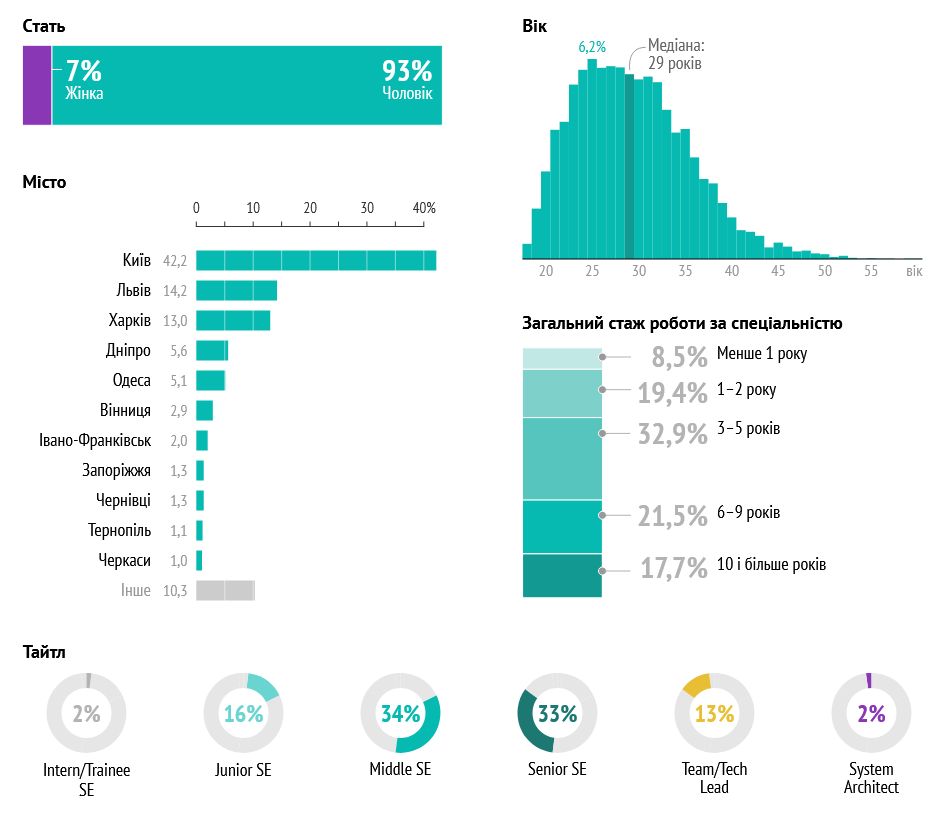 The geography of respondents has not changed significantly in six months: 42% of developers still live in Kyiv. Next are Lviv (14%) and Kharkiv (13%). The median age is the same – 29 years. The share of women among developers is still low – only 7%. Most of the respondents are experienced specialists at the middle level and above. JavaScript as the main programming language is still the most popular today. But its share has decreased slightly over the past six months (by 3 percentage points). This is followed by C # / .NET and Java (15% each). TypeScript equaled PHP (almost 11%).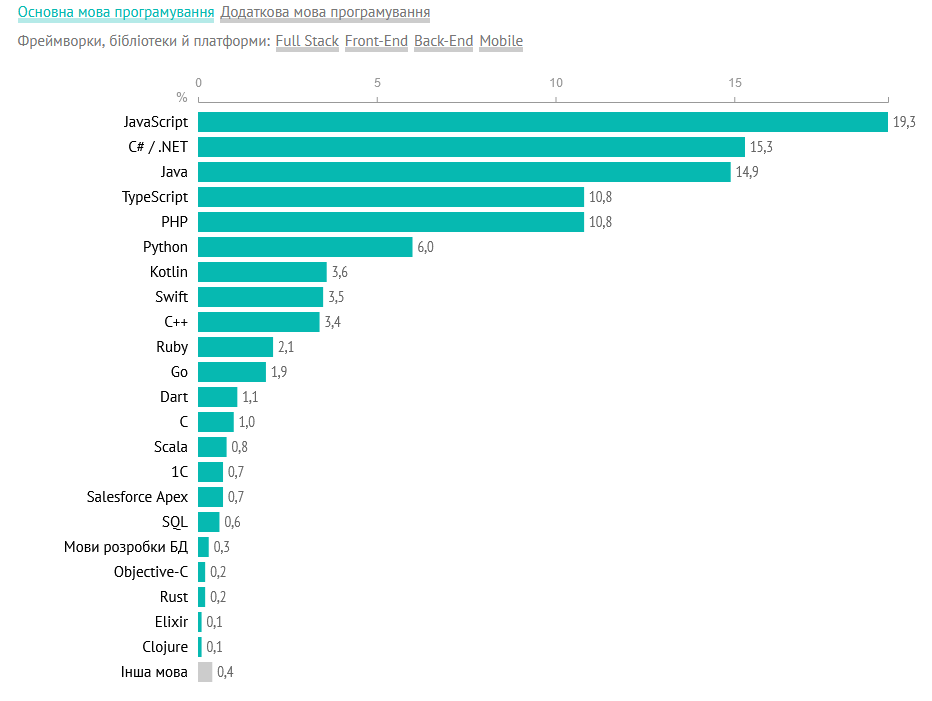 Median salaries show a good picture: + $ 500 for an architect (even 550), a leader and a senior developer. The salaries of middlemen and juniors grew more slowly – by $ 300 and $ 100. Internship compensation has hardly changed – only + $ 10 for the last six months. Interestingly, the median salary among developers at all levels has increased by $ 300 (or 10%) to $ 3,300. In summer, the growth was 20%.
The median salary of architects reached $ 6,200. And in six months it has increased by almost 10%. Timlids and Techlids have $ 5,000, while senior specialists have $ 4,500. The median of the middle is $ 2,500. But in some areas and languages, it has already reached $ 3,000 (more on this below). In the third quartile, the architects finally saw the figure of $ 7,300. The upper quartile is $ 5,500 for senior developers, $ 3,150 for middlemen, and $ 1,200 for juniors.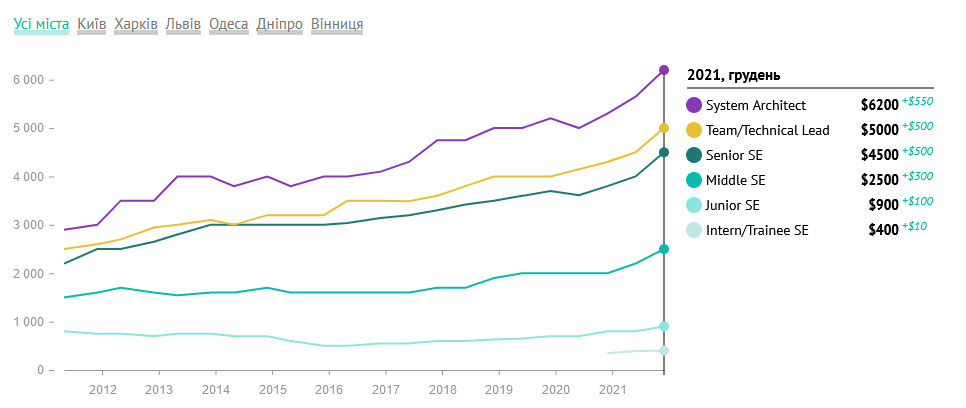 After five years of experience, wage growth is slowing. Most juniors have up to two years of experience and can count on a plus of $ 300-400 each year. Middlemen have 2 to 4 years of experience with an increase of $ 500-600 each year. Senior developers mostly have 10 years of experience, but get a grade of about five years of experience. It seems that their salary immediately increases by $ 1,000. But the further increase is less significant – by $ 250-500 annually.
The median salary of the developer in Kyiv and Lviv increased by $ 500 – $ 3800 and $ 3500 respectively. Next are Odessa ($ 3,300), Dnipro ($ 3,200) and Kharkiv ($ 3,100). The lowest median salary is in Poltava, Chernivtsi, Lutsk, Zhytomyr – less than $ 2,400. This may be due to the low number of senior specialists in these regions.
Junior salaries are almost independent of specialization (a difference of about $ 50). The median salaries of the backend and frontend areas were almost equal. This time the leaders are desktop: Senior – $ 5000, Middle – $ 3200, Junior – $ 900. Senior Embedded also has a high median salary of $ 4,900. For all other specializations there is no significant difference in medians.
As in summer, Scala developers have the highest median salaries ($ 5,300). Next are Go ($ 4750) and Swift with Ruby and Java ($ 4000 each). The lowest is in 1C ($ 2000). For JavaScript developers, the median salary has increased by $ 350 over the past six months and is $ 2,750. At the same time, there are more significant changes in TypeScript: + $ 500 and $ 3,500 salary.
Senior developers earn the most in startups: the median is $ 5275. For comparison: in outsourcing, the median salary of a senior is $ 4225. For juniors, it doesn't matter which company works based on salary: the median ranges from $ 900 to $ 1,000. The situation is similar with medals: the difference is about $ 200, depending on the type of company.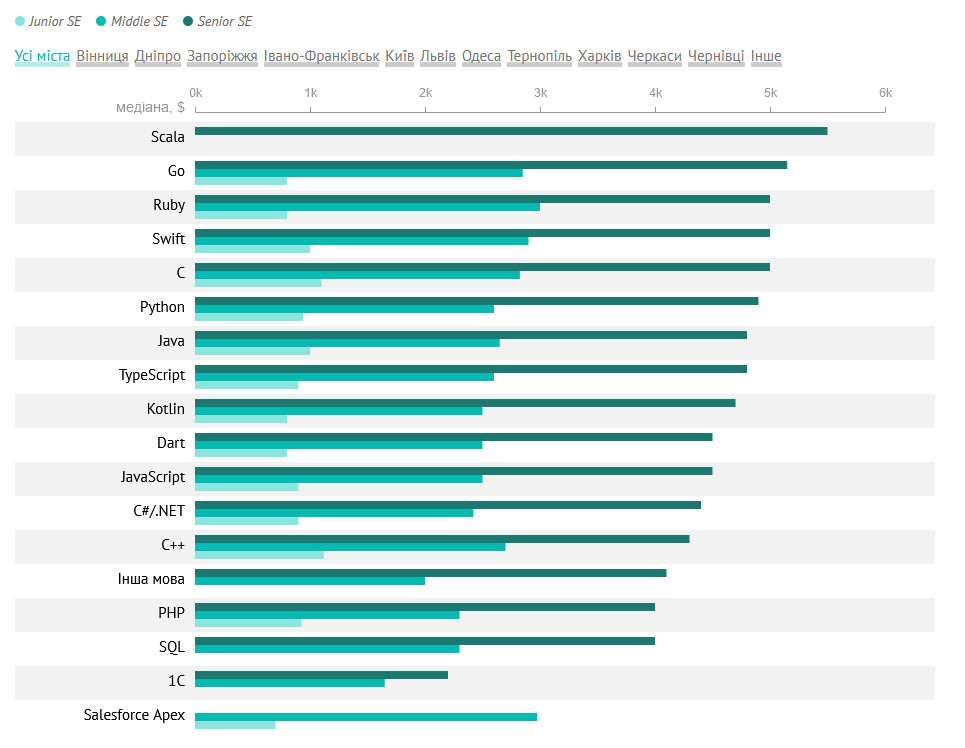 Thus, the dynamics of salaries in programming languages ​​is as follows.
JavaScript. Over the past six months, the salaries of experienced professionals have increased significantly: + $ 500 in Senior, + $ 400 in Middle and only + $ 100 in Junior Java. The Senior Plus $ 800. This is a record among all major programming languages. Middle and Junior are more modest – an increase of $ 250 and $ 100, respectively, C # / .NET. Juniors' salaries have hardly changed (+ $ 50 in six months). Middlemen and seniors have + $ 220 and $ 400 in PHP, respectively. Seniors' salaries have finally reached $ 4,000. Middlemen – $ 2300, juniors – $ 925 Python. + $ 660 to the median of seniors in six months. Middlemen and juniors – + $ 200 and $ 140 respectively C ++. After a sharp rise in junior salaries in the summer (by $ 300), the median has fallen by $ 180 today. But it is still the largest of the June most popular languages ​​($ 1120) Ruby / Rails. $ 5,000 is the median salary of a senior and $ 3,000 is the median's salary. The junior has almost no changes – $ 800 Swift. Seniors have + $ 1,000 to the median for the last year. At that time, juniors had only + $ 90 a year
Source: DOU.UA
---