Last week, the series "Expanse" came to an end, and the final episode gave fans of sci-fi not only a powerful denouement, but also a mountain of easter eggs. In one of the scenes, the crew of the Rocinante ship looks at the list of members of friendly teams – this is where the hidden characters other franchises.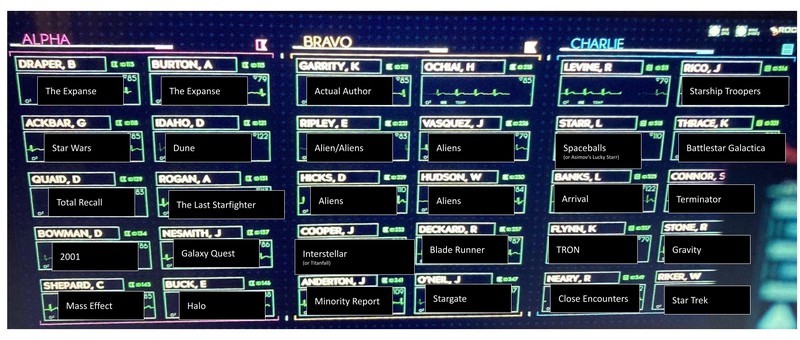 Here is the list:
Alpha:
Bobby Draper and Amos Burton – show characters
Admiral Gial Ackbar – "Star Wars"
Duncan Idaho – "Dune"
Douglas Quaid – Total Recall
Alex Rogan – "The Last Starfighter"
David Bowman – "2001: A Space Odyssey"
Jason Nesmith – Galaxy Quest
Commander Shepard – Mass Effect
Edward Buck – Halo
"Well done"
Kathleen Garrity is a karate teacher of showrunner Naren Shankara
Heidi Ochai – Sensei Shankara
Ellen Ripley – "Alien"
Janet Vazquez, Dwayne Hicks, William Hudson – "Aliens"
Joseph Cooper – "Interstellar"
Rick Deckard – Blade Runner
John Enderton – Minority Report
Jack O'Neill – "Stargate"
"Charlie"
Rob Levine – Black Belt in Shankara Karate
Johnny Rico – "Starship Troopers"
Lucky Starr is a character in Isaac Asimov's book series of the same name.
Kara Thrace – Battlestar Galactica
Louise Banks – "Arrival"
Sarah Connor – "Terminator"
Kevin Flynn – "Tron"
Ryan Stone – "Gravity"
Roy Neary – "Close Encounters of the Third Kind"
William Riker – "Star Trek: The Next Generation"
The Expanse is available on Amazon Prime and has been a detective, a space drama, and a political drama in six seasons. The show has officially come to an end, but fans are hoping producers and showrunner Naren Shankar will change their minds.