Shortly before the end of the AGDQ 2022 event, the streamer Mitchriz once again amazed the viewers. He put down a clean speedrun of FromSoftware's Sekiro Shadows Die Twice. He managed the action-adventure in just under two hours – albeit blindfolded.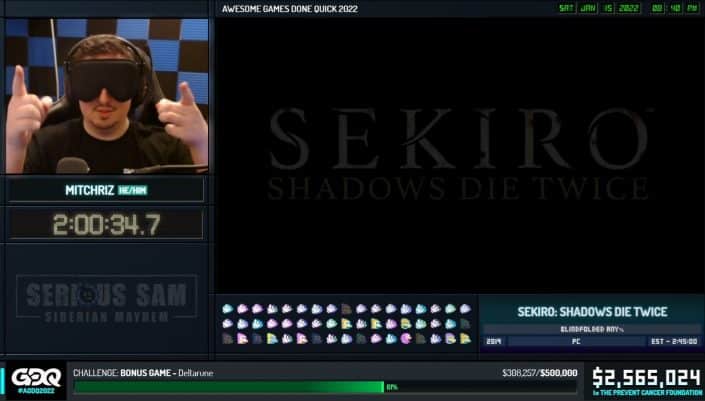 Mitchriz has struck again. The streamer is known for his impressive speed runs. Especially with the game "Sekiro Shadows Die Twice" by FromSoftware, he always enchants his viewers, because he prefers to plunge blindfolded into the world of the shinobi gone wild. This year Mitchriz was a guest at the speed running event AGDQ 2022 and was able to complete "Sekiro Shadows Die Twice" blindly in just under two hours.
Stunning Sekiro speedrun dazzles onlookers
As Mitchriz related, learning the world of Sekiro Shadows Die Twice blindly and memorizing it was a very slow and painful process. He learned the route with the help of various punches and dashes and counted which movement takes him how far. The various audio signals also helped him with the game. For example, the noises that opponents or bosses make.

It was also particularly impressive how the streamer found its way around the menus. Because between the fights Mitchriz kept changing his equipment, just as if he hadn't blindfolded his eyes at all. As his commentator revealed, Mitchriz had to memorize the whole menu.




He then put his skills to the test and amazed the spectators, among other things, by killing the boss Gyoubu. With the next mini boss Blazing Bull, however, Mitchriz stumbled a little. The streamer had to face this particularly tough chunk several times before he was able to conquer it. After that, things went better for him and he was able to defeat all other bosses the first time. Mitchriz was even able to defeat the final boss Isshin without taking any damage himself.

In the end, the speed runner needed just under two hours for the entire game. This was the first time Mitchriz had managed this in a speedrun marathon in front of so many spectators. As of last July, it still took the streamer over four hours to complete the game while blindfolded.
More news about Sekiro: Shadows Die Twice.
Discuss this news on the PlayStation Forum
Links to Amazon, Media Markt, Saturn and some other retailers are usually affiliate links. If you make a purchase, we receive a small commission that we can use to finance the free-to-use site. You have no disadvantages.