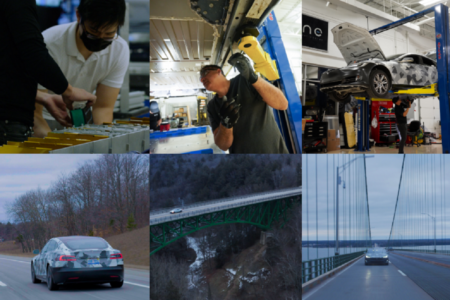 Technology company Our Next Energy (ONE) from Michigan, USA, has demonstrated a prototype battery called Gemini 001, a new product that "allows you to travel long distances without additional recharging, while optimizing costs and safety through the use of environmentally friendly materials."
An experimental battery with 203.7 kWh and an energy density of 416 Wh / l was installed in a 2021 Tesla Model S. During testing, the electric car drove 2820 km without additional recharging. Moreover, this was done in December during frosts. On the second ride, verified by a third party, a Tesla Model S with Gemini 001 on a dyno covered 1,200 km at an average speed of 88 km/h. This car model has a standard power reserve of 375 to 675 km, depending on the modification. About it reported ONE company.
ONE previously created an Aries EV battery using Lithium Iron Phosphate

A type of lithium-ion battery that uses LiFePO4 as the cathode. It will start being used in commercial trucks at the end of 2022. Gemini is the startup's second product and also uses lithium iron phosphate. The company will demonstrate a production prototype of the Gemini battery in 2023.
ONE is a young company founded in July 2020 by Mujib Ijaz, a battery systems engineer with 30 years of experience. By data Automotive News, his startup received $25 million in October 2021 from major investors including Bill Gates' Breakthrough Energy Ventures, Volta Energy Technologies, BMW i Ventures, Flex Ltd. and Assembly Ventures.
An eco-friendly lithium-ion battery with water as an electrolyte has been developed (it is not subject to fire, but there are nuances)
---